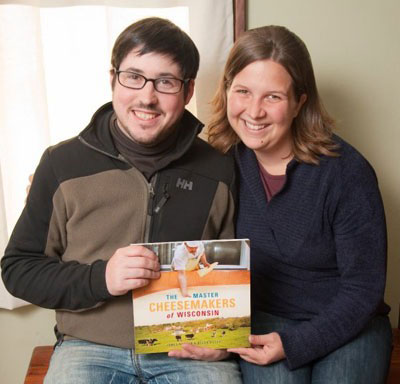 Jim Norton says that while he has always been passionate about food, he never really wrote about it until recently. But that's not strictly true.
Norton, 34, a Madison native and West High grad, has a new book, "The Master Cheesemakers of Wisconsin," produced with his photographer wife, Becca Dilley, who is also a West graduate. The couple will be at the Memorial Union's Main Lounge from 5:30-7 p.m. to discuss the book and provide samples of some of the best Wisconsin cheeses.
But I first read Jim Norton nearly seven years ago, and he was writing about food - chicken wings on State Street. Norton was in Amman, Jordan, writing for the Christian Science Monitor, when he struck up a conversation with a cab driver who was delighted to learn that Norton was from Madison. The cab driver had a son in school here and asked, "What's the restaurant where they make the chicken wings?"
"Buffalo Wild Wings?" Norton said.
"That's it," the cab driver said.
Norton, writing in the Monitor the next day, noted, "Everybody says it's a small world, but this strains credibility."
It was in a somewhat less distant port, San Francisco, that Norton and Dilley first considered a book on their home state's master cheesemakers.
On a 2006 car trip up the West Coast, they had stopped at the Ferry Building in San Francisco and found themselves in a cheese discussion in a shop called the Cowgirl Creamery. Everyone agreed on the greatness of Wisconsin cheese, and the deep commitment it takes to make it.
Leaving the shop, Becca mentioned how interesting it would be to meet the people who love cheese enough to routinely get up in the middle of the night to begin making it.
"It would be interesting, wouldn't it," Jim said.
They contacted the University of Wisconsin Press, which they felt would be a good fit as publisher.
Norton and Dilley met at UW-Madison, where Jim was editor of the Daily Cardinal. They eventually married and lived for a time in Boston - where Jim was based with the Christian Science Monitor - and then New York, where he worked as a researcher and booker for Al Franken's radio show.
It was Franken who brought them to Minneapolis, where they still live, though they get back to Madison often.
It turned out UW Press wanted the master cheesemaker book, so Norton and Dilley traveled the state, eventually profiling 43 of the cheese artisans. It typically takes close to 15 years to be certified a master; just to apply, one needs to have a cheesemaking license for at least 10 years.
On Wednesday, Dilley - whose striking photos enhance Norton's engaging prose - was recalling the early morning during the first week of their research when they visited Bruce Workman at the Edelweiss Creamery in Monticello.
Most days, Workman is up at 2 a.m. to make cheese. They met with him at 3 a.m. Even at that hour, Workman was a dynamo, climbing on top of a milk truck with a hose to flush out the last bits of milk solids clinging to the tank, then jumping down and hustling inside where he plunged his hands into a vat of curds that would soon be swiss cheese - Workman's specialty.
"It's not ready yet," he said.
Dilley said, "I think he's the only person in the country making emmentaler," which is a kind of swiss.
With their cheese book done, Norton and Dilley haven't settled on a new project, though Norton provided a clue.
"I've been known to enjoy a beer," he said.
Be the first to know
Get local news delivered to your inbox!