JOHNSON CREEK – Michael Garvey has added tour guide to his job as Johnson Creek School District superintendent.
And he's not surprised about his new role.
Garvey knew there would be interest in the $18.9 million middle school and high school under construction on the village's west side since the project has far fewer right angles than most buildings in the Midwest.
And now that the shells of the five circular, domed buildings are up, Garvey frequently hands out hard hats and makes the rounds with taxpayers, area superintendents, construction design professionals and anyone else with a curiosity about the facility scheduled to open for the start of the 2016-17 school year.
"I give a lot of tours and that's been part of our process all along," Garvey said. "We want folks to be in here because that's how the community finds out what it's looking like. (Visitors are seeing) how well thought out and how flexible the learning space is going to be."
The 109,000-square-foot facility for the Blue Jays is modeled after a five-dome, 80,000-square-foot school that opened in 2000 in Grand Meadow, Minnesota. Johnson Creek's design saved $8 million in construction and will save the district thousands of dollars a year in energy use because of the building design.
A high-efficiency boiler system will be used to heat the school buildings that are insulated on the outside of the concrete structures but underneath the roofing membrane. Garvey said that once the domed buildings are heated to a constant temperature, they hold that temperature longer than a traditionally designed building.
Three of the domed buildings are 140 feet across. One is for core high school classes, another for core middle school classes for students in grades five through eight, and the third houses district offices and services, the music and arts departments and a shared library.
Two domes, each 160 feet across, are both for the middle school and high school. One houses the gymnasium, community fitness center and has an attached, conventionally constructed wrestling room. The other dome contains metal and wood shops, physics, the family and consumer education department and a flexible "cafetorium" that includes a kitchen, cafeteria, stage and about 250 removable seats. The domes are connected by enclosed walkways.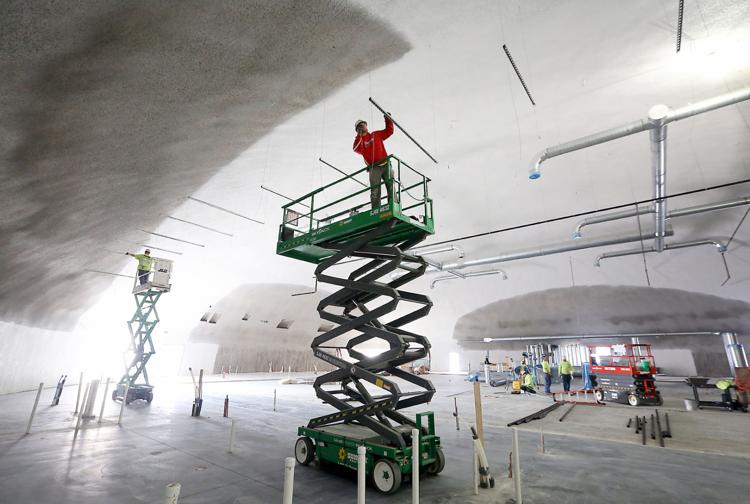 The 60-acre site also has space for athletic fields scheduled to be ready by the 2017-18 school year and room for up to four more domed buildings as the 700-student district grows.
But getting to this point took years for the district, located along Interstate 94, midway between Milwaukee and Madison. The community is known for its truck stop, outlet mall and its other famous domed building, the Gobbler Theater, which has undergone a $2 million renovation and is scheduled to begin hosting regular music acts in a few weeks.
Three building referendums by the school district using traditional designs were rejected in an attempt to replace aging and overcrowded facilities located at highway 26 and B. A double-wide trailer has housed both sections of fifth grade since 2008 and in 2010 another was added for both sixth-grade sections. The high school has had a classroom trailer since 1978 with a second trailer added in 2014.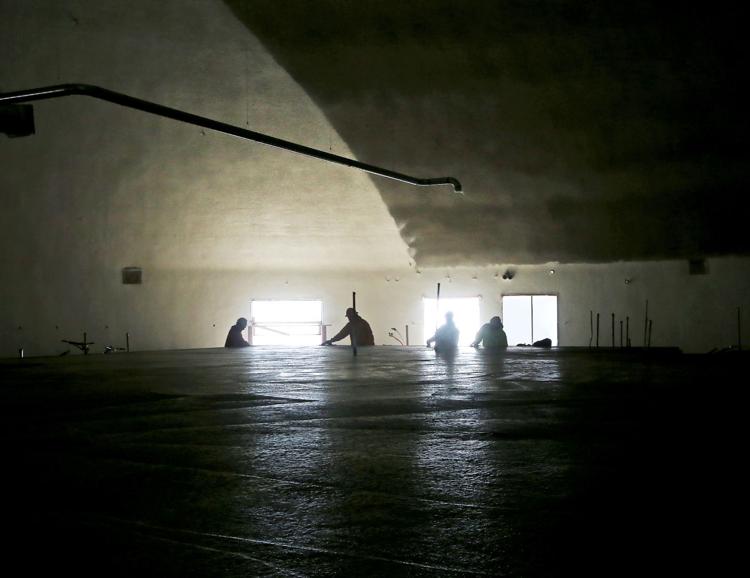 In 2005, district voters turned back a $21 million proposal by a 4-1 margin. A $20 million referendum for a middle and high school facility was defeated in 2010 by 210 votes and in 2011 a $29 million project was rejected by a 2-1 margin.
In 2013, a $22 million construction plan using a series of five domes was turned down but voters approved a less costly version in April 2014, even though it was outside of the box for most construction projects.
"I think that's why it took two referendums on the domes itself," said Rick Kaltenberg, president of the Johnson Creek School Board. "It took that year just to let everybody know what we were talking about. Now, once people come out here and look at it, I think it all starts to click and they all understand what it is and why. I think those that have seen it have been impressed."
They include a number of donors who have stepped forward to contribute to a $2.5 million capital campaign for naming rights and the construction of the football, track and baseball and softball fields.
James and Jordan Glover and their family, owners of the Pine Cone Restaurant and Travel Plaza, have donated $500,000 for naming rights on the football field while Jim and Lyle Wuestenberg, owners of J & L Tire, have pledged $100,000 for naming rights on the softball and baseball fields. Other contributors have included $15,000 from Avon Dairy Solutions and $10,000 each from Badger Bank and Fort Healthcare.
"I think you're going to find more and more (schools) having naming rights, just because with budgets there just isn't any other way to do it," Garvey said.
Unlike the former Metrodome in Minneapolis that used air pressure to keep its dome inflated, the domes constructed for Johnson Creek are made of concrete and rebar.
After the foundations were poured, form walls were built and sprayed with concrete to create circular 3- to 5-inch-thick 11-foot-tall walls. After they hardened, the forms were removed, roof membranes attached and then inflated to create domes that were then insulated. A series of rebar and concrete was then added to create hardened dome structures capable of holding 1,000 pounds per square foot.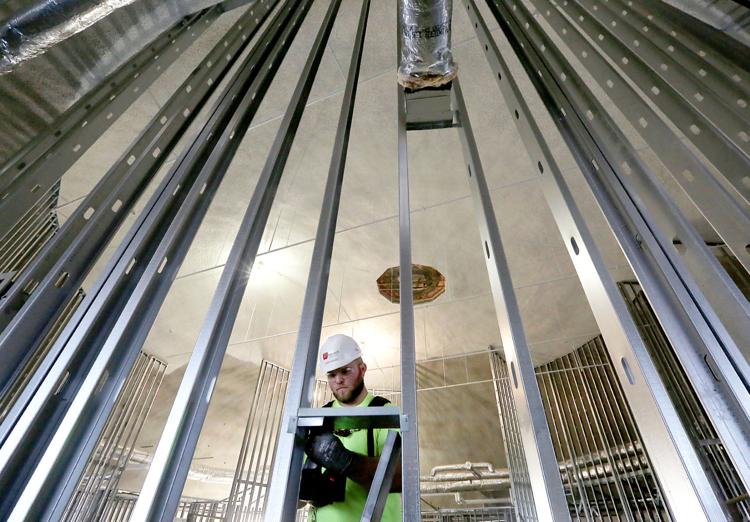 Rooms are now being built inside the domes, but there are no interior load-bearing walls.
"None of them are structural. So it's just metal studs and drywall," Garvey said. "Ten years down the road if we want to remodel the inside, there really is no engineering required."