Dolph "Jeff" Stanley, the founder of the longtime burger shop Dotty Dumpling's Dowry, died Saturday. He was 77.
The self-proclaimed "Hamburger King" of Madison — along with his burger business, now at 317 N. Frances St. — was a part of the city for more than 40 years. He famously challenged the city and the Overture Foundation over plans to build Overture Center for the Arts.
His daughter, Rachael Stanley, said Stanley died after a yearlong battle with lung cancer.
"His passions were just being at the restaurant. Nobody was ever a stranger to him. He just loved talking to guests," said Rachael Stanley, who took over running the business about 15 years ago.
Aside from food, Stanley enjoyed traveling the country with a group of friends who dubbed themselves the "Amtrak Outlaws," and he had a love of sports and movies, said Rachael Stanley, the youngest of five children. Stanley's other children are Lisa Royal, of Des Moines, Iowa; Jane Faber, of Madison; Jefferson Stanley, of Madison; and Eli Stanley, of Pleasant Hill, California.
From 1969 to 1974, Stanley owned a "head shop" in Des Moines, Iowa, according to a Wisconsin State Journal story from 1976, but he said the Watergate scandal left him feeling disillusioned with business. He left the shop and opted to rent a cabin near Spooner, where Stanley said he "fished and ate hard-boiled eggs and drank beer with the old-timers and read a lot." His mind, though, kept conjuring up images of hamburgers.
So in 1975, Stanley opened Dotty Dumpling's Dowry — carrying on the same name he used for his Iowa shop — in a former shoe repair business in the 1700 block of Monroe Street.
"I want to restore the legitimacy of the hamburger in America," Stanley said in 1976. "The hamburger has been watered down; we need quality!"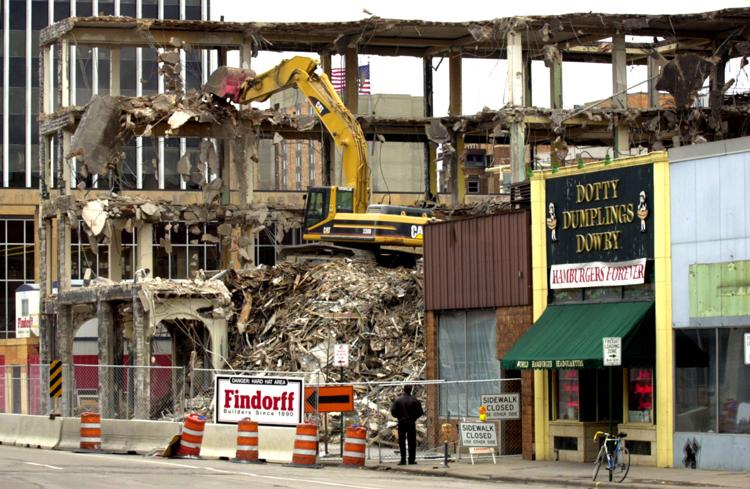 Within two years, expansion plans for a new Randall State Bank forced Stanley to move Dotty's to Regent Street, but only after he initially refused to move in a scenario similar to what would happen again to him and the restaurant 23 years later.
It was Stanley's shop at 116 N. Fairchild St., where he moved from Regent Street in 1990, that led to a legal battle with the city over the Overture Center redevelopment.
For more than two years, Stanley tried to stave off the destruction of Dotty's, becoming the last business to hold out against the massive project. Ultimately, the city pursued condemnation action against the building, Stanley received a $583,680 payout, and Dotty's on North Fairchild Street was demolished in July 2001.
Dotty's went on hiatus for two years as Stanley searched for a new location, finally settling on the North Frances Street property that had formerly held the Black Bear Lounge.
In a bid to get a liquor license for this new Dotty's, Ald. Mike Verveer, who supported condemnation action, urged Madison's alcohol licensing body in 2003 to support the license and "end the sabbatical of Jeff Stanley and Dotty Dumpling's Dowry."
Rachael Stanley said her family will likely hold a social celebration for Stanley in the coming weeks, but they will need to find an appropriate location as she expects hundreds could show up.
"He just had a million friends," she said. "Everyone knew Jeff."
"I want to restore the legitimacy of the hamburger in America. The hamburger has been watered down; we need quality!" Dolph "Jeff" Stanley, in 1976