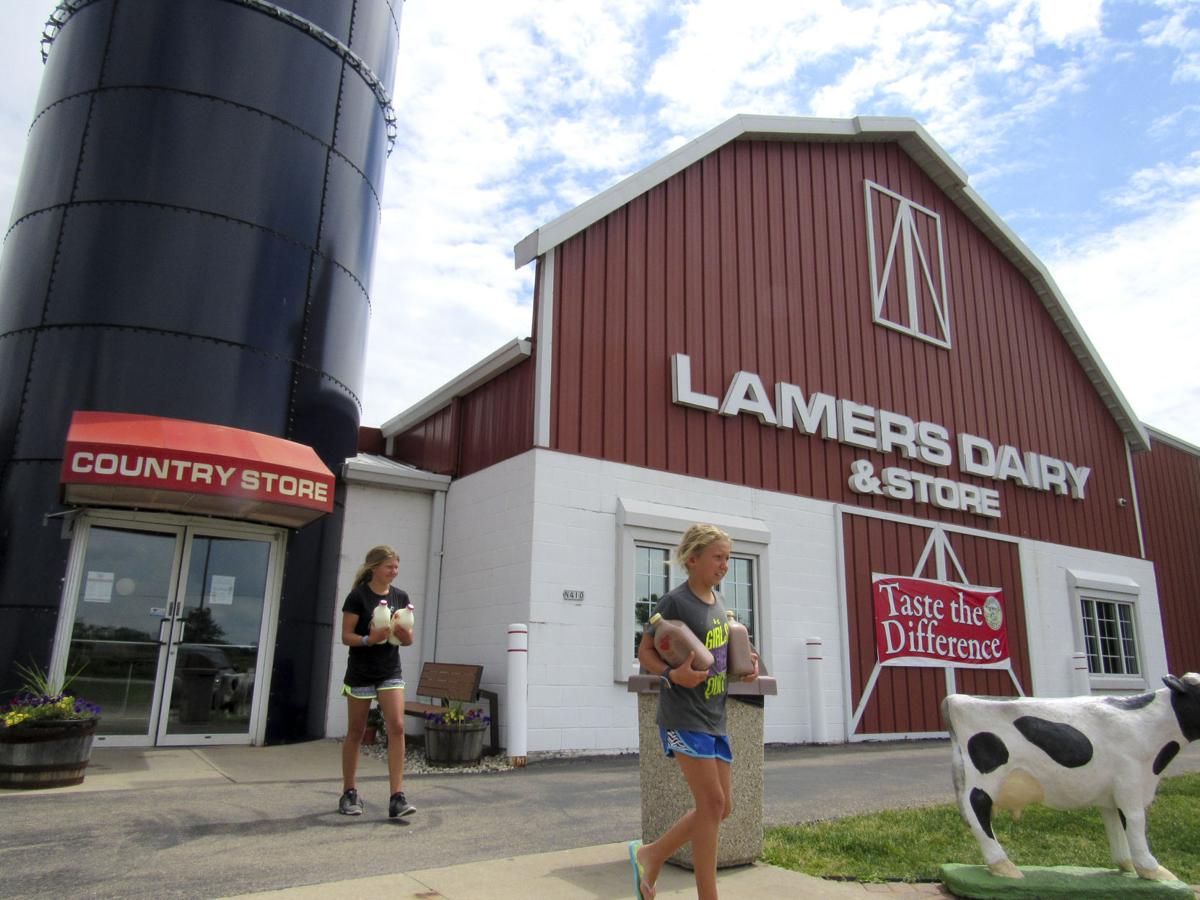 APPLETON — The 4-foot-high window that runs the width of the Lamers Dairy Store here is designed to give customers a peek into the production of locally sourced, rBGH-free milk.
The daily run can include half-pint cartons of chocolate and white milk, whipping cream, half and half and, around Christmas, thick, rich eggnog. Gallon plastic jugs, pint plastic bottles and half-gallon glass bottles make regular appearances on the two bottling lines.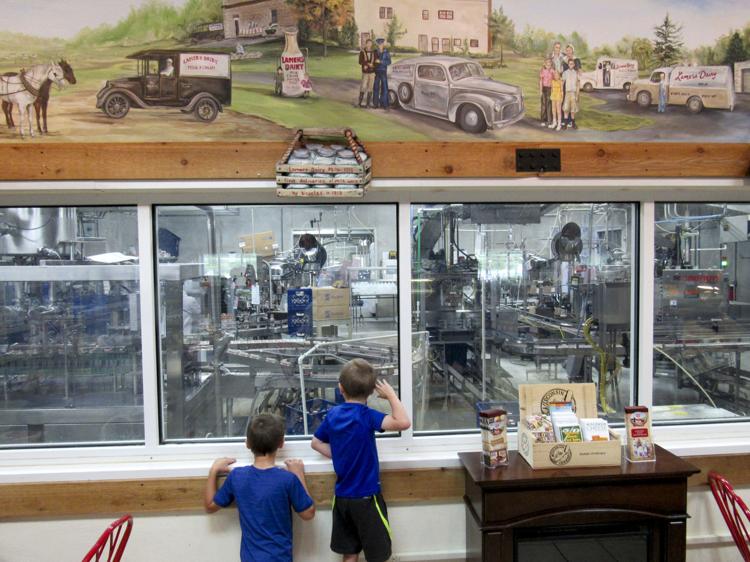 But the window, located below a mural depicting the 104-year history of the company, also provides a glimpse of character, entrepreneurial spirit and family tradition.
This is where, last week, customers could watch Mark Lamers, the company's president, use a hammer to put the finishing touches on the repair of a metal conveyor. Had they stuck around a few more hours, they would have learned that Lamers can quickly fill plastic crates with bottles of chocolate milk coming off the end of the production line, just like he did 40 years ago while in high school.
And, if need be, he'll drive a tanker truck on weekends to collect milk from some of the seven local family farms that milk between 55 and 130 head a day.
Lamers, 55, has an office, but the chair is seldom used. Instead, he spends 80-percent of his time in a hairnet and white work clothes not only supervising production but working side-by-side with many of his 35 employees. The tactic has helped his company thrive and make some of the best white and chocolate milk in the country.
"It's been ingrained in us that way," Lamers, a fourth-generation dairy operator, said when asked about his blue collar presidency. "When you're small potatoes like we are, you have to find a niche and it's all hands on deck."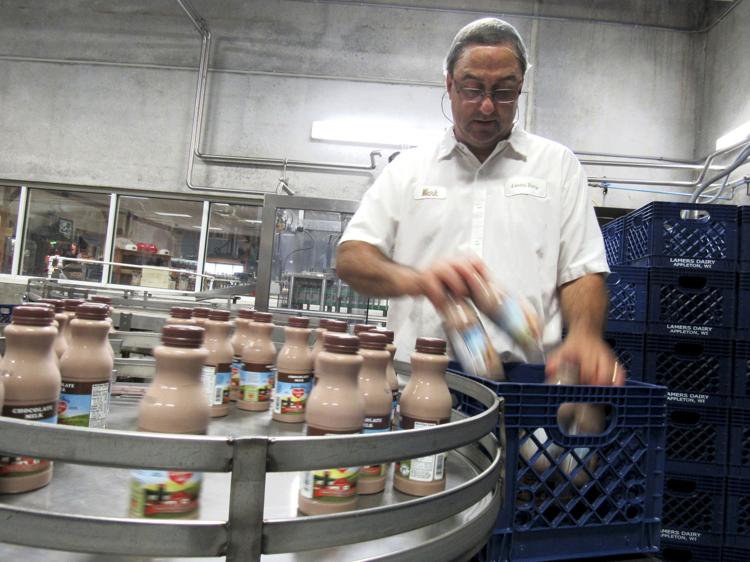 The high-quality milk from local herds combined with the work ethic of Lamers and his three brothers — Tom, 59, in sales; Joe, 60, plant manager; and Tim, 49, in quality control — is what will help make Lamers' products favorites at this week's World Dairy Expo Championship Dairy Product Contest at Madison Area Technical College's Truax Campus.
Lamers Dairy is the two-time defending champion in whole chocolate milk, while its white milk took first place in 2013. When the contest was founded in 2003, there were 100 entries. Last year's contest drew over 1,200 entries from around the U.S. and this year's event has 1,450 entries in 79 classes, 37 of which are cheese, butter and yogurt categories.
But unlike the World and U.S. championship cheese contests, held on alternating years in Madison and Green Bay respectively, the Dairy Product Contest, run by the Wisconsin Dairy Products Association, has 10 fluid milk categories and 14 categories with 270 entries for ice cream, sherbet, frozen yogurt and gelato. The remainder of the categories are for cream cheese, cottage cheese, dairy-based dips, whey, nonfat dried milk and an open class for creative and innovative products.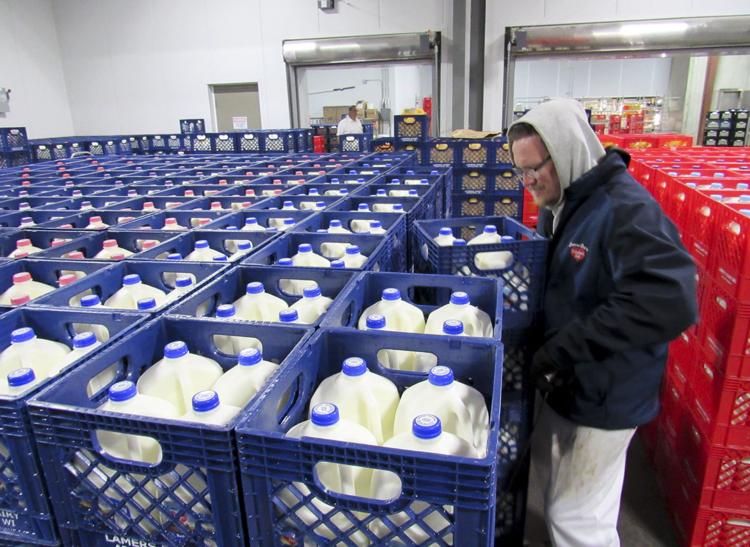 The contest, with entries from the U.S., Canada, Mexico and Scotland, is held six weeks before the World Dairy Expo in October but is a way for the expo to connect beyond the farmer and with dairy food producers.
"This thing is exploding," said Bradley Legreid, executive director of the WDPA. "We get great participation on the cheese side, but it's the Grade A and the ice cream side that is just going like gangbusters because they've never had a contest like this on a national level."
The contest, with judging beginning on Tuesday, allows winners to use the results in marketing and standout among their peers. Besides class winners in each category, the contest also selects grand champions in three broad categories. In 2016, Saxon Creamery in the Manitowoc County village of Cleveland won the cheese and butter category with its aged butterkase; Schreiber Foods in Green Bay won the Grade A category with its Lemon Aussie yogurt while the grand champion in ice cream went to Double Rainbow Ice Cream in San Fransisco.
"It's so unique and so different," said Legreid, who wants to expand the contest to include more international entries. "World Dairy Expo wants us to go international because that's what their focus is."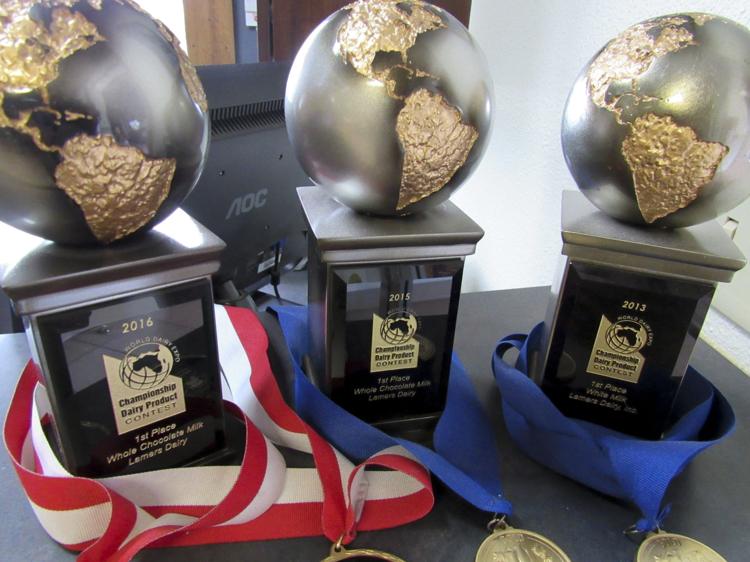 For the Lamers family, the successes at the contest have been positive notches that have helped with the growth of the business, founded by Jacob and Petronella Lamers in 1913 in their farmhouse near what is now Highway 441 and East College Avenue. The dairy moved to Kimberly in 1930 and to its current site on Speel School Road in 1998.
The Appleton Historical Society has documented at least 70 dairies in the area over the years and has a collection of over 40 bottles, each from a different dairy. Lamers, which was producing between 8,000 gallons and 10,000 gallons of milk product a week in the 1980s and 1990s, is now the lone survivor.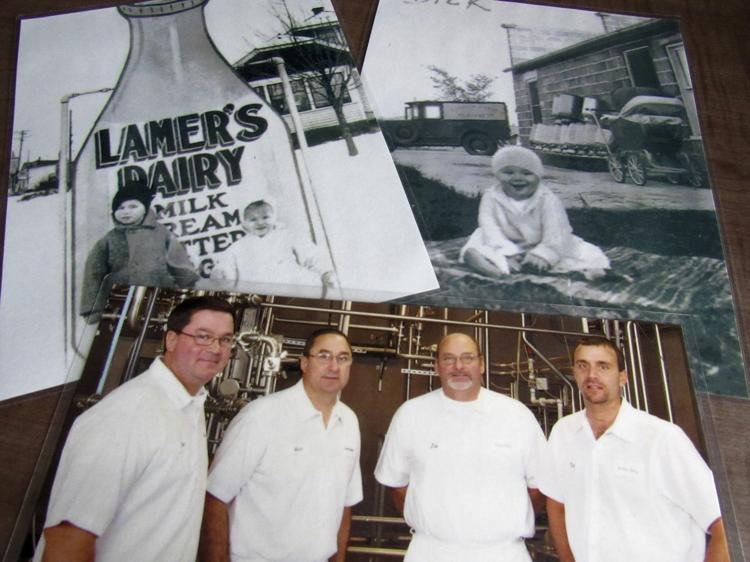 Thanks to consumers clamoring for more locally made products and a more diversified product line, the plant now produces 8,000 gallons of milk product a day. To keep up with demand and 6 percent growth each year, the plant was expanded in 2016 by 7,400 square feet to 32,000 square feet.
"Before it was popular to be farm to table or artisan, these guys were doing what they're doing now," said Michelle Mauk-Lacy, marketing and advertising director for Lamers. "A lot of people want to know where their food comes from and they want local."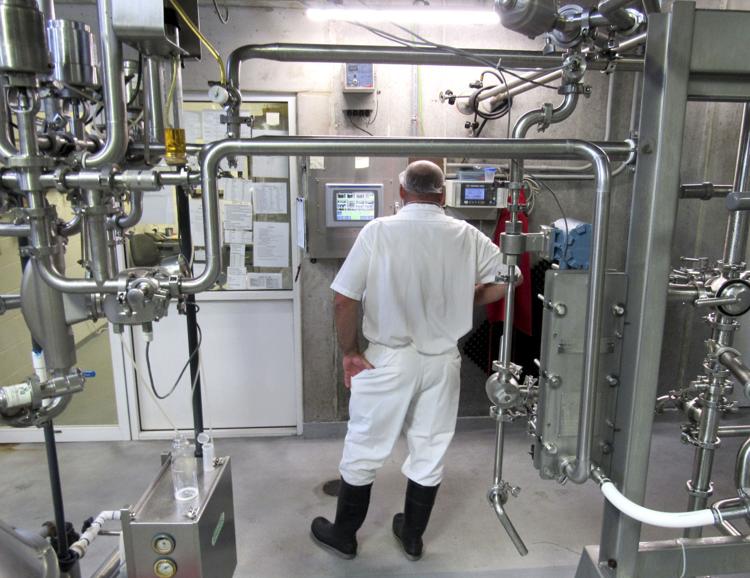 Products, many of which are mixed in five blending tanks ranging in size from 300 to 1,500 gallons, include ice cream and gelato bases for Izzy's Ice Cream with cafés in Minneapolis and St. Paul; soft serve mix for stands at Target Field, home of the Minnesota Twins;l and for local ice cream shops in the Appleton area. Cream from Lamers is used in chocolate bars made by Wilmar Chocolates and Vande Walle's Candies, both in Appleton, and the plant makes about 4,000 gallons of kosher milk products a week for distribution throughout the country.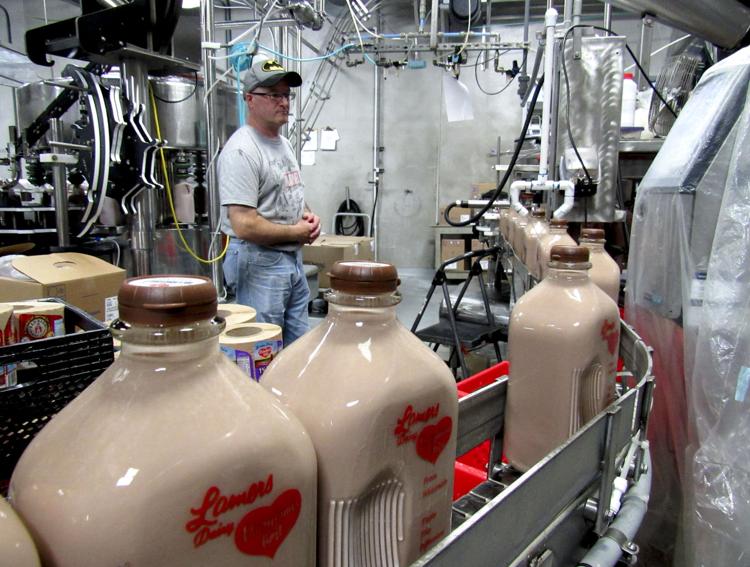 But the majority of product sold is in the Appleton and Green Bay area with distributors taking the milk to a statewide audience and into the Chicago, Minnesota and Upper Michigan markets. In the Madison area, Lamers' products can be found at Woodman's Food Market, Capitol Centre Market, Metcalfe's Market, Miller & Sons, Hy-Vee and Lake Mills Market.
"We learned long ago not to play the volume game," Lamers said. "It's the quality of the product."
A stop at the Lamers Dairy Store offers a throwback experience in a modern facility. Customers stream in the store with empty milk bottles, some in plastic crates, others in wood boxes with handles. After dropping off their empties in a stack that grows throughout the day, customers then head to the cooler to grab milk likely bottled that day or even hours prior.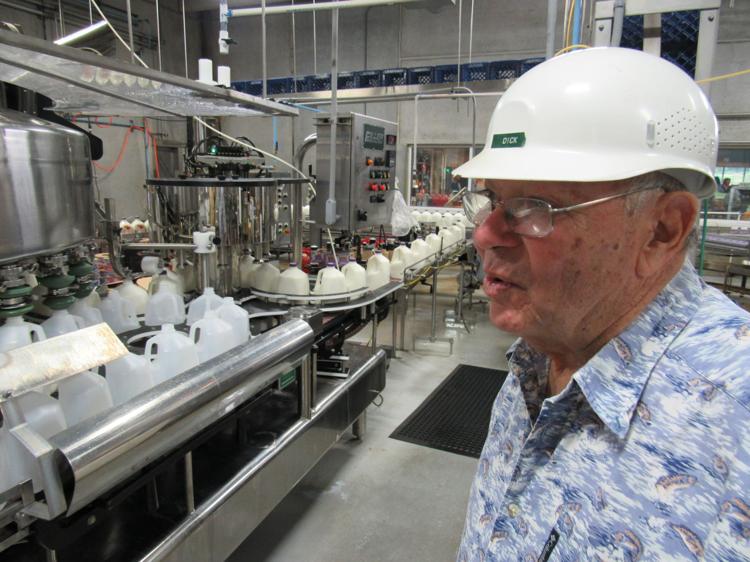 Dick Lamers, 86, is the grandson of the founders and comes into the plant each day for a 10- to 15-minute stroll though the facility. He's had his hard hat with his name on the front for years.
"I snoopervise," said Lamers, who was born in 1931 when the Lamers name was first printed on a glass bottle. "I can't say that I'm surprised. I expect them to do good."
Eric McGuire, Dick Lamers' grandson, is the dairy's business manager. He started working at the plant when he was 12, but after graduating from UW-Stevens Point with a business degree, McGuire spent several years managing Family Video stores in the Milwaukee area. He returned to the dairy in 2005.
"What was really appealing to me was to be able to control our own destiny," McGuire, 37, said, noting the irony of leaving a video store for a small dairy. "But if we're going to succeed or if we're going to fail, it's going to be based on our own decisions."
Barry Adams covers regional news for the Wisconsin State Journal. Send him ideas for On Wisconsin at 608-252-6148 or by email at badams@madison.com.
Be the first to know
Get local news delivered to your inbox!