Taking "aggressive action" to prevent the spread of the new coronavirus, Dane County public health officials Sunday ordered the immediate closure of all schools, limited restaurants to no more than half their capacity and banned gatherings of 50 or more people hours before the Centers for Disease Control and Prevention recommended the same measure nationwide.
The number of confirmed cases of the COVID-19 coronavirus in the county remained at six, officials said, while the number of cases statewide increased to 33, with five new cases reported in Fond du Lac County.
"We are taking aggressive action now, because now everyone one of us, both organizations and on the individual level, have the ability to impact the trajectory of what our experience will be," County Executive Joe Parisi said at a news conference Sunday afternoon.
The indefinite countywide ban on gatherings of 50 or more people and the reduction to restaurant capacity take effect at 12:01 a.m. Monday.
The revised order Sunday builds on one issued Friday by Public Health Madison and Dane County barring gatherings of 250 or more people.
The city-county public health agency included a list of locations that are exempt from the ban, such as:
Childcare facilities
Homeless shelters and day centers
Libraries
Office spaces
Grocery stores
Hotels and motels
Child care facilities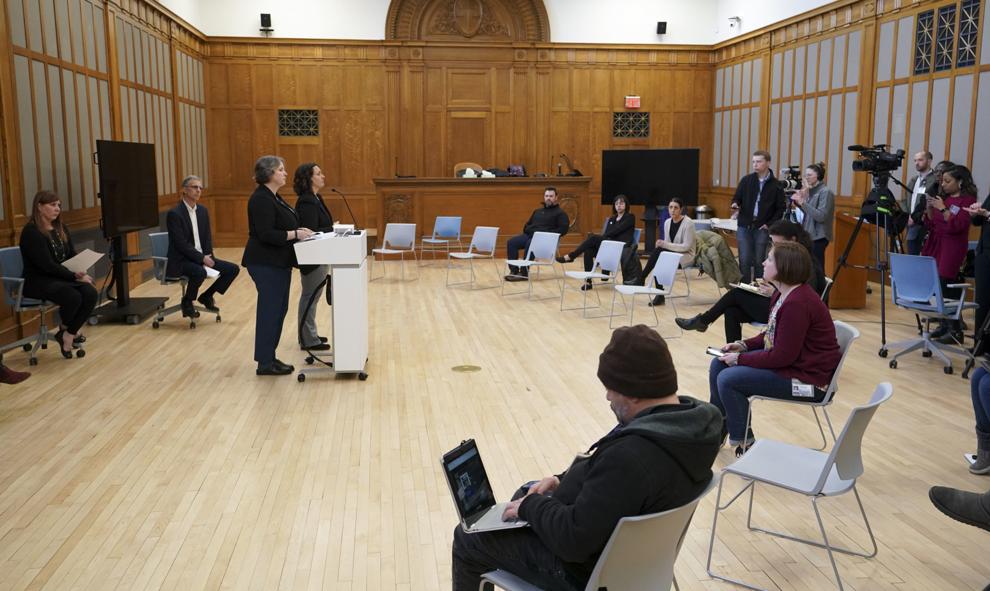 Despite the exemptions, the city of Fitchburg said its public library will close as of 5 p.m. Sunday through at least April 5. The Fitchburg Senior Center will also be closed as of Monday for at least two weeks, but services such as home-delivered meals and case management support will remain during the closure.
Monona is also closing its library and senior center and canceling programs and classes through its parks and recreation department.
The YMCA of Dane County also said Sunday it was immediately closing all of its facilities and programming through at least April 5.
Madison Area Technical College said Sunday all of its facilities will be closed beginning Monday through March 29.
Michael Johnson, president and CEO of Boys & Girls Club of Dane County, announced Sunday all of its locations will close in response to the pandemic. He said the nonprofit will turn the locations into emergency food distribution centers and its vans into mobile resource banks with the help of the Madison Metropolitan School District, United Way of Dane County and others "to help vulnerable seniors and children."
The Boys & Girls Club since Friday has raised more than $279,000 of a now $300,000 goal for its Dane County COVID-19 Community Emergency Fund to provide medical supplies for those who are impacted by the respiratory illness, meals for children while schools are closed, and funds for local shelters to support of families and individuals in need, college students in need of temporary housing and meals, and senior citizens in need meals, transportation and medical assistance.
Janel Heinrich, director of Public Health Madison and Dane County, said the no-more-than 50% limit on restaurant capacity applies to all restaurants in the county, regardless of whether they can seat more than 50 people.
Madison Mayor Satya Rhodes-Conway said while the city can issue citations for restaurants and businesses not complying with the order, it doesn't have the ability to constantly monitor them.
"We are relying on our partners in the private sector, and we are relying on the public to take this seriously and to social distance all the time," she said.
Schools shuttering
The public health agency's order for all schools in the county to close immediately moves up the timing of when Madison schools expected to shut their doors.
On Friday, Gov. Tony Evers directed all public and private schools to shut down no later than 5 p.m. Wednesday, but districts could choose to close sooner. The Madison School District had been planning to hold classes Monday and Tuesday, in part to give parents extra time to arrange child care solutions.
But Sunday's order means students won't be going to school Monday and will not return until April 6 at the earliest.
La Follette High School Principal Devon LaRosa notified parents in an email to parents Sunday night he would be in self-quarantine through March 25 as "a precautionary measure" based on a recommendation from Public Health Madison and Dane County.
"As many of you are aware, I currently live in Rockford, Illinois, commuting to LaFollette High in Madison each day. Because Illinois is a state that is impacted with confirmed reports of more than 10 cases of COVID-19, I have been notified by the district and advised to self-quarantine for 14 days," LaRosa said.
"Schools play a crucial role in providing nutrition and other critical services to students, but they also pose a risk to children and staff with underlying health conditions," Heinrich said. "Closure can reduce the impact of community spread of COVID-19."
She said parents should reduce play dates and minimize their children's exposure to people who are more vulnerable to the new coronavirus, such as the elderly and those with underlying medical conditions.
While it's anticipated children will return to school on April 6, Heinrich said parents should prepare if it becomes necessary to extend the hiatus beyond three weeks.
The closure also applies to all student instruction, extra-curricular activities and outside groups.
Jane Belmore, interim superintendent of the Madison School District, said in an email Sunday school buildings would be accessible to families from 8 a.m. to 6 p.m. Monday to pick up medications, technology and other essential items.
Belmore said the district also has launched a COVID-19 School Closure website — www.madison.k12.wi.us/mmsd-covid-19-updates — that will be updated regularly with information including where children can access free, nutritious take-home meals daily, mental health resources, community resources available to families and online enrichment materials.
"We know that these decisions have massive implications and impacts on our community, but we believe that we have an opportunity and an obligation to act with purpose, to protect our community from further spread," Heinrich said.
The Associated Press contributed to this report.