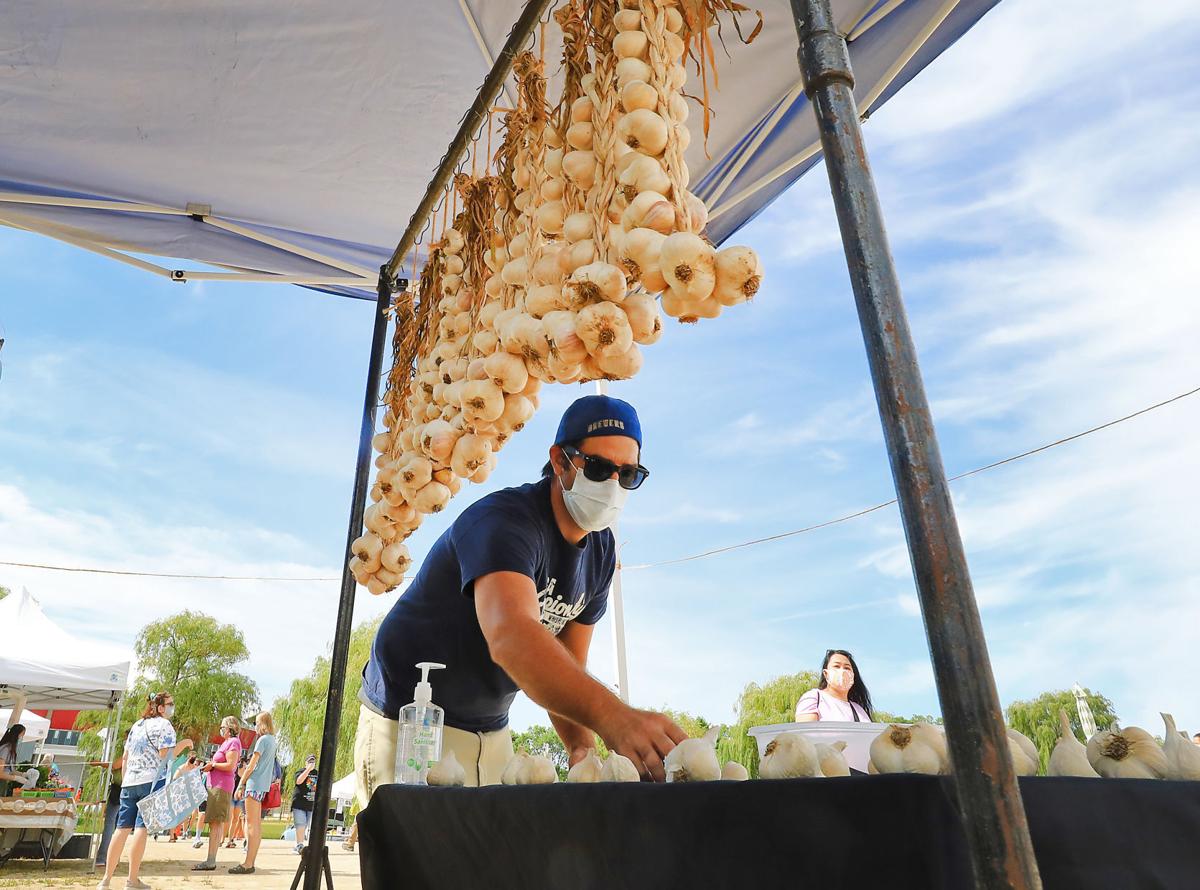 The Dane County Farmers' Market opened for walk-up service on Willow Island Saturday for the first time this year in a different setting and different atmosphere than years past, due to the COVID-19 pandemic.
Market patrons and sellers alike were used to being crammed shoulder to shoulder on Capitol Square on Saturdays in the summer months, as shoppers perused locally grown and sourced edibles and wares.
Craft makers as well as political and social organizations were able to set up booths to attract customers and support for their causes in past years, but the pandemic put a halt to those bustling weekend mornings on the Square due to public health concerns.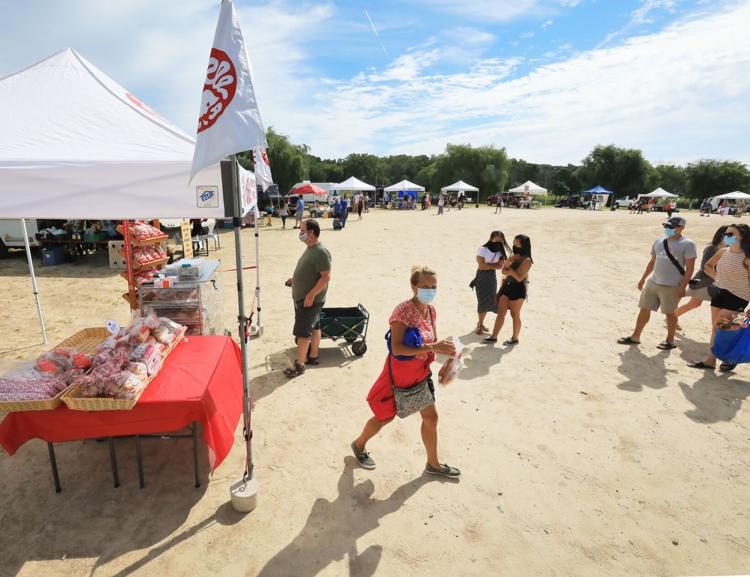 The market opened as a drive-thru for biweekly local food pickups as an essential food access point when the pandemic hit in March. To purchase local goods via drive-thru, customers can place an order on the Dane County Farmers Market website for pickup on Wednesdays and Saturdays — a model that market manager Sarah Elliot called very safe and successful for customers and vendors alike.
"We understand that some customers prefer to shop more spontaneously," Elliot said, so the board decided to host its inaugural walk-up market of 2020 on Willow Island near the Alliant Center.
The first walk-up market of 2020 opened with socially distanced booths and safety requirements to keep sellers and shoppers safe on Saturday. The board was notified in early July their permit to set up shop on Capitol Square had been revoked for the season due to the pandemic.
"We transitioned our focus onto working with Public Health and other entities to figure out a way to safely open an in-person market," Elliot said. "We do have a very stringent safe shopper code of conduct."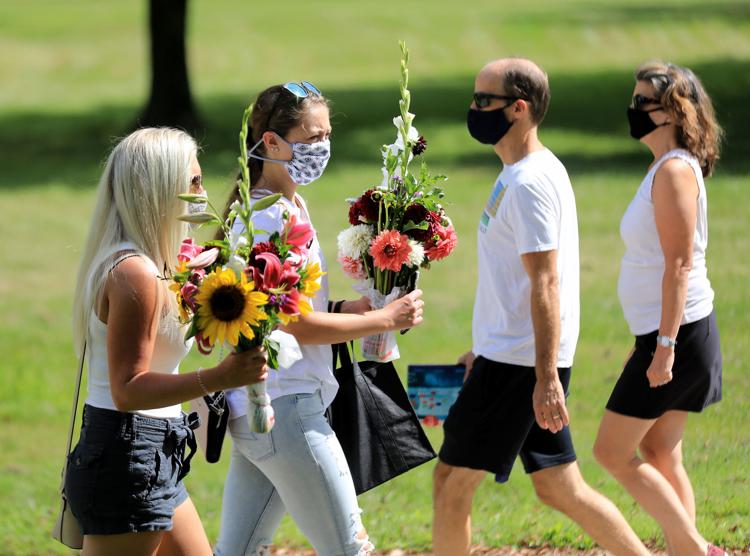 That code of conduct includes mask requirements while shopping on the island, maintaining social distancing and the inclusion of hand-washing tables stationed at the entrance and around the market for customers to use. Market management also asks customers to limit shoppers to one to two people per household and that those who are feeling ill stay home. Customers aren't allowed to eat on site or touch the products until they've completed their purchase.
"If everyone follows the directions, we feel very confident in the safety but we certainly need everyone to participate in following those directions," Elliot said.
Only family farms and small food producers were able to sell at the walk-up market, and their booths were set up with ropes, foldable tables or milk crates that acted as barriers to maintain social distancing between them and the public.
Some got creative with their methods of exchanging money for goods, as they passed a bin or Tupperware back and forth between themselves and the customer to exchange cash for the desired product. Other vendors fastened a Square card reader to the end of a selfie stick to make credit card payments easier in a time of social distancing. And some vendors only accepted contactless payment such as Venmo or PayPal to reduce potential contamination points as much as possible.
But despite creative methods of commerce, some market vendors said the pandemic hit their business hard.
"I'd say it's probably cut it in half or more," said Mary Celley, owner of the Bee Charmer who sells Wisconsin honey and eggs, of the impact of COVID-19 on business. "We all have to think outside the box now."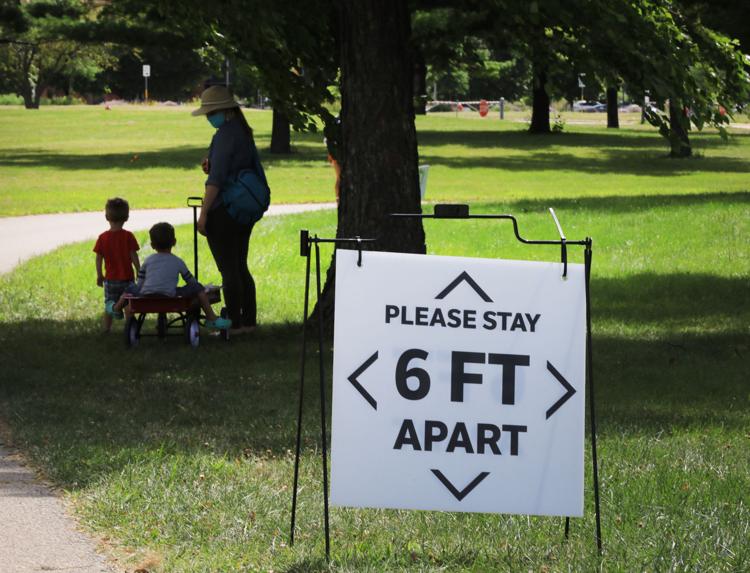 This year is their first selling at the Dane County Farmers Market for Y&C Produce, said Sindy Vang, daughter of the owners.
"It's been pretty rough," Vang said. "My parents have given up tending the garden."
Visitors to the Madison area would also attend the market in years past, but as travel decreased due to the pandemic, so has tourism.
"A lot of our sales are to visitors in Madison, tourism, and it's not here," said Rachel Murphy, owner of Murph's who sells beef, chicken eggs and other goods.
Despite their struggles, vendors said they are excited to have the opportunity to provide goods for customers through both the walk-up and drive-thru market.
And supporting local farmers and small food producers is one of the main tenets of the Dane County Farmers Market.
"I think that's one of the small silver linings of the pandemic: We've seen people who really value buying local and are willing to take the extra steps in order to continue to do so," Elliot said.
Concerned about COVID-19?
Sign up now to get the most recent coronavirus headlines and other important local and national news sent to your email inbox daily.