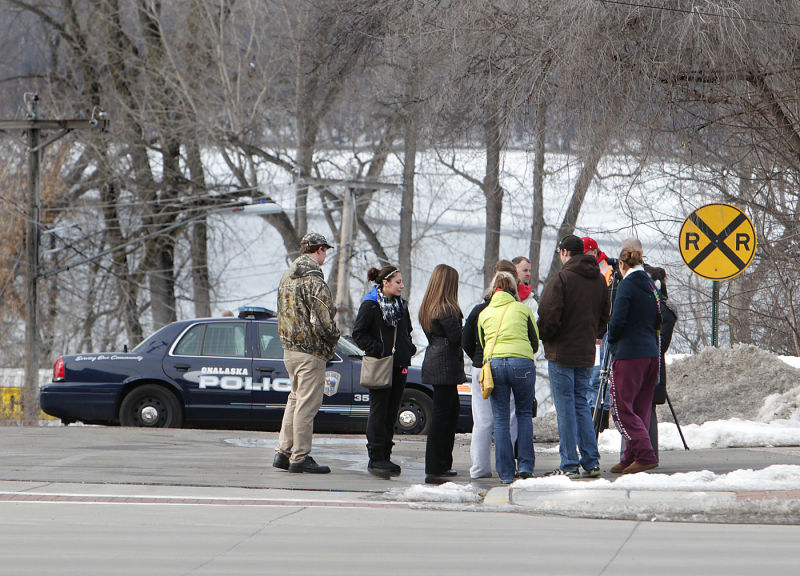 ONALASKA — An autopsy Tuesday should determine what killed a UW-La Crosse student and Evansville High School graduate found dead in a ditch Sunday evening after leaving a local bar earlier that morning.
Authorities do not believe foul play is involved in Neala Frye's death even as Onalaska police called in the state Department of Criminal Investigation to help with the case.
An officer found the 23-year-old La Crosse woman's body about 8:40 p.m. Sunday in a ditch adjacent to railroad tracks near the Black River about 300 yards south of where Irvin Street ends.
Frye's friends launched a search when she failed to report for a shift at the La Crosse Menards.
"It still feels like she's not gone," her friend Shane Blair said. "We're still expecting her to walk through the door to hang out with us."
Frye spent Saturday night at the Spillway Pub, promoting her second employer, Body and Sol Tanning and Massage Studio, during a beach party event before she left alone and died a few hundred yards away, Police Chief Jeff Trotnic said.
Police suspect she died of alcohol and hypothermia, but her friends insist the normally reliable marketing senior couldn't be so irresponsible.
"There's no way," friend Katherine Buening said. "That's not her."
Surveillance video from the bar shows Frye leaving the tavern alone about 1 a.m., Trotnic said. With plans to meet friends downtown at midnight, Frye refused a ride from at least one person.
A motorist saw someone whom authorities believe was Frye walking across Second Avenue South toward the river between 1:30 and 2 a.m., Trotnic said.
The state DCI spent Monday canvassing the area and checking surveillance videos, Trotnic said.
"We want to make sure we're fully investigating this," he said. "But we don't have any reason to believe it's a suspicious death."
Frye was a bubbly and feisty woman who will be remembered for her big heart and infectious smile, said her roommate Tyler Zibrowski.
"If somebody didn't have somebody, she was going to be there for them," Blair said. "She was a person you wanted to be around. She always made you smile, always made you laugh."
Frye, a 2007 Evansville High School graduate, is at least the third UW-La Crosse student to die unexpectedly this school year.
Jing Gu, a student from China, was killed by a car in September while crossing the street. Sean Eric Schoonmaker died in an August car crash near Hayward.
Be the first to know
Get local news delivered to your inbox!