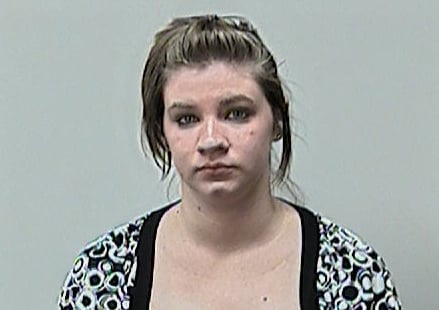 A Sun Prairie woman was convicted Friday of homicide by negligent driving after a jury found she was writing a text message when she slammed into a UW-Madison student as he stood behind his broken-down car on East Johnson Street in 2010.
The jury of seven women and five men apparently rejected Stephanie Kanoff's contention that she was driving behind a car that had blocked her view of Dylan Ellefson's car and the brightly-clad Ellefson, 21, who was wearing a Halloween costume to work at Hot Topic in the East Towne Mall.
Kanoff, 21, showed little emotion as Dane County Circuit Judge Stephen Ehlke read the verdict, but her voice wavered moments later when she answered a question put to her by Ehlke. She will be sentenced in about two months, but Ehlke said she can remain free on a signature bond until then.
Key to the case was deciding whether Kanoff, who had been sending text messages and making phone calls on her cellphone after leaving work, was writing one last text message to her boyfriend when she struck Ellefson. He struck the hood and windshield of Kanoff's minivan, then went underneath it and was dragged about 80 feet before Kanoff stopped.
"She didn't know she had hit a person until she saw Dylan's shoes in the rear view mirror," said Assistant Attorney General Tara Jenswold-Schipper, who was co-prosecutor in the case. "She never saw him."
Experts for both sides debated the question, and prosecutors argued that had Kanoff not been distracted while she drove she would have seen and avoided Ellefson, as other drivers testified they had.
About five weeks after Ellefson's death a law banning texting behind the wheel that had been signed in May 2010 took effect.
The verdict came about 2-1/2 hours after lawyers in the case finished closing arguments. Kanoff's lawyer, Assistant Public Defender Murali Jasti blasted prosecutors and police, telling jurors that the case should never have been charged because it was "a rush to judgment" with "minimal investigation and selective storytelling."
Jasti accused police of deciding within days of the Oct. 24, 2010, crash that killed Ellefson that Kanoff would be charged, even though much of the investigation had yet to be done.
"There was no presumption of innocence here," he said. "None."
He was especially critical of the state's expert witnesses, saying all three had "considerable issues with their testimony."
Jasti said even Ellefson shared some blame for having stopped his car on a heavily-traveled street where there was no parking lane, and walking into the road.
"It doesn't make me feel good to argue to you, in front of the Ellefsons, to argue that their son contributed to his own death," he said.
Assistant District Attorney Emily Thompson, who followed Jasti in front of the jury, jumped on the argument.
"Defense counsel insinuated that it was his fault that he died," she said. "How dare they?"