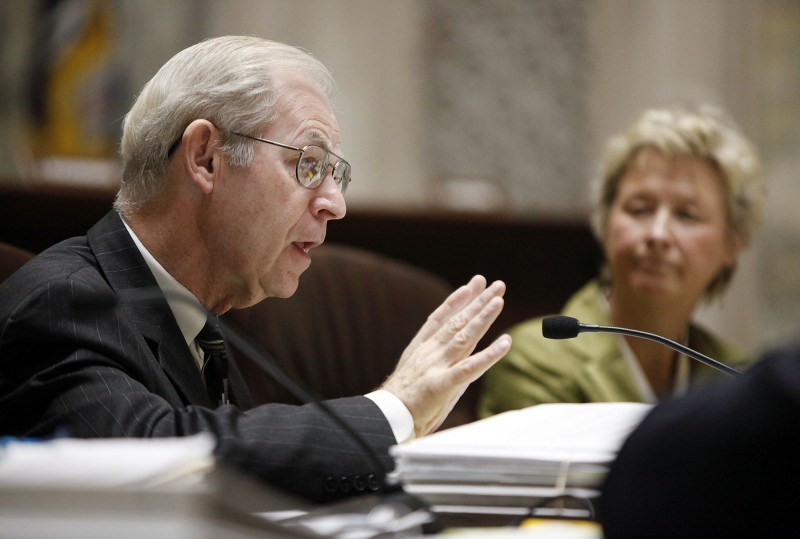 Embattled Wisconsin Supreme Court Justice David Prosser said Monday he will likely ask other members of the court to recuse themselves from deciding on the disciplinary complaint filed against him last week — an action that, if successful, would appear to kill the case.
Prosser also said in an interview Monday that he favors authorizing the Wisconsin Judicial Commission to release records of its deliberations in the matter to allow him and others to determine whether the commission was — as he charged Friday — politically biased against him.
"As far as I'm concerned, I don't think I have anything to hide here," Prosser said. "I don't know who made the complaints. I don't know what their (commission members') votes were. I don't know if it was a unanimous vote or not a unanimous vote."
Last week the commission alleged Prosser engaged in three counts of misconduct during an altercation June 13 in which he put his hands on the neck of Justice Ann Walsh Bradley in front of four other justices. One member, Patrick Crooks, was not there. State law bars judges from presiding over matters in which they are material witnesses.
Prosser has said it was a "reflex" after Bradley "charged" him during an argument over the court's contentious 4-3 decision upholding Gov. Scott Walker's controversial collective bargaining law.
Bradley declined to discuss the complaint last week, issuing a brief statement saying, "I am saddened by this entire episode. But I have a great deal of respect for the process, and it will now continue."
The next step is for the state Court of Appeals to choose three of its judges to hear the case. That panel then makes its recommendation to the Supreme Court.
Prosser contended that none of the other justices, including Crooks, should sit on the case. He said Crooks could be influenced by his discussions with Bradley, Chief Justice Shirley Abrahamson and detectives from the Dane County Sheriff's Office who investigated the altercation.
You have free articles remaining.
A special prosecutor declined to issue criminal charges.
"How can this case be decided?" Prosser asked. "You have six justices who were present at the scene ... . You have justices with actual bias who are eyewitnesses and, in effect, parties."
Prosser also charged that the Judicial Commission's makeup is inherently biased because five of the nine members are appointed by the sitting governor, who is a partisan.
In his case, at least some of those who participated in discussion about the ethics charges against Prosser, a former Republican speaker of the Assembly, were appointees of former Democratic Gov. Jim Doyle.
Earlier this month, GOP Gov. Scott Walker appointed three new members for a total of five appointees, but the most recent crop did not participate in any of the discussion about the incident and has not yet attended any meetings.
The commission's executive director, James Alexander, declined to say which members participated in the decision or decisions to seek discipline against Prosser or how they voted. He cited a state law that requires the body to keep secret any actions it takes before issuing a formal complaint.
However, Alexander confirmed that all four members appointed by the Supreme Court — two judges and two attorneys — attended all six of the commission's meetings since June and that throughout that time, the body has had either one or two vacancies.
Under the law, confidentiality can only be waived in writing by the judge facing discipline. Prosser said he will confer with his attorneys, Keven Reak and Gregg Gunta of Wauwatosa, to decide whether to ask the commission to open up its records. He said he testified before seven of the nine commission members on Sept. 23 for three hours, and for another hour in front of six members on Dec. 16, but was not present for any votes.
"The truth of the matter was, they were not interested in what my defense was or any provocation for my action," Prosser said. "They were only interested in my conduct."