Madison Police Chief Noble Wray wants to put more surveillance cameras Downtown and have them monitored in real time so officers on the street quickly can respond to areas where problems might be developing.
"We're trying to be as efficient with our limited resources as possible and have more eyes out there," Wray said Wednesday.
The number of potential new cameras, their locations and costs have not yet been determined, he said.
But as police continue to address problems of violent crime and crowd control Downtown, he said, "We need to have more cameras out there."
The city currently has 118 surveillance cameras, police spokesman Joel DeSpain said.
Among them are 34 surveillance cameras on Downtown streets, said Central District Capt. Carl Gloede. The Downtown cameras include those requested by police earlier this year in the troubled 600 block of University Avenue, where at least three people were hurt in a May shooting.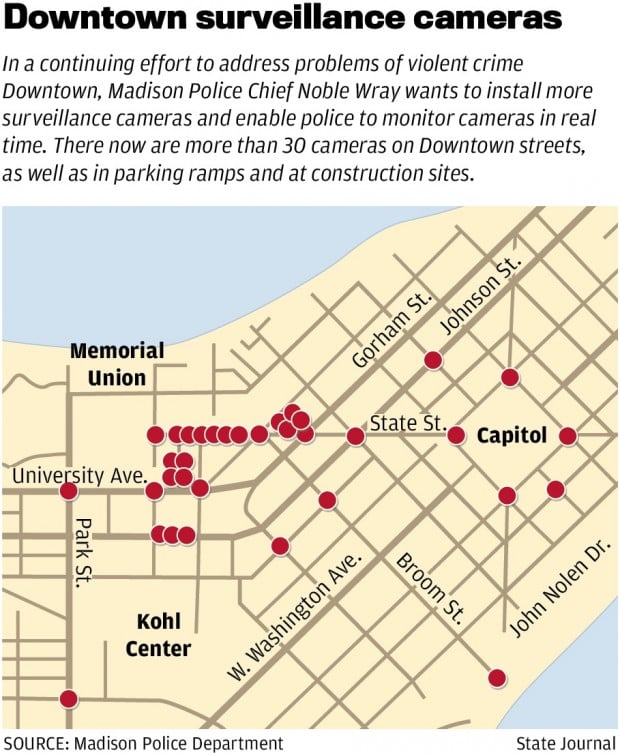 Police began putting extra officers in the area on weekend nights after several incidents beginning in late July. In one, a man was stabbed after leaving a bar and stepping into a disturbance on the block. In another, a sergeant had to use pepper spray to break up several fights among a hostile crowd.
"The increased visibility has really helped," said Wray, who attributed the violence to large groups of "heavily gang-involved" young black men who have been congregating in the 600 block of University Avenue.
Police review surveillance video from city cameras, as well as from bars and other businesses, to help identify suspects and gather other evidence. For example, cameras in the 600 block of University recorded the May shooting that happened on UW-Madison's graduation weekend, leading to arrests of the alleged gunmen.
Real-time monitoring of cameras, especially on weekends, would allow police to identify potential emerging problems and immediately send officers to the area, Wray said.
"Many urban centers have gone to monitoring their cameras," he said.
Mayor Paul Soglin believes putting additional cameras Downtown and having police monitor them in real time is "an excellent idea" and is "very supportive" of it, said his spokeswoman, Katie Crawley.
In addition to those monitoring the streets, cameras also are located in city parking garages Downtown, Gloede said. The Capitol Police Department also has cameras Downtown, and federal authorities monitor the U.S. District Courthouse with cameras, DeSpain said.
As for whether more cameras would discourage criminals, Wray said, "I don't know how much of a deterrent it would be because the cameras are there now."