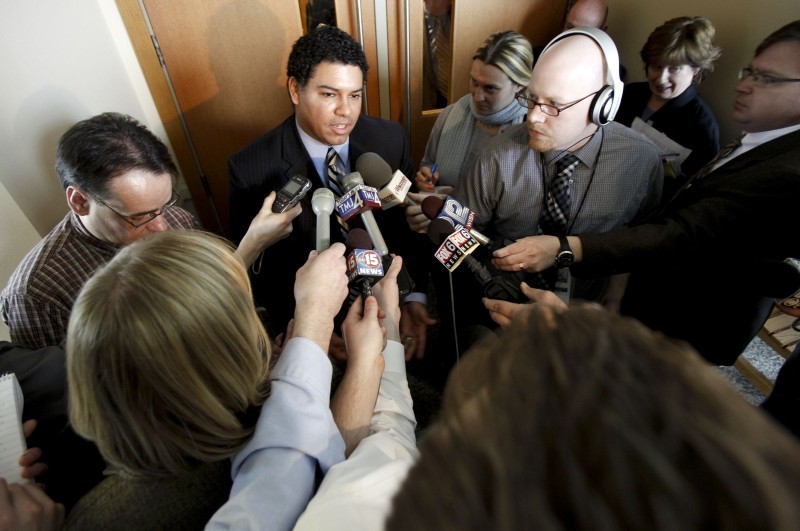 Dane County District Attorney Ismael Ozanne on Friday asked the state Supreme Court to vacate its decision upholding the controversial law curtailing collective bargaining rights for most public workers — and to do it without Justice Michael Gableman.
Ozanne asked the court to revisit its June 14 decision after reports surfaced that Gableman had received free legal services from lawyer Eric McLeod of the Madison law firm Michael Best & Friedrich, who helped defend the collective bargaining law before the high court as lawyer for state Department of Administration Secretary Michael Huebsch.
That arrangement was not disclosed to participants in the collective bargaining case, Ozanne said.
"Abraham Lincoln wrote that 'a lawyer's time and advice are his stock in trade,'" Ozanne wrote. "Justice Gableman paid for none of that time or any of that advice, nor does it appear he or MBF intended he do so. Reasonable, well-informed people would reasonably question Justice Gableman's ability to be impartial under the facts presented here."
Ozanne's motion asks that a decision voiding the law by Dane County Circuit Judge Maryann Sumi be reinstated.
DOJ Executive Assistant Steven Means said, "We haven't seen the specific filings yet, but will review them and respond when, and if, any response is appropriate."
Senate Majority Leader Scott Fitzgerald, R-Juneau, quickly dismissed Ozanne's request.
"It's amazing how far the Madison crowd is willing to stretch in their longstanding fight against balanced budgets and responsible government," Fitzgerald said.
Cullen Werwie, spokesman for Gov. Scott Walker, said the governor is "confident the Supreme Court got it right the first time."
You have free articles remaining.
Robert Jambois, the lawyer for Assembly Minority Leader Peter Barca, D-Kenosha, said that in more than 30 years in law he has never heard of a judge "so profoundly compromised as this."
He said Gableman's free legal services were comparable in value to "a brand new Lexus" luxury car, and said both Gableman and Michael Best have explaining to do.
McLeod represented Gableman during ethics proceedings stemming from his 2008 campaign against former Justice Louis Butler. The Milwaukee Journal Sentinel reported that Gableman never paid for those legal services because they were provided on a contingent basis in which the firm was to receive payment from Gableman only if he won his case and was reimbursed by the state Claims Board for his legal expenses.
The ethics case ended in a 3-3 tie before the Supreme Court, prompting the state Judicial Commission to dismiss it.
Gableman was part of the majority in a 4-3 decision that allowed the collective bargaining law to go into effect, ruling that a legislative committee that hastily met to vote on a revised version of the law did not violate the state open meetings law.
Because he didn't disclose his fee arrangement with Michael Best, Ozanne wrote, Gableman should not have taken part in oral arguments or the decision on the collective bargaining case.
Ozanne wrote that since Gableman had never paid Michael Best, there was nothing for the Claims Board to pay back to him or to Michael Best.
"His agreement with MBF ensured that he would remain whole: He would owe $0 for legal fees if he won and $0 for legal fees if he did not win," Ozanne wrote. "MFB and McLeod knew that they had provided free legal representation to Justice Gableman. Justice Gableman knew it too."
Without Gableman's vote, the Supreme Court could deadlock 3-3 on Ozanne's request, leaving its decision in place. But Ozanne said that was not a factor in deciding whether to ask the justices to re-open the case.
"I am not given to speculate on any of the scenarios that could happen," Ozanne said Friday.
State Journal reporter Mary Spicuzza contributed to this report.