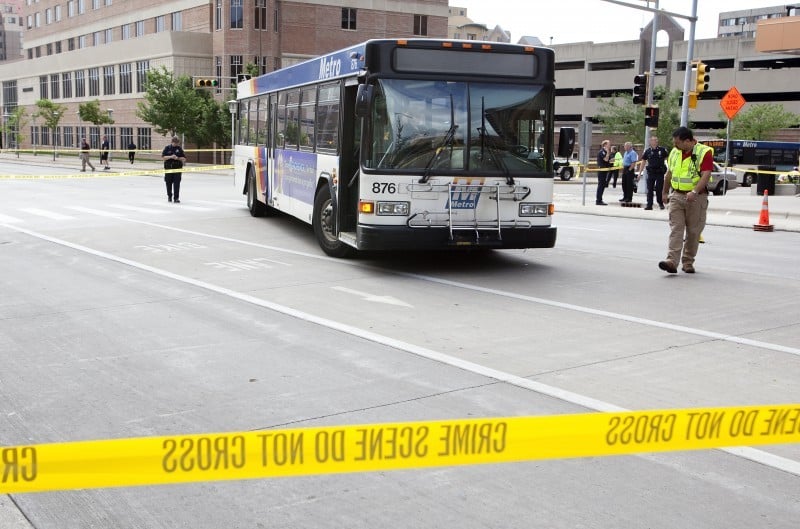 The city bus driver involved in a fatal crash that claimed the life of a UW-Madison library employee in June will not be charged, Dane County District Attorney Ismael Ozanne said Monday.
Maureen Grant, 58, of New Glarus, died while crossing University Avenue at Lake Street June 22. Toxicology tests on Metro Transit driver Debra Foster came back clean, Ozanne said.
"The investigation also showed there was a blind spot on the bus," he said.
Foster, 52, a two-year veteran of the transit system, told investigators she was unable to see Grant in the crosswalk as the bus turned left onto University from Lake, Ozanne said. Grant was walking north, the same direction as the bus before it turned, according to Madison police.
In a statement, Metro said an internal investigation into the crash is continuing.
"All Metro vehicles are required to meet the Federal Motor Carrier Act standards. All mirrors on all Metro buses meet these requirements and are standard in the transit industry.
"Left and right blind spots are common in all large vehicles," the statement added, "and Metro drivers are trained to handle these blind spots."
Foster was issued a citation by Madison police in June for failure to yield to a pedestrian.
A message left with a spokesman for Grant's family Monday was not immediately returned. Grant was a staff member in the acquisitions department at UW-Madison's Memorial Library.
A 2008 study by the Federal Transit Administration found several factors common in pedestrian-bus accidents that happen when a bus is turning left. The study found pedestrians may not recognize a bus is turning and may step into the crosswalk; drivers may fail to scan and re-scan the crosswalk after starting to turn; and bus components, including side mirrors and the pillar on the left side of the windshield, may create blind spots that obstruct the driver's view.
"Often times when asked what happened following a bus-and-pedestrian collision, operators reported that they just did not see the pedestrian," the study said. "The pedestrians seem to have come from 'out of nowhere.' "
The study recommended several steps to avoid such collisions, including driver training, changing mirror configurations and adding warning devices, such as audible turn signals or side strobe lights.
Left-turning transit buses have been involved in a series of serious and fatal crashes in other cities in the past few years, including San Francisco and Portland.
In April 2010, five people were hit by a Portland TriMet bus while it was turning left onto a busy street, according to the Portland Oregonian newspaper. Two people died and at least two were seriously hurt in the crash, the newspaper reported. In that case, the bus driver, who made an illegal left turn, said she was unable to see the pedestrians because of a blind spot on the bus, the newspaper said.
In 2008, another TriMet driver hit a pedestrian in a crosswalk while making a left turn, the Oregonian reported. That driver also said a blind spot kept her from seeing the pedestrian, who lost part of her leg as a result of the crash.
Bill Novak of The Capital Times contributed to this report.