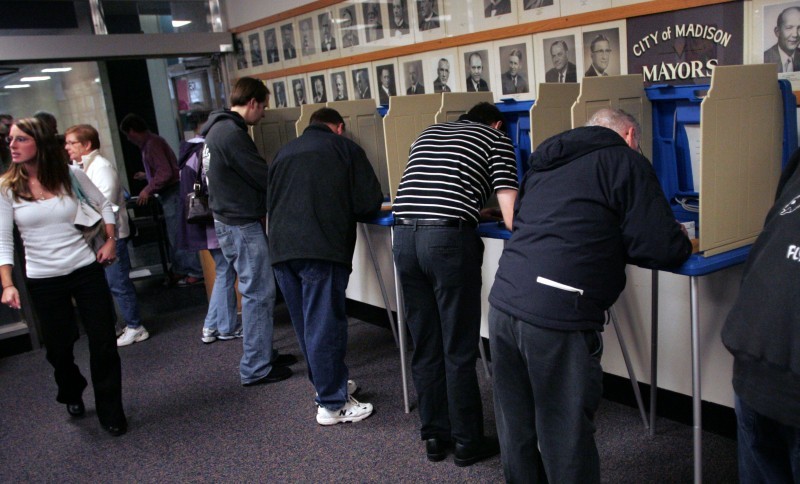 A Dane County judge on Tuesday permanently barred enforcement of the photo identification requirements of Wisconsin's voter ID law, saying that it imposes too great a burden on voters in Wisconsin than the state constitution allows.
Circuit Judge David Flanagan ruled that Wisconsin Act 23, the voter ID law, "tells more than 300,000 Wisconsin voters who do not now have an acceptable form of photo identification that they cannot vote unless they first obtain a photo ID card."
That requirement, he wrote, imposes a "substantial burden" upon a significant proportion of state residents who are registered or eligible to vote because of the cost and difficulty of obtaining documents needed to apply for a state photo ID. That creates a "substantial impairment" to the right to vote guaranteed by the Wisconsin Constitution, he wrote.
"I think that the judge recognized the severe flaw in Wisconsin's photo ID law in that it imposes an unreasonable burden on a very large number of people," said Richard Saks, lawyer for the Milwaukee Branch of the NAACP and Voces de la Frontera, which sued to the state to stop the Republican-authored law.
Dana Brueck, spokeswoman for the state Department of Justice, which defended the law in court, said an appeal is likely but that a decision won't be made until after a full review of Flanagan's decision.
But the prospect of a quick and final decision in the appeals process appears remote. Two state appeals courts have been dealing with appeals of orders blocking the photo ID requirements that were issued in March by Flanagan and by a colleague. Dane County Circuit Judge Richard Niess issued a permanent injunction in another case involving the photo ID requirements. Also, the state Supreme Court in April said it would not step into the cases until after the appeals courts made their decisions.
That could mean the voter ID law would remain on hold until after the November presidential and U.S. Senate elections.
The law was passed by the GOP-led Legislature and signed by Gov. Scott Walker last year to deal with concerns about voter fraud in Wisconsin. However, according to Flanagan's decision, investigations carried out since 2004 by the Milwaukee Police Department and mayor's office and the state Department of Justice have not produced a prosecution of a voter fraud violation that would have been prevented by the photo ID requirements of the voter ID law.
"Act 23 addresses a problem which is very limited, if indeed it exists," Flanagan wrote.
He also wrote that the law doesn't provide alternatives, as other states' laws do, to prevent the exclusion of a qualified voter.
"Given the sacred, fundamental interest at issue, it is clear that Act 23, while perhaps addressing a legitimate concern, is not sufficiently narrow to avoid needless and significant impairment of the right to vote," Flanagan wrote.