The number of heroin-related deaths in Dane County this year has surpassed last year's total, indicating that what officials have called an opiate epidemic has not abated.
The Dane County Medical Examiner's Office has confirmed 21 heroin-related deaths — a number likely to grow with the results of pending toxicology tests — compared to 20 last year.
But the number of heroin deaths is only part of the opiate epidemic fueled by prescription painkillers such as Oxycontin, Vicodin and morphine, said Lisa Bullard-Cawthorne, health education coordinator for Public Health Madison and Dane County who is working with a countywide opiate task force coordinated by the nonprofit Safe Communities.
Most overdoses involve more than one drug, Bullard-Cawthorne said, adding that the combination of opiate drugs and alcohol or benzodiazepine — used to treat anxiety and insomnia — can be especially deadly.
A growing problem
Since 2007, hospitalizations and emergency room visits related to heroin and other opiate drugs have risen yearly from 114 in 2006 to 270 last year, according to Public Health data. Bullard-Cawthorne added that some who overdose do not go to a hospital.
The number of opiate-related deaths in the county grew from 11 in 2001 to 45 in 2010, when 27 of those deaths involved prescription drugs, according to Public Health data. The numbers of opiate-related deaths last year and non-heroin opiate deaths this year were not yet available.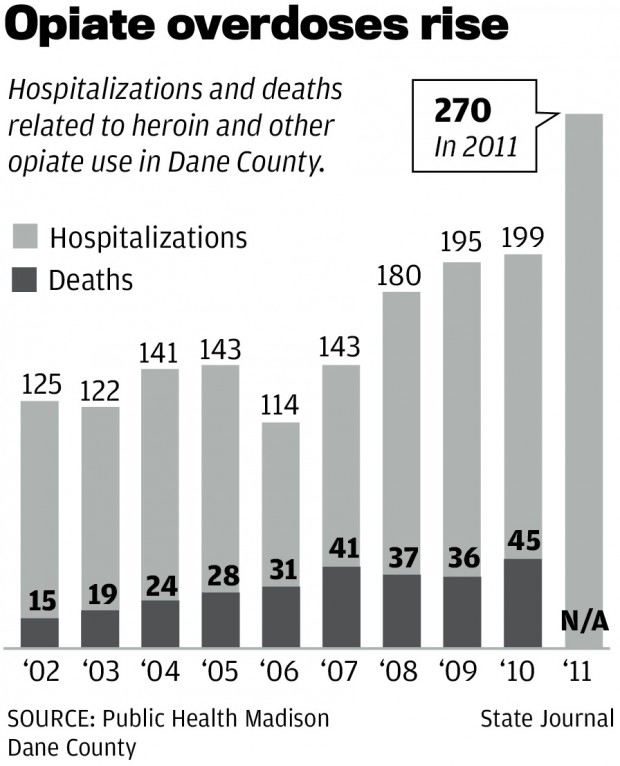 The Dane County Narcotics and Gang Task Force had recorded 125 possible opiate overdoses through Oct. 15, 118 of them involving heroin. But the task force data do not include all opiate overdoses in the county, said Madison police Lt. Brian Ackeret.
In 2011, the task force recorded two deaths from opiates other than heroin, along with 156 possible opiate overdoses, 145 involving heroin.
For the consecutive second year, Madison police also have reported about a dozen incidents in which drivers crashed or were found unconscious in traffic after admitted or suspected heroin use, including an April 11 crash in which the driver told police he shot up minutes before his SUV swerved off the Beltline and crashed into the Zor Shrine Temple.
In the last four years, Narcan injections — used mostly to reverse opiate overdoses — by Madison Fire Department paramedics also have risen sharply, from 178 in 2009 to 294 as of Dec. 18.
"What's alarming to me is the number of people who have experienced an overdose," Bullard-Cawthorne said, adding many people have overdosed between two and five times.
Efforts will take time
Bullard-Cawthorne said it's too soon to expect to see an impact on the opiate epidemic in Dane County — which mirrors a national problem — as a result of the task force's efforts.
But over the past year, physicians and dentists have been working with the task force to examine prescribing practices and ways to reduce abuse and better educate practitioners and patients about misuse, said Cheryl Wittke, Safe Communities executive director.
"There's a direct correlation between the number of opiates in the community and the number of overdose deaths and hospitalizations," Wittke said, adding that the intention is not for doctors to make it harder for people to get the medication they need for chronic pain. "It's a fine line, and that's the line that they're walking."
Doctors and dentists are being asked to consider writing prescriptions for fewer numbers of pills, she said, and to advise patients to properly dispose of unused medicine.
There are now 11 drop boxes located at police stations throughout the county, where five tons of unwanted medications of all types have been collected in the last year in an effort to reduce the amount of drugs available in the community for misuse.
A parents group also is developing online resources to help family members and friends that will be accessible by the beginning of February through the Safe Communities website, www.safercommunity.net.
The task force also is surveying opiate users, as well as paramedics and police, to gather information to find out what more can be done, Bullard-Cawthorne said.
One known need is for more treatment for those with addictions, Wittke said.
Leveling off?
The good news, she said, is that the number of overdoses and deaths might be starting to level off, instead of continuing to increase sharply.
Some street dealers have stopped selling heroin because of the potential for overdose deaths and the criminal penalties that come with them, Ackeret said. But there are still dozens of sellers who travel to Chicago several times a week to bring back heroin, and most of those arrested are carrying amounts too small to land in federal court, where penalties are stiffer.
Ackeret's not convinced that putting more officers on the street would have much of an impact in addressing the epidemic.
What would really make a difference, he said, is learning from those who have lost their lives to opiate overdoses.