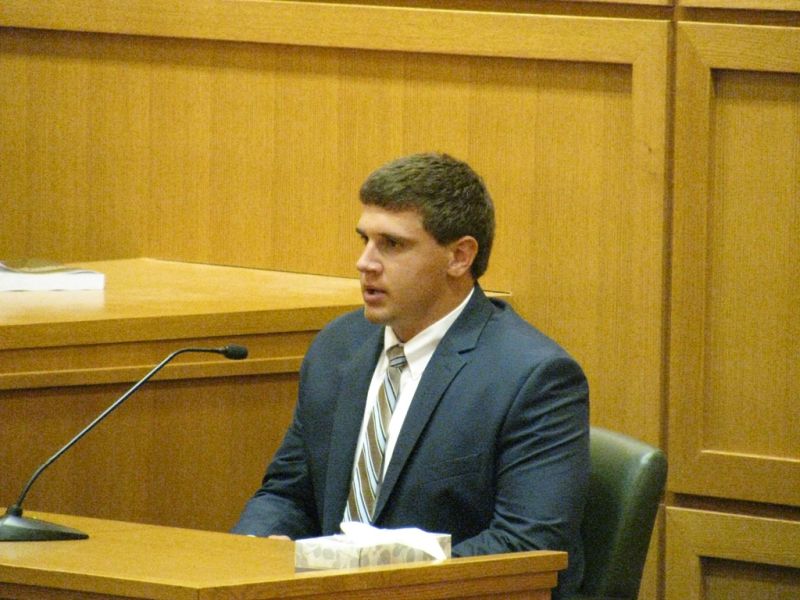 A Dane County jury found a former University of Wisconsin football recruit guilty Wednesday night of raping a woman in her dorm room in December while he was on a recruiting visit to the campus.
Dominic D. Cizauskas, 18, a linebacker from Mukwonago, was convicted of third-degree sexual assault for the Dec. 14 incident at Sellery Hall, where he visited the woman whom he knew from his hometown.
Cizauskas and his family appeared stunned by the verdict, and quietly left the courtroom after it was read. Cizauskas now faces up to five years in prison and five years of extended supervision when he is sentenced in about two months by Reserve Judge Daniel LaRocque.
The verdict, reached after about five hours of deliberation, came at the end of a hard-fought day in the courtroom that saw testimony by the woman and by Cizauskas, whose accounts of the incident differed on key points, particularly whether she consented to have sex with Cizauskas.
The woman and Cizauskas both testified that they had had sex several times in the past, most recently in July, but the woman testified that since coming to UW-Madison for her freshman year last fall she was not interested in sex with Cizauskas again.
Cizauskas testified that text messages between them were sexually charged, and that when he told her he was visiting Madison and that he wanted to see her, she knew exactly why .
In her closing argument Wednesday, Assistant District Attorney Rachel Sattler said that no matter what the backstory was between Cizauskas and the woman, the woman did not want to have sex with him that night and it was her right to say no.
The fact that she and Cizauskas had had sex before, Sattler said, "does not give Dominic Cizauskas eternal rights to (the woman's) vagina."
Cizauskas' lawyer, Tim Verhoff, said in his closing argument that the woman had consensual sex with Cizauskas and then felt regret. She then quickly erased a few key text messages between her and Cizauskas, which were later recovered by police, indicating that she wanted Cizauskas to come to her room.
"This was a consensual act," Verhoff said. "It's something she might have felt bad about afterward."
Sattler told jurors how improbable it was that the woman would then have faked emotional moments with her friends and roommate as she told them what happened, an hours-long sexual assault examination, police questioning and finally a trial, all because she regretted having sex with someone she had had sex with before.
The woman "didn't have to tell anyone what happened," Sattler said. "She told because she was sexually assaulted. It's as simple as that."
Both Cizauskas and the woman took onslaughts from opposing lawyers during cross-examination as they testified.
Verhoff pointed out differences in the woman's testimony from what she initially told police about the incident, and asked her why, if she was trying to avoid being sexually assaulted by Cizauskas, she didn't call for help or even leave the room to find someone to help her. The questions brought the woman to tears.
The woman said she was, at that point, in her underwear.
"I didn't want to run around in my underwear," she said. "I'd just been assaulted."
Verhoff also said that when she told Cizauskas to stop what he was doing, he stopped. But the woman responded that Cizauskas didn't stop right away, taking between five and 10 more minutes, and that Cizauskas had said he wanted to "finish."
Cizauskas testified that the incident was consensual sex between the two, and that the woman had not told him to stop until much later, and that he did stop when she told him to.
But asked by Assistant District Attorney Matthew Moeser what words the woman used to tell Cizauskas that she wanted to have sex with him, Cizauskas said, "by her actions." Moeser jumped on him, asking repeatedly what the woman had actually said, and got the same answer several times from Cizauskas.
When instructed by LaRocque to answer the question, Cizauskas repeated the same answer. LaRocque again pressed for an answer to the question, and Cizauskas said finally that the woman said, "Okay, let's do this."
"Are you sure that's what she said?" Moeser asked. "It seemed to take you a while to come up with that answer."