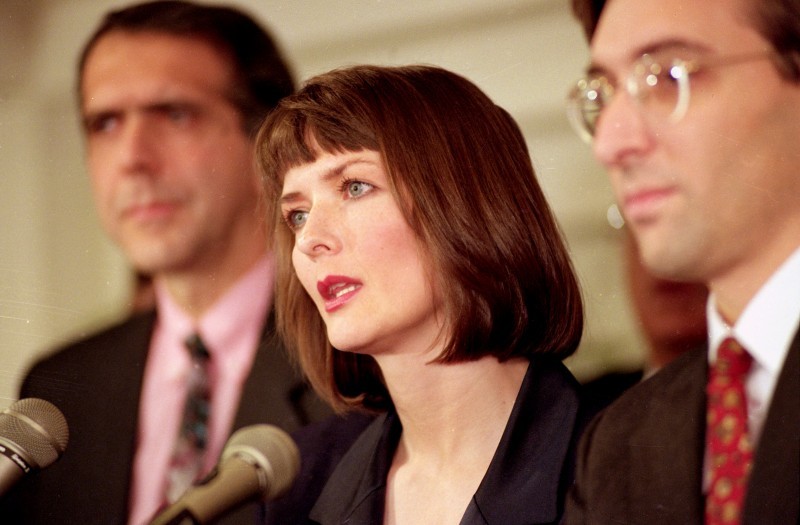 Laurie Bembenek, the former Milwaukee police officer and Playboy hostess convicted of a decades-old murder, is near death in hospice care near her home in Vancouver, Wash., according to a friend.
Ira Robins of Milwaukee said Bembenek, 52, has been suffering from liver and kidney failure, partially due to Hepatitis C. "She's almost gone," Robins said Wednesday. "She's been beaten up for so many years. They took her to hospice Sunday or Monday."
Bembenek, known as "Bambi" Bembenek, was convicted in 1982 of killing Christine Schultz, the ex-wife of her husband, Fred Schultz. Bembenek escaped from prison, fled to Canada, was recaptured and later entered a no contest plea to a reduced charge of second-degree murder. Prosecutors agreed to release Bembenek on time she already served.
Meanwhile, Wisconsin's pardon board will not consider a petition by Bembenek at its meeting Wednesday.
It's unclear whether the board, which meets twice in December, will consider Bembenek's petition before Gov. Jim Doyle leaves office. The board makes pardon recommendations to the governor, who makes the final decision.
Doyle spokesman Adam Collins says Bembenek's application is incomplete. "The judge and district attorney's office have not yet offered comment," he said Wednesday.
Robins said he has been investigating Bembenek's case for more than two decades, trying to prove that she was wrongfully convicted. "The real sad thing is: why didn't anybody look at the evidence? Nobody wanted to examine the evidence."
Robins said at least one of Bembenek's friends has flown to Washington to be with her, and she remains friends with her ex-husband Martin Carson, who lives near her. 
The Associated Press contributed to this story.
---
Bembenek timeline
1980: Enters the Milwaukee police academy, graduates sixth in her class.
1981 (January): Marries Elfred Schultz, Jr., the former husband of Christine Schutlz.
1981 (May): Christine Schultz is murdered.
1981 (June): Bembenek is arrested and charged with first-degree murder in the shooting of Christine Schultz.
1982: A jury finds Bembenek guilty of the murder after deliberating for four days after nearly two weeks of testimony in the trial. She is sentenced to life in prison.
1983 (Feb.): The first-degree murder conviction is upheld by the Wisconsin Court of Appeals.
1983 (May): The Wisconsin Supreme Court declines to grant Bembenek's petition for review of the appeals court decision.
1984: Bembenek is granted a divorce from Elfred Schultz.
1984: Milwaukee County District Attorney E. Michael McCann refuses to reopen the Bembenek case as requested by petitioners.
1990: The 2nd District Court of Appeals upholds the first-degree murder conviction of Bembenek in the 1981 slaying of her husband's ex-wife, rejecting an appeal for a new trial on grounds she failed to show her lawyer, Donald Eisenberg, had a conflict of interest when he represented her.
1990: Lawrencia Bembenek escapes from Taycheedah Correctional Institution in July by crawling through a laundry room window.
1990: The Wisconsin Supreme Court rejects a request to consider Bembenek's appeal, citing her fugitive status.
1990: Three months after her escape, Bembenek is arrested in Thunder Bay, Ontario, along with her then-fiance Dominic Gugliato.
1990: A November immigration hearing in Canada is delayed as Bembenek's lawyer attempts to seek refugee status for her.
1991: During her immigration hearing in Canada, Bembenek states that a corrupt Milwaukee police department framed her for Christine Schultz's murder.
1991: A Canadian judge orders Bembenek be released on bail until her request for freedom in Canada is settled, but she is returned to jail the following day when Wisconsin authorities persuade a judge to order her arrest to start extradition proceedings against her.
1992 (April): Twenty-one months after escaping from prison, Bembenek returns to Wisconsin and Taycheedah Correctional Institution.
1992 (Aug.): A Milwaukee County Circuit judge, after conducting a secret probe into criminal wrongdoing in the 1982 murder conviction of Bembenek, states there was no criminal conspiracy to frame Lawrencia Bembenek. He says, "No fair-minded person could conclude that Lawrencia Bembenek was framed."
1992 (Dec.): After 10 years in prison, Bembenek wins her freedom under a complex court deal in which her original conviction is set aside and she pleads no contest to a reduced charge of second degree murder and is placed on parole. She continues to maintain her innocence, however.
1992 (Dec.): Bembenek graduates from UW-Parkside with a liberal arts degree in humanities.
1993: A television movie, "Woman on the Run," based on Bembenek's book, "Woman on Trial," is shown on NBC, starring Tatum O'Neal.
1994: Bembenek legally changes her first name from Lawrencia to Laurie.
1995: Bembenek is diagnosed with hepatitis C. She is also under treatment for depression.
1996: Bembenek is arrested in Milwaukee on a charge of possessing a controlled substance. Investigators found her with a marijuana cigarette and confiscated 3.8 grams of cocaine.
1996: State authorities grant Bembenek's request for her parole to be transferred to the state of Washington where her parents live.
1999: Bembenek's mother is diagnosed with liver cancer and dies less than a year later later.
2002: DNA results released in Milwaukee County Circuit Court of tests conducted on murder scene evidence found none of Bembenek's DNA on any of the 15 items tested, which her attorney said shows Bembenek wasn't at the scene.
2002: Doctors amputate Bembenek's right foot after she injured it during a fall when she attempted to climb out of a window in Los Angeles.
2003: Joseph Bembenek, father of Laurie, dies of cancer. Her father's dying wish is for her to clear her name.
2003: The state agreed Friday to ballistics testing on a gun used to convict Bembenek in 1982 for the death of her husband's ex-wife.
2003: Two sets of ballistics tests on guns used in the case against Bembenek come back with different conclusions.
2003: Bembenek is granted a hearing to review new DNA evidence she believes will exonerate her.
2004: Bembenek files a federal civil rights lawsuit for nondisclosure of evidence in her 1982 trail.
2004: New DNA evidence would not have affected the murder conviction of Bembenek, a Milwaukee County Circuit judge rules. The evidence, including male DNA found on a vaginal swab, was not enough to convince the court Bembenek would have been acquitted of the murder of Christine Schultz had it been available. The decision is a major setback for Bembenek to prove her innocence in the 23-year-old murder case.
2004: The state Supreme Court issues a rare emergency order that benefits Bembenek, requiring a DNA lab to keep custody of potential evidence related to her murder conviction challenge. The order reverses the Milwaukee County ruling to return the evidence to Milwaukee police.
2005: Bembenek is remarried.
2006: Bembenek's lawyer files in federal court a petition to overturn her conviction. A similar petition is served on Gov. Jim Doyle's legal counsel.
Sources: State Journal archives; Milwaukee Journal-Sentinel
Compiled by Ron Larson, former State Journal library director