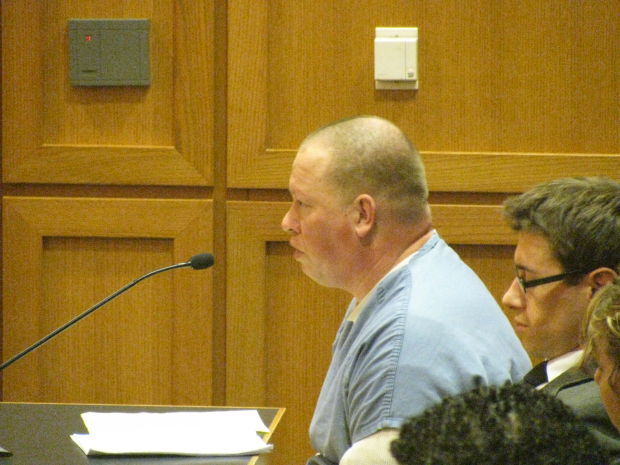 The father of a 15-year-old girl who had run away from home nearly two years ago, weighing just 68 pounds and wearing only pajamas, was sentenced to five years in prison Wednesday.
Chad G. Chritton, 42, told Dane County Circuit Judge Julie Genovese that he did the best he could under difficult circumstances to care for his daughter, but ultimately failed, before she ran away in February 2012, sparking a case that ultimately led to criminal convictions.
"I'm not the monster that the DA and the press made me out to be," he said during a lengthy statement.
Genovese said that beyond the repercussions Chritton has endured after his arrest and convictions — the loss of his house, two sons taken away and a very public criminal case — she did not believe Chritton deserved further punishment for the four criminal convictions he received from two juries.
But she said the crimes were so serious that he should receive the same punishment she gave last year to Chritton's wife, Melinda Drabek-Chritton. Not doing so "would not send the right message," Genovese said.
Chritton was convicted of second-degree reckless endangerment, child abuse and causing mental harm to a child after a trial in November and child neglect after a trial in March.
The girl, who is now 17, testified that she was kept confined to the basement of the family home, was starved and beaten and was made to eat her own feces. Chritton denied Wednesday that any of those things happened but said he accepted the verdicts of the juries.
The November jury acquitted Chritton of false imprisonment.
In a letter to Genovese, the girl, who did not appear in court Wednesday and attended Chritton's court proceedings only to testify, wrote that she was turned into her parents' "personal slave."
"I was yelled and screamed at numerous times by Chad and Melinda, they even made me feel like I was really dehumanized a lot," she wrote. She said she was threatened "every single day of my life with them."
The girl wrote that she lost six years of education but now is in middle school and enjoying it.
"With those six years of no education, those were also the years that I started losing my life, the life I wanted to own and didn't until I ran away," she wrote. She wrote that she's doing things she never got to do, like taking part in sports, swimming and camping.
"I do not, do not want to see Chad Chritton ever again, and I do not want to hear from him and I do not want anything from him anymore ever again," she wrote. She added that she is still "very, very angry" with him and always will be.
District Attorney Ismael Ozanne argued for a 10-year prison sentence for Chritton, contending that much of what Chritton did was to protect a sex offender in the home, Drabek-Chritton's son Joshua Drabek. Ozanne said the decisions not to send the girl to school or to get her treatment were made to keep her from reporting the abuse at home and to protect Drabek.
"Hardworking parents don't protect sex offenders and make their own children the victims of abuse," Ozanne said.
Drabek, 20, is charged with sexually assaulting the girl. He is scheduled to stand trial next month.
Chritton's lawyer, Jessa Nicholson, countered that prosecutors dropped a charge of failing to protect the girl from Drabek because the evidence did not support the charge.
She said Chritton was simply a man who wanted the best for his daughter but was overmatched by the situation. The girl has reactive attachment disorder, attention deficit hyperactivity disorder and other problems that made her care a challenge for Chritton.
Add to that a difficult pregnancy for Drabek-Chritton and medical problems for their son after his birth, pressure to provide for his family and Drabek's ongoing legal problems, Nicholson said, along with the feeling that social workers had let down the family, and Chritton couldn't keep up.
And after his arrest, Nicholson said, "his family has been completely destroyed. His reputation in the community has been destroyed by the coverage of this." She asked for probation.
"I'm not a proponent of general deterrence," Nicholson said. "I would say that Mr. Chritton has had specific deterrence in spades."
In his statement, Chritton said he was trying to put his family back together after the trials of the last two years and regain custody of his two young sons. And to his daughter, he could only express regrets.
"I am sorry I was not the father you needed me to be," he said. "I am sorry I did not take better care of you. I wish you happiness for the rest of your life."