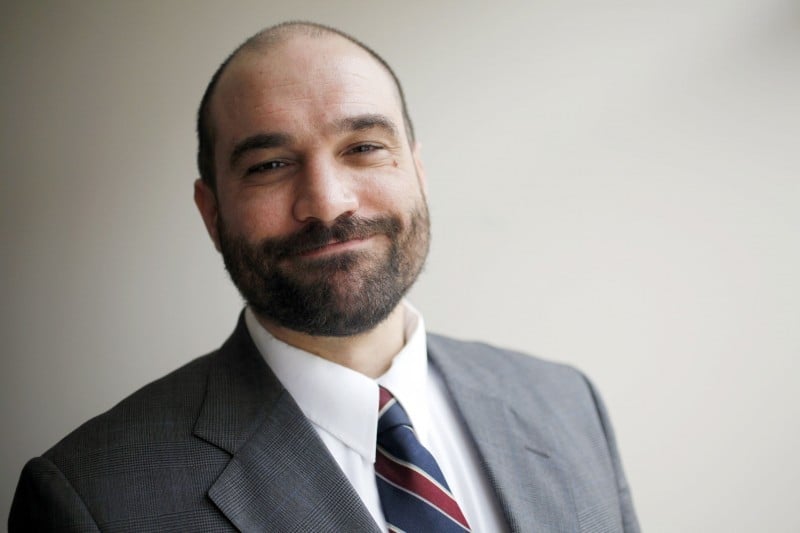 Dr. Vincent Tranchida expects some changes in his death investigation assignments.
In New York City, where he worked for the Office of the Chief Medical Examiner, "you never know what would be coming through the door."
In Dane County, where he starts work Tuesday, "I expect I will have a lot fewer subway deaths."
Tranchida (pronounced tran-KEE-dah), 39, a forensic pathologist who will conduct autopsies and join a staff of 11, will be Dane County's first medical examiner. The position expands the responsibilities of the elected coroner's office, which officially closed Jan. 1.  At a salary of $190,000 annually, he will be Dane County's highest-paid employee, and indications are he will be working long hours to earn it. There are predictions for the need of as many as 300 autopsies this year or in 2012.
In interviews last week, Tranchida was amiable, open and self-deprecating, chatting about his years in New York City and professional expectations in Dane County as he prepared for the move to Madison. Meanwhile, this week at the Dane County Public Safety Building, a corner office on the second floor down the hallway from the Sheriff's Office still carried the smell of fresh drywall.
Putting his new assignment in context, Tranchida said "you get to know an area by knowing how the people live and how they die. I expect (Dane County) will have its share of unusual and interesting cases. As Dane County gets larger, it will be more valuable to have a county medical examiner whose sole devotion is keep an eye on public health issues.
"I expect I will have a lot fewer subway deaths, of course, but in exchange I will probably see more rural deaths or farm accident deaths. I hope to learn something new every day."
Though one of his public lectures in New York carried the title "I See Dead People," Tranchida said that in Dane County he expects to continue his activities on issues related to staying alive.
"I plan to keep my eye on public health issues as well," he said, mentioning work with the Back to Sleep program, organ donation and STD/AIDS prevention.
Tranchida worked his way up for eight years in one of the busiest, most-media-focused death investigation units in the world, starting in 2001 with a month's volunteer work in the tents with the staff working round the clock at the site of the 9/11 attacks, identifying human remains from that tragedy. He called the experience "an honor."
Dr. Charles Hirsch, the chief medical examiner of New York, was effusive in describing Tranchida's work: "Vinnie is a superb forensic pathologist, meticulous, thoughtful, cautious and technically quite excellent," Hirsch said. Among his rare skills, Hirsch said, is Tranchida's training in neuropathology, "discovering injuries and causes of death traced to the brain and nervous system."
Hirsch also praised Tranchida's qualities of compassion and "sensitivity to the needs of the bereaved."
Also, he was fun and "a very easy person to work with," said Hirsch.
Tranchida said his training has taken him to demanding environments for a forensic pathologist, from busy inner-city Detroit Medical Center to "one of the best places to learn in the country, New York City," with its diverse case load and a strong teaching staff. A month helping identify remains from 9/11 was actually part of the application process for working in that office, he said.
While there, Tranchida also performed autopsies for other agencies, something he will also be expected to do in Dane County, and he presented lectures on diverse aspects of the profession.
"I hope very much to continue teaching (in Madison)," he said.  "Teaching is a good way of keep abreast of what is going on in the field and also sharing that knowledge with others. My hope is to make the Dane County Medical Examiner's Office a teaching resource for the university, for the residents."
Tranchida grew up outside of Detroit, attended high school, college and medical school in Michigan and is happy to be back in the Midwest.
"I loved my work and the people in New York City, an exciting place, but I never felt like it was a very good fit for me. I was born and I grew up in the Midwest. That is where my home is."
Age: 39
Education: BA: University of Michigan, 1993. MD: Wayne State University School of Medicine, 1998 (His brother, Paul, also graduated in that class at medical school and is a surgical pathologist. His father is also a physician and teaches at Wayne State.)
Residency: University of Michigan Medical Center, 1998-2003
Volunteer: 9/11 Identifications of Remains, Office of Chief Medical Examiner, New York City, October, 2001.
Fellowships: Office of Chief Medical Examiner, New York City, forensic pathology, 2003-2004
Office of Chief Medical Examiner, New York City, forensic cardiac pathology/neuropathology, 2006-2007.
Career: Medical Examiner I, Office of Chief Medical Examiner, Queens borough, 2004-2006
Medical Examiner II, Office of Chief Medical Examiner, Manhattan borough, 2006-2008
Acting Deputy Chief Medical Examiner, Manhattan, 2007-2008
Medical Examiner II, Office of Chief Medical Examiner, Queens, 2008-2010
Faculty instructor, anatomic and forensic pathology. Also instructor in basic course in death scene investigation, related forensic pathology courses in ongoing lecture series. He has lectured on trauma, gunshot wounds and postmortem changes to the body.
Hobbies and interests: "I enjoy reading (predictably, crime novels ‑- I'm making my way through the Steig Larsson trilogy right now), weightlifting, swimming laps, working with animals, and I am an amateur cook."