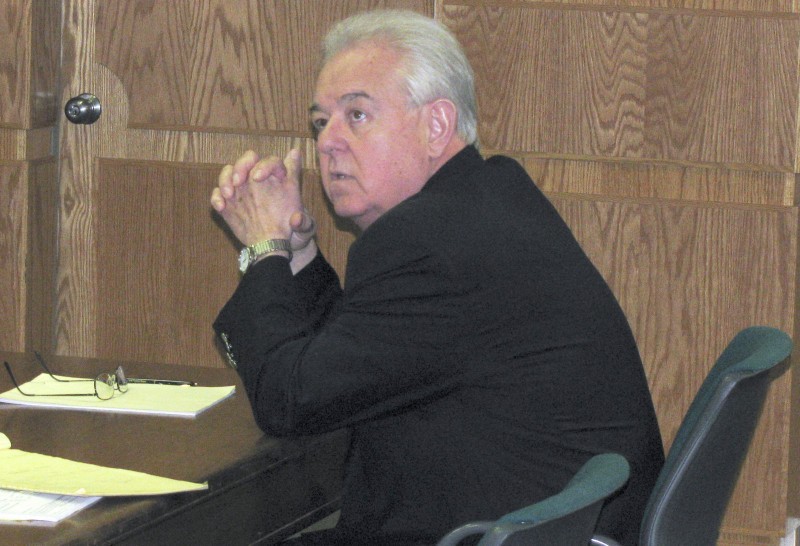 JEFFERSON — A former Watertown priest convicted of stealing church funds and defrauding parishioners apologized to his congregation at his sentencing Tuesday, saying he hurt people "terribly, though totally unintentionally."
The Rev. Thomas Marr, 66, who led St. Bernard's Catholic Church in Watertown for 24 years, was spared prison but sentenced to nine months in a county jail as a condition of a seven-year probationary period.
He also must pay restitution of $134,318 to 17 households. Many other victims did not seek repayment and were not part of the court's order.
About two dozen supporters filled the courtroom, including longtime parishioner Mary Wagner, who told Jefferson County Circuit Judge Jacqueline Erwin that Marr is a wonderful priest but that "finances is not his cup of tea and never has been."
Marr was accused of soliciting money from dozens of parishioners and friends and turning it over — perhaps as much as $613,000 — to a friend, Arthur Eith, who claimed to be awaiting a huge payout on a Nigerian business venture. Eith allegedly promised Marr a $1 million donation to St. Bernard's.
Marr pled guilty in December to two felony counts of theft. Eith remains under investigation by the state Department of Justice and has repeatedly declined comment.
Supporters contend Eith duped Marr and that Marr was vulnerable because he was exhausted from caring for a fellow priest with dementia. Marr's attorney, Bill Ginsberg, said his client had no criminal intent and intended to pay everyone back.
Others questioned Marr's innocence. Tom Levi, one of two lay trustees at St. Bernard's, said Marr misrepresented to people why he needed the money and seemed to exploit people's trust in him.
"He was the best friend of everybody, and that's why this crime is so heinous," Levi said in court.
Levi said he was not speaking for the congregation but for himself and those who have left St. Bernard's or have become "disgusted" with the Catholic Church over the issue.
Marr, who now lives in Madison, read a brief statement asking forgiveness for those he hurt. "I have no excuses for my bad judgment," he said.
Erwin said she took into account Marr's age, decades of good character and lack of a prior record. She said she has little concern he will steal again but that jail time was necessary to deter others.
After three months in jail, Marr can apply for an alternative, such as electronic monitoring. He also will be required to pay restitution to St. Bernard's. A decision on the amount is expected next month.