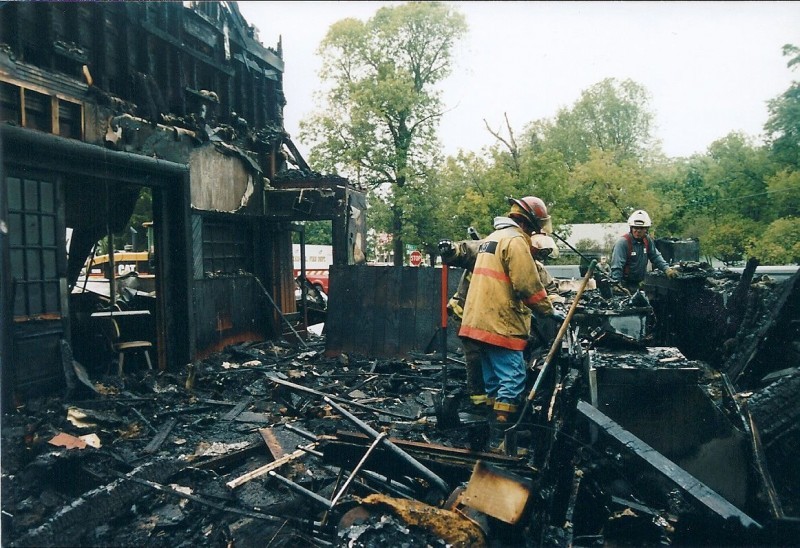 Investigators misread clues and used faulty logic to wrongly conclude that a 2006 fire at a Marquette County bar was arson, according to a motion seeking to overturn the conviction of JJ's Pub owner Joseph Awe.
Awe, 41, who denies having anything to do with the fire, is serving a three-year term at Oregon Correctional Institution.
Marquette County District Attorney Chad Hendree declined comment on the motion, filed in Marquette County Circuit Court Friday. Previous attempts by Awe to appeal his conviction have been unsuccessful.
In the most recent appeal, Madison attorney Stephen Meyer argues Awe's trial attorney failed to elicit testimony that would have revealed potential bias because the technical experts testifying for the state were paid by Mt. Morris Mutual Insurance Co. The small Coloma firm stood to save $285,000 if Awe were convicted of the charge of setting fire to the building to collect on his insurance policy.
The motion also says Awe's attorney should have called witnesses who would have backed Awe's testimony that he was home in Friendship, 34 miles away, when the fire broke out in Harrisville in the early on on Sept. 11, 2006.
Awe's attorney also did not call the defense's accountant, who would have testified that contrary to the state's theory, Awe and his wife, Janina, were not having financial troubles.
Awe's case was the basis for a 2011 Wisconsin State Journal series, "Burning Questions: Arson or Accident?" The four-part series found that insurance companies with a financial stake in the outcome routinely work on behalf of the state to help convict policyholders for fires that may be accidental.
Meyer's motion also cites a review of the case by John Lentini, a nationally renowned fire investigator from Florida whose examinations have led to dismissals in several arson cases.
Lentini concluded that the fire in the 130-year-old bar, which had a history of electrical problems, likely started in the heavily burned circuit box.
Citing an area of deep charring, the state alleged that the JJ's Pub fire started elsewhere and was set by someone kicking a hole through wooden paneling and holding a flame inside the wall.
But Lentini said investigators working for the state committed a common error. He cited studies involving test fires that showed trained fire investigators who used depth of char to identify a fire's origin got it wrong 75 percent to 90 percent of the time after a room was engulfed in flames for three minutes or more.
"In summary, it is my opinion that the fire at JJ's Pub represents a classic case of an accidental fire wrongly determined to be an intentionally set fire," Lentini said in an affidavit.
Lentini also said the investigators, including experts hired by Mt. Morris, Deputy State Fire Marshal James Siehelr and Marquette County Deputy Sheriff Joseph Konrath, employed faulty logic in labeling the fire an arson.
During the four-day trial, Siehelr testified the experts could find no accidental cause at the origin; that meant the fire had to have been intentionally set.
Lentini noted that such reasoning — known as "negative corpus" — has been discredited as unscientific in the most recent edition of the guidebook used by fire investigators. That version was not yet published when Awe was convicted in 2007.
"The facts didn't send Mr. Awe to prison," the motion states. "Deficient representation and since-discredited expert testimony did.
"Less apparent, but equally unjust and equally at fault, was the injection of private resources into the investigation and prosecution of this case by an interested entity intent on escaping its civil liability for Mr. Awe's financial loss."
Be the first to know
Get local news delivered to your inbox!