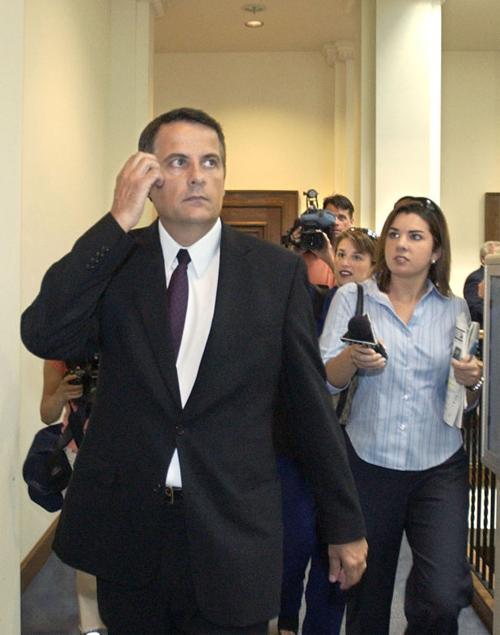 A man sentenced to life in prison for a 1989 murder is seeking a new trial in Winnebago County, saying the district attorney and Oshkosh police used lies and misconduct to convict him.
Mark Price, 55, acknowledges driving with Michael Fitzgibbon to Lake Butte des Morts, stuffing Fitzgibbon's body under the ice on orders of the men who shot him and then fleeing the state. But he said District Attorney Joseph Paulus — who was later imprisoned for taking bribes to fix criminal cases — engaged in improper conduct to convict him.
"Mr. Paulus devised and executed a plan to present perjured testimony. He bribed potential state's witnesses ... and then hid the bribery from Mr. Price and his attorney. He withheld or destroyed evidence helpful to the defense," according to an appeal filed by attorney Byron Lichstein and law student Matt Gardner for the UW-Madison Legal Aid to Incarcerated Persons project.
"Rather than simply prosecute Mr. Price for the charges he deserved, Mr. Paulus instead ratcheted the charges up to first-degree intentional homicide, and manipulated the evidence to obtain a conviction on that charge."
Even Winnebago County Deputy District Attorney Scott Ceman acknowledged Paulus' conduct was questionable. But he said there was enough legitimate evidence to support a murder conviction against Price.
"I'll never understand why Joe Paulus did what he did as a prosecutor and in this case," Ceman said in an interview. "I'm not in any way defending him. But even taking what the defense is saying, even taking everything they alleged Paulus did is true, it still doesn't undo or eliminate all of the other evidence of Mark Price's guilt."
Ceman acknowledged he has not gone through the "massive" case file to investigate the allegations of misconduct contained in the appeal.
A message left on Paulus' cellphone was not returned. Paulus, who now lives in Alabama, was not disciplined over the Price case but did lose his law license over the bribery conviction.
A message left with a spokesman for the Oshkosh Police Department also was not returned.
Price's appeal is being heard by Fond du Lac County Circuit Judge Richard Nuss. Several Winnebago County judges whose terms overlapped with Paulus' tenure as district attorney have recused themselves.
Ceman argues that some of the issues Price is raising have already been dealt with in an earlier appeal or are too old to raise now.
In a Sept. 11 response, the defense called those arguments "incoherent." There is no deadline for filing an appeal based on newly discovered evidence, the response stated, adding that Ceman failed to "explain how evidence that was illegally withheld until long after trial and appeal could have somehow been raised."
Price also alleges in a court filing:
• Paulus knowingly elicited perjured testimony from at least three key witnesses, including the then-coroner who has since acknowledged falsely testifying about how extensively he examined Fitzgibbon's body and what he observed.
• An Oshkosh detective improperly characterized the star witness, Todd Crawford, as "cooperative." Crawford had testified that Price and Richard Pease shot Fitzgibbon. Price testified that Crawford and Pease shot the man. Pease is serving a life term, while Crawford was never charged.
You have free articles remaining.
• Paulus "bribed" two witnesses into giving false testimony, including paying the $633 rent for one witness, which he hid from the defense.
• The prosecution promised inmate Samuel Griffin a sentence reduction if he testified against Price even though Griffin had written an affidavit saying that Pease denied Price had shot Fitzgibbon. After his false testimony, Griffin got a 12-year sentence reduction. He has since recanted his testimony, saying in a 2010 sworn affidavit he did so "to clear my soul."
• Paulus "lost or destroyed" all but one photo of Fitzgibbon's body, and the photo fails to support Crawford's claim that Price inflicted a vicious beating on Fitzgibbon before his death.
• That two experts who examined Crawford's polygraph for the State Journal in 2005 said the administration and interpretation of the test were fraught with fundamental errors. They found the test "inconclusive" as to Crawford's truthfulness.
Calumet County Circuit Judge Donald Poppy agreed to throw out Price's 1995 conviction for allegedly trying to put a "hit" on Paulus after hearing from both the defense and prosecution that Biskupic withheld secretly recorded jailhouse conversations showing Price knew nothing about and never mentioned a plot to kill Paulus.
Attorneys for both sides also argued that Biskupic elicited false testimony from prison inmate Darin Beverly — the main witness against Price — during a secret "John Doe" hearing.
Under questioning from Biskupic, Beverly testified that he never sought a deal in exchange for his testimony. But documents dug up by Winnebago County Assistant District Attorney Mike Balskus showed Biskupic and Beverly, a convicted rapist and armed robber, struck a deal in exchange for the inmate's testimony.
Records show Biskupic secured a five-year sentence reduction for Beverly after falsely telling Milwaukee County Assistant District Attorney Fern Siegel in a letter, "Mr. Beverly did not ask for assistance in seeking a sentence modification before his cooperation with law enforcement in the Winnebago County case."
Milwaukee attorney Susan Karaskiewicz, who was a special prosecutor representing the state, told Poppy that "it appears probable in this case that justice was miscarried."
Biskupic did not respond to a message left at his law office.
According to the appeal in the murder case, the defense motion is "less about Mark Price than it is about the abhorrent criminal justice process — orchestrated by Mr. Paulus — that led to Mr. Price's conviction."
Ceman said the simplest choice would be for him to support a sentence reduction and close this ugly chapter in Paulus' 14-year tenure in Winnebago County. But he believes that would be the wrong choice.
"It's difficult because you don't want the public to think all prosecutors care about is getting a conviction or 'covering up' for what Paulus did," Ceman said.
"But on the other hand, we have a man who was indeed there and we have, in my opinion, a lot of evidence of Price's guilt and one person (Crawford) who should've been in prison for the rest of his life has already walked. Do two wrongs make a right?"
Editor's Note: This story has been corrected to reflect the accurate title for Scott Ceman.