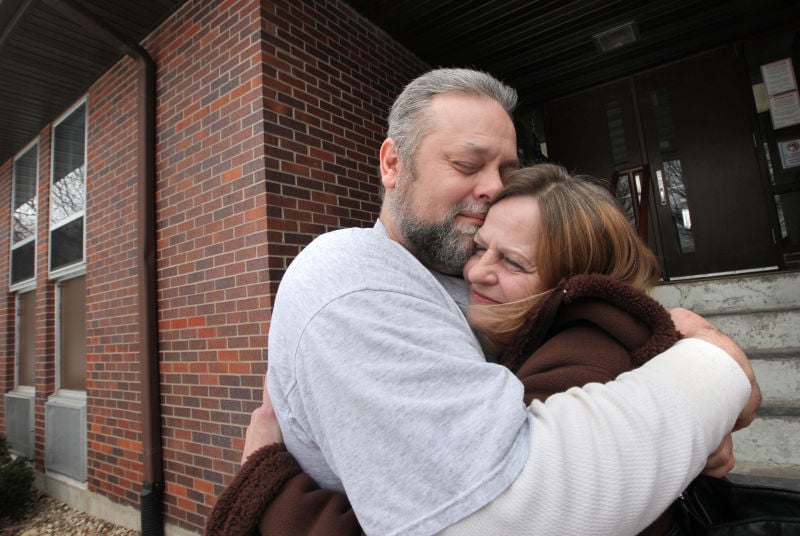 FITCHBURG — A disbelieving Joey Awe stepped out of the Oregon Correctional Center Monday, a free man for the first time in nearly three years after a judge overturned his arson conviction and ordered his release.
"I can't believe I'm out," Awe said as he stood in gray shirt sleeves in the freezing weather. "It's over, and I can't believe it's over."
Awe, 42, of Friendship, hugged his wife, Irene Florman-Awe. He repeatedly clung to his grandson, Logan Tyler, 9, and the granddaughter he had never met, Lexi Tyler, 2½.
Their parents, Sabrina and Alex Tyler of Lake of the Hills, Ill., said they had told Logan until recently that Awe, a decorated Marine Corps veteran, had been called back to military service to avoid telling him his grandfather was in prison.
"I just want to be with my family, and I want a bath," said Awe, who has been trying to clear his name for more than six years. "I just want to be home."
Awe was convicted in 2007 as a party to the crime of arson with intent to defraud in the Sept. 11, 2006, fire that consumed his bar, J.J.'s Pub, in Harrisville. His case was featured in "Burning Questions: Arson or Accident?" a four-part State Journal series in 2011.
The series exposed the crucial role that insurance companies with a financial stake in the outcome of a criminal case play in investigating fires. It also revealed that some fire investigators continue to use methods that have been scientifically discredited.
"I don't think I would be where I am now if it weren't for (the State Journal)," Awe said. "I know I wouldn't."
After his conviction, Marquette County Circuit Judge Richard O. Wright, who had expressed concerns about the role Awe's insurance company played in the criminal case, allowed him to remain free pending appeal.
But Awe's previous appeal attempts were unsuccessful, and he reported to prison for his three-year sentence in 2010. Awe had just about two months left when Wright granted him a new trial Thursday.
Wright's ruling hinged on investigators' use of a method known as "negative corpus" — the conclusion that a fire must have been intentional if no accidental or natural cause can be found. The National Fire Protection Association guide used by fire investigators was updated after Awe's 2007 conviction to say the practice should never be used.
Experts said the ruling added to the indictment of the "junk science" that has been used to mislabel some accidental fires as arson.
"The standard stated in this guide now advises that it is improper to give an opinion as to a specific ignition source that has no evidence to support it, simply by eliminating all other hypothesized sources," Wright wrote in his four-page decision last week.
Denny Smith, a Fort Wayne, Ind., fire investigator and national expert on the flaws of negative corpus, likened it to a person concluding, " 'There's something we can't find in our house. So someone must've stolen it,' even though there's no evidence of a break-in."
You have free articles remaining.
Dana Brueck, spokeswoman for the state Department of Justice, which includes the State Fire Marshal's Office, said officials were consulting with Marquette County District Attorney Chad Hendee about a possible appeal.
"We disagree with the judge's decision, and we'll make our case as to why if/when we decide to appeal," she said.
Brueck declined to say whether state arson investigators continue to use negative corpus to declare fires as arson, nor whether the state would re-examine any cases in which this now-discredited method had been used.
"In terms of the standards used by our investigators — our investigators are at all times required to and do follow what the current standards in the field are," she said.
Experts contradict findings
Awe's attorney, Stephen Meyer, presented two nationally known fire experts who testified in Awe's most recent appeal that investigators for the state and Mt. Morris Mutual Insurance Co. got both the origin and cause of the fire wrong. Defense experts John Lentini of Islamorada, Fla., and Mark Svare of Anoka, Minn., placed the origin of the fire in the electrical service panel of the 130-year-old building, which had a history of electrical problems.
It was an investigator hired by Mt. Morris who reached the crucial conclusion that the fire was not electrical, prompting Deputy State Fire Marshal James Siehelr to declare that it was intentionally set.
Wright noted that the state never determined how the fire started and "there was no direct evidence of the defendant's guilt." Awe was home 34 miles away in Friendship when the blaze broke out. Unable to place Awe at the scene, then-Marquette County District Attorney Richard Dufour charged him as a party to the crime of arson, but no co-defendant was ever charged or mentioned.
Lentini said "the judge knew that the state has put up a (bad) case, but he needed a legal hook, and the evolving science on negative corpus provided that hook."
Caitlin Plummer is a Wisconsin Innocence Project attorney who has written on the challenges faced by defendants wrongfully convicted of arson based on methods that have since been discredited. Plummer said the Awe case is unique because it happened relatively recently.
"Most overturned arson convictions are in cases that are decades old, and were investigated in the dark ages of arson science — before it was really a 'science' at all," Plummer said. "In those types of cases, the shift in the science is much more extreme and dramatic."
"This case is unique in that the shift in science is not nearly as overwhelming, but the court still recognized that it was significant enough to probably change the outcome of a new trial."
Even if the state does not re-issue charges, Awe's ordeal is not over. After he was convicted, Mt. Morris sued him in Marquette County Circuit Court to recoup the $67,000 it spent to investigate and help prosecute the case. Messages left with Mt. Morris' attorney were not returned late last week.
Asked if he thought a settlement of the pending case was likely, Awe responded, "I refuse."
"I want them to have spend three years in a place like this. Go explain to their family why they had to go to prison and did nothing wrong. Not see your granddaughter. Let them live that for a few years. Maybe then I'll accept something from them."