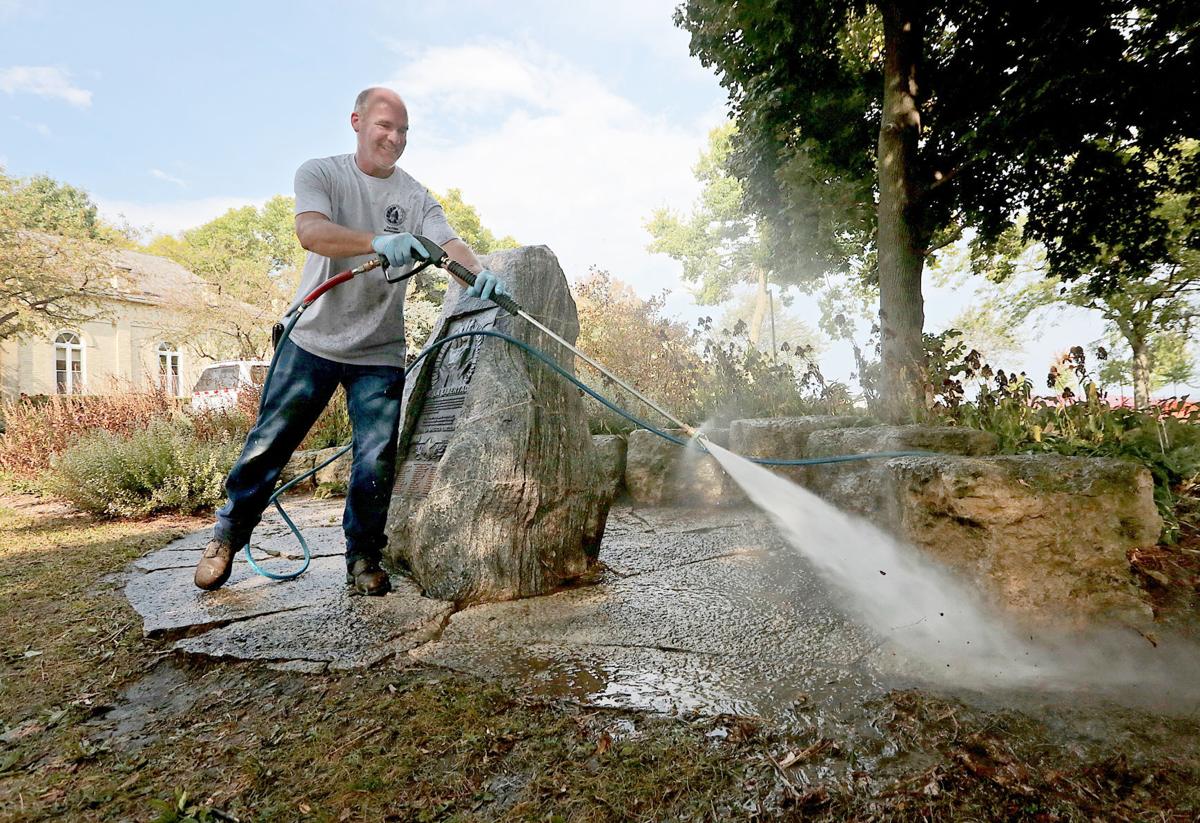 Vandals sprayed swastikas and other graffiti on a monument next to the Gates of Heaven Synagogue building in James Madison Park — in time for it to be discovered hours before the start of a Jewish holiday.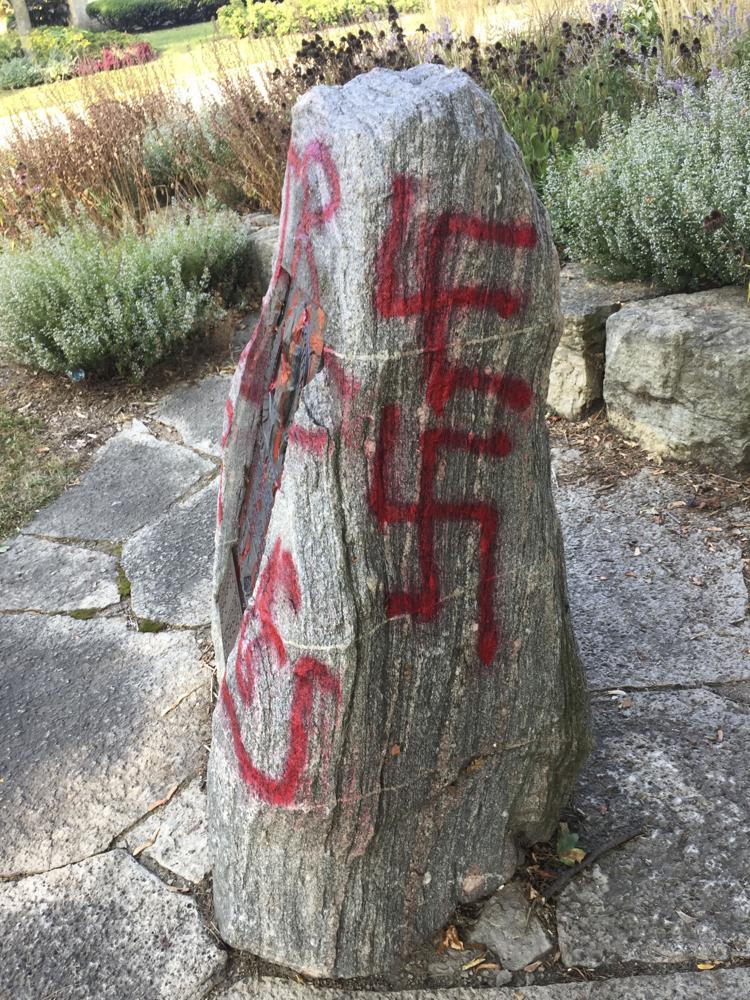 The monument honors Americans of the Abraham Lincoln Brigade that joined the international armies that fought the fascist forces of Francisco Franco during the Spanish Civil War.
"Antifa sucks" and "Trump rules" also were sprayed onto the monument in red paint. Antifa is a political movement opposed to fascism.
Madison police are investigating the incident discovered Wednesday morning, spokesman Joel DeSpain said.
"I'm horrified, I'm sad. I would have hoped that we were beyond this — especially in Madison," said Dawn Berney, executive director of Jewish Social Services of Madison. "But xenophobia is everywhere, even in Madison."
Photos: Swastikas, 'Trump rules' spray-painted on monument near historic Madison synagogue
Graffiti including swastikas was sprayed on a monument with red paint next to the Gates of Heaven Synagogue building at James Madison Park Wednesday morning.
The monument honors Americans that joined the international armies that fought fascist forces of Francisco Franco in the Spanish Civil War.
"Antifa sucks" and "Trump rules" also was spray-painted onto the monument. Antifa is a political movement opposed to fascism.
Madison Mayor Paul Soglin called the graffiti an act of "a few ignorant people."
"Given the enabling rhetoric from Donald Trump, particularly since Charlottesville, we know that vicious racist and Nazi attacks have increased. While we know that over 99 percent of the people of Madison abhor and reject this terrible act, let it stand as a reminder that there are always a few ignorant people who would destroy our liberty and rights," Soglin said in a statement. "I ask that they come forward not to be punished but to explain themselves. True patriots never hide and attack in the darkness; striking in silence and in the shadows lies in the heart of cowards and fools."
Berney said the graffiti was particularly disturbing because Wednesday is the start of Rosh Hashana, the Jewish new year.
"The person who did this knew that," she said.
The graffiti was brought to the attention of the city's Parks Division about 8 a.m. and it was removed by about 10:15 a.m. with a pressure washer by a Parks Division employee. The monument was not harmed, according to Parks Division spokeswoman Ann Shea.
Berney said it was important to remove the graffiti before the start of Rosh Hashana services at the historic synagogue Wednesday evening.
"For me, personally, the visual sight of (the graffiti) would have been very hard to look at," Berney said. "This is the start of the new year and it's a time when you think of wrongs you have done to others and ask for forgiveness. This is the complete opposite of that. It makes you angry and you want to do something about it, but that's not what you are supposed to be thinking about (during Rosh Hashana)."
You have free articles remaining.
Relocating, 1971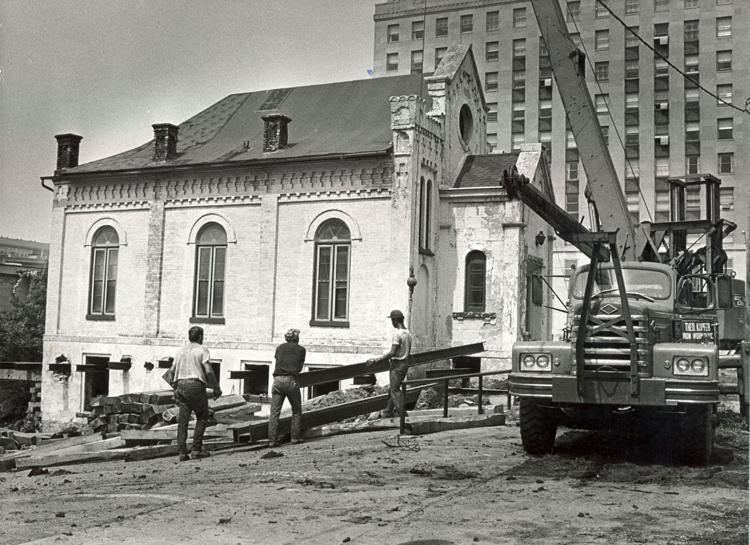 Relocating, 1971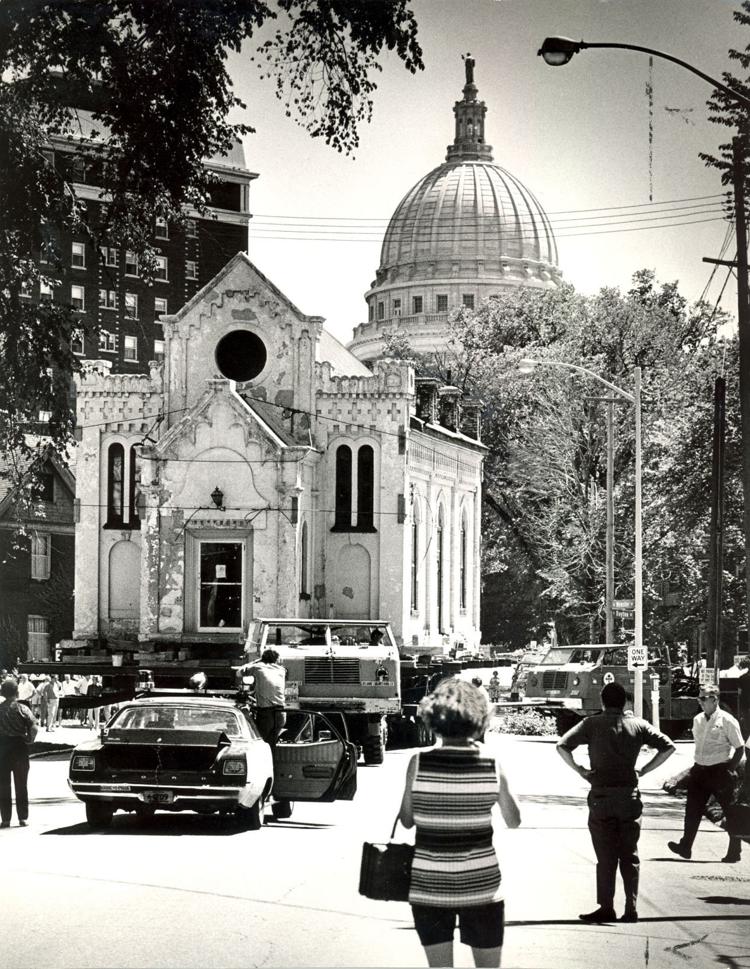 Relocating, 1971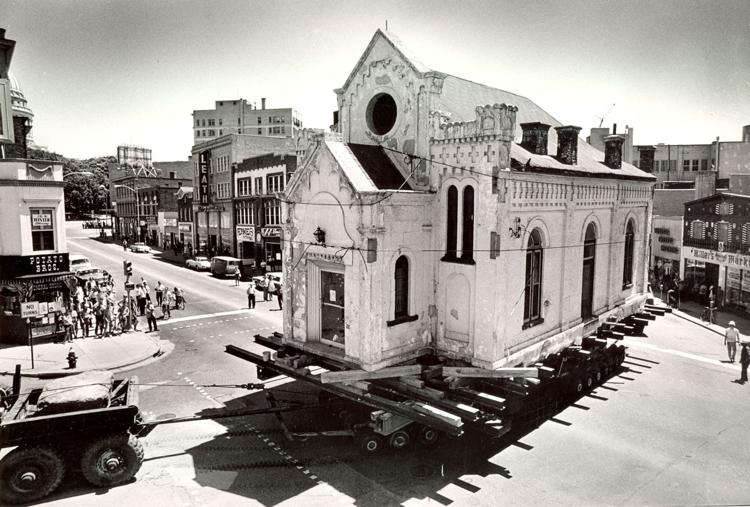 Exterior, 1974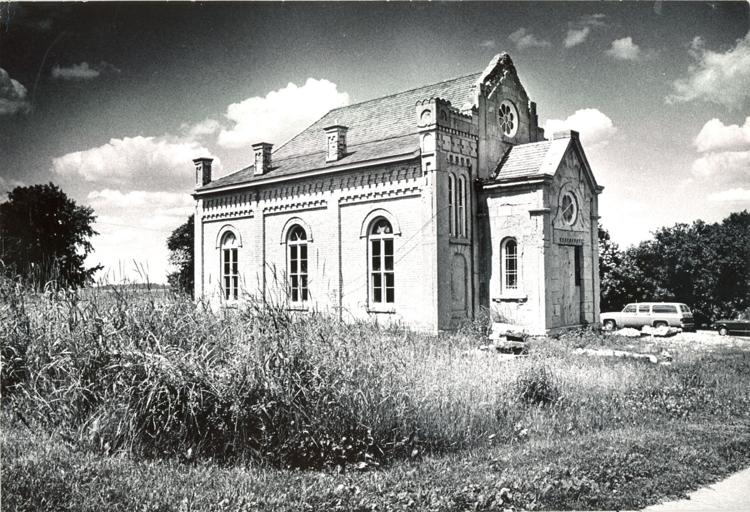 Exterior in winter, 1994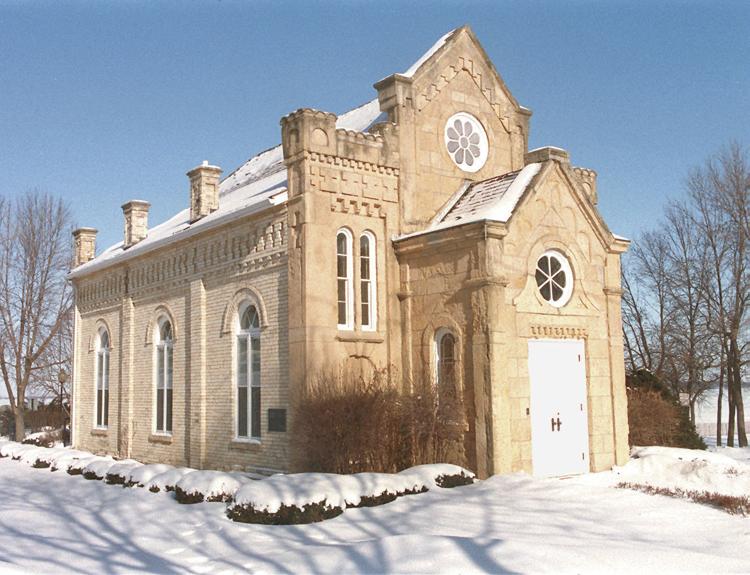 Martyred Torah, 1999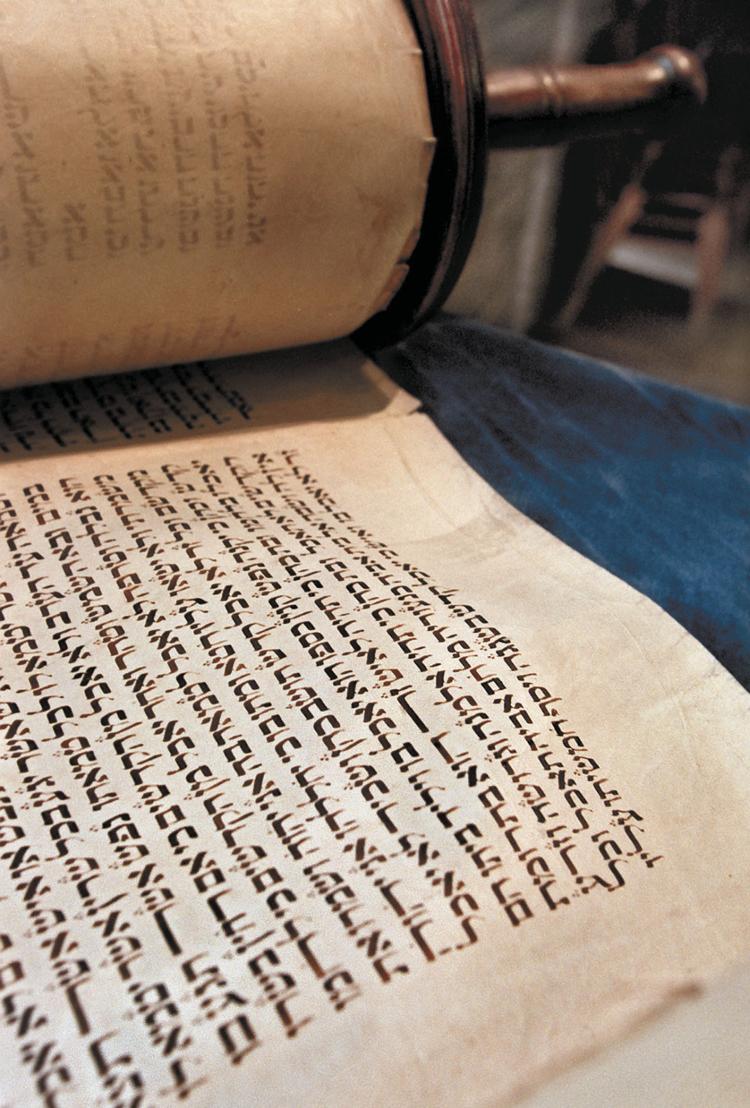 Holding hands, 2004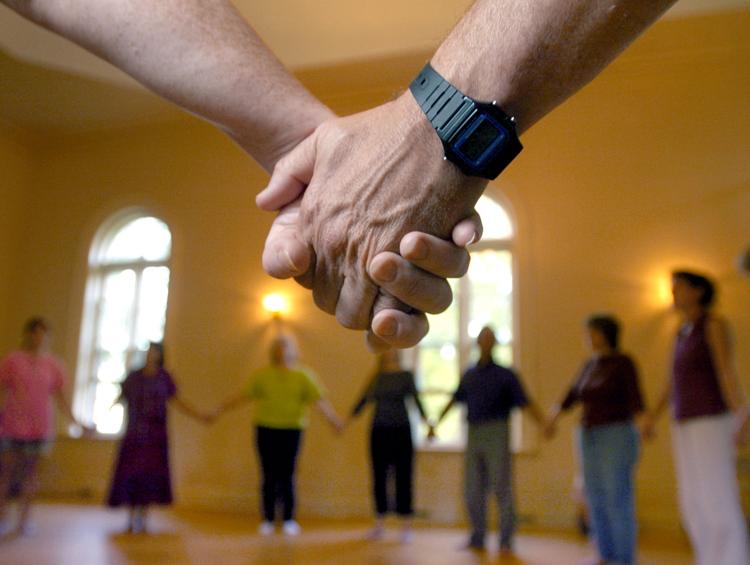 Exterior, 2009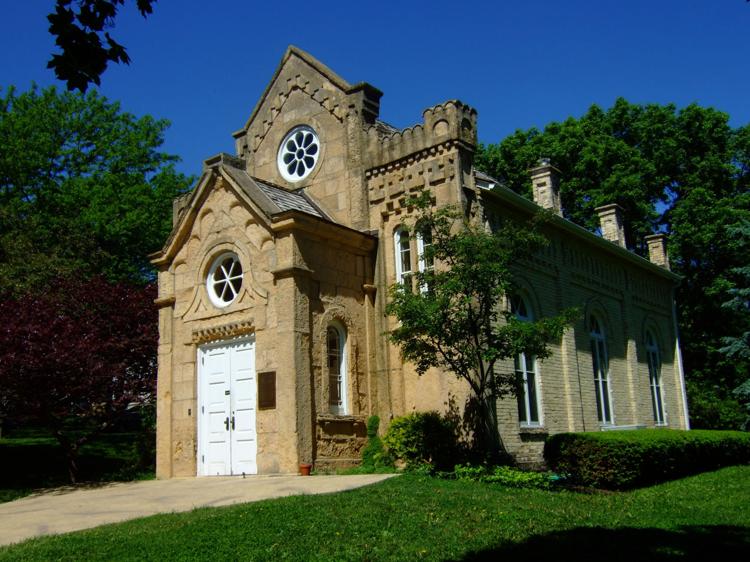 Historic plaque, 2009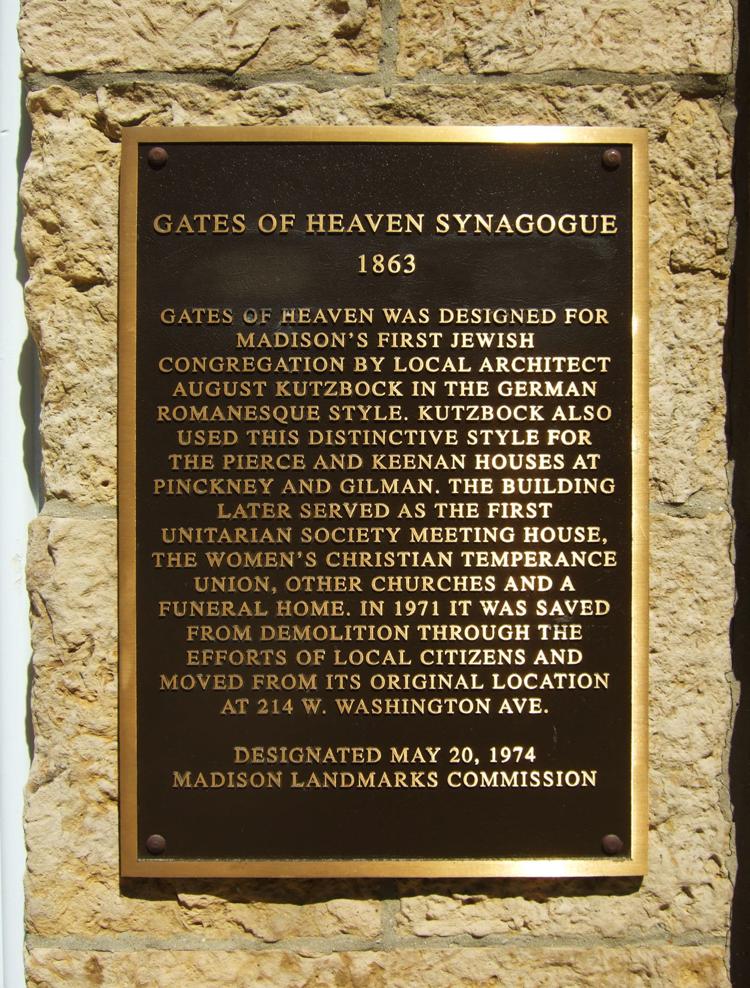 Exterior, 2010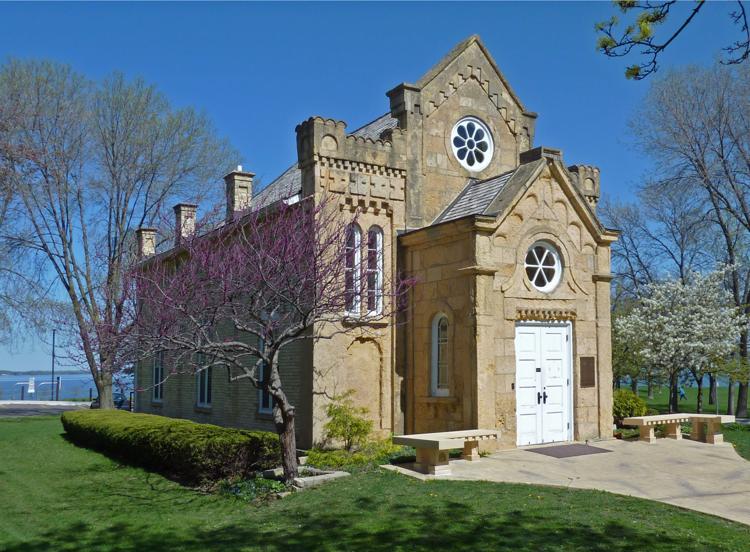 Exterior, 2011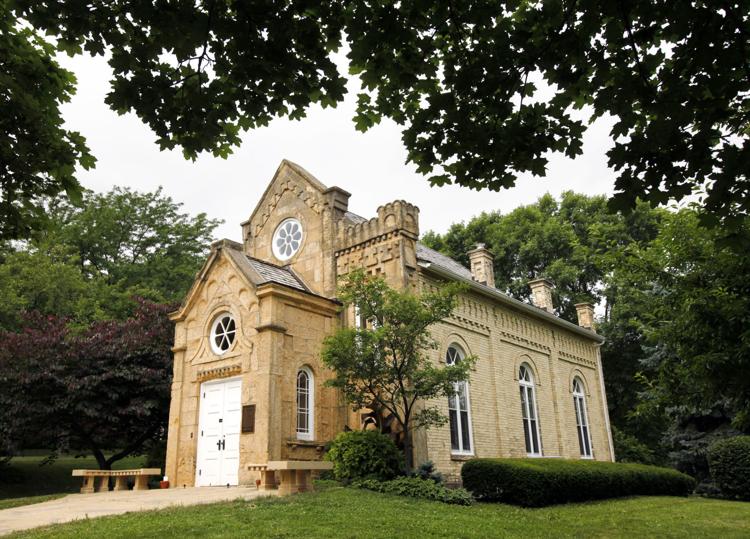 Interior, 2011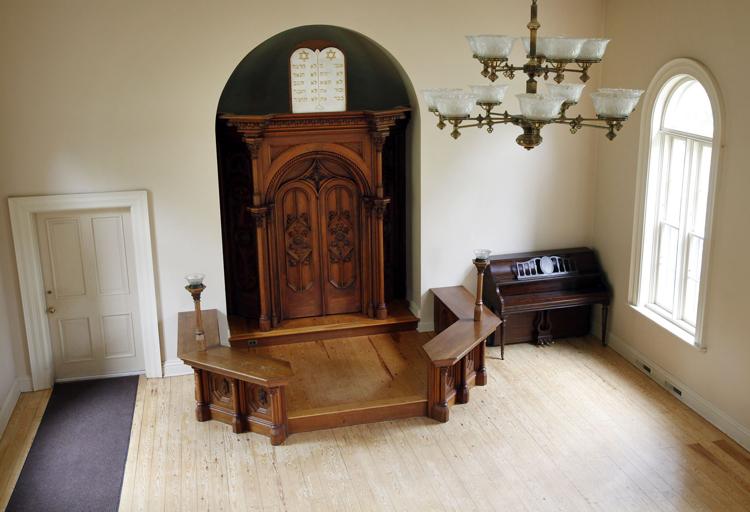 Historic photographs on display, 2011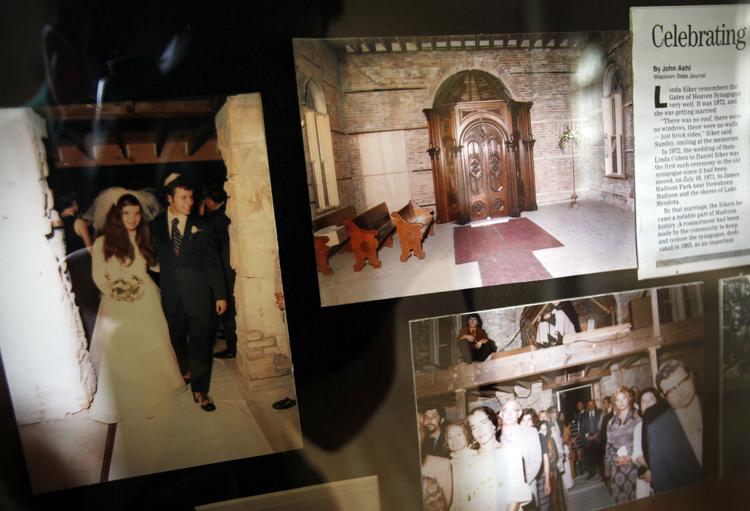 Exterior, 2012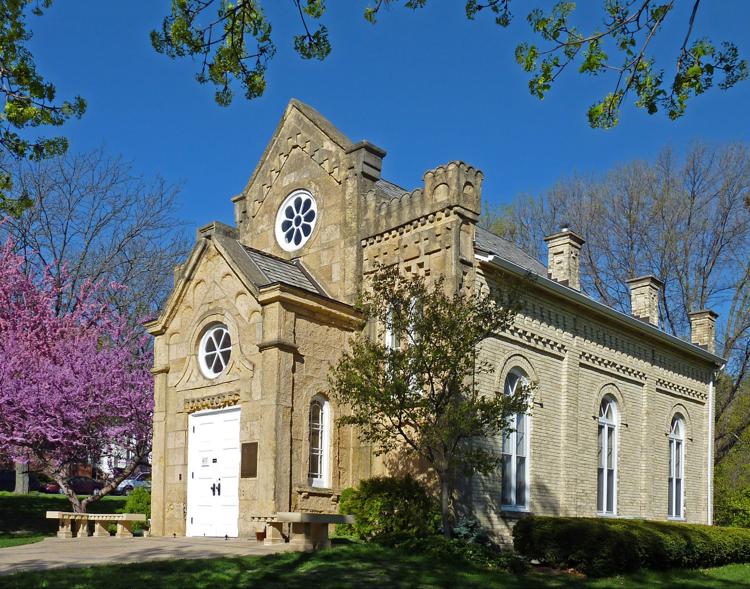 Exterior, 2013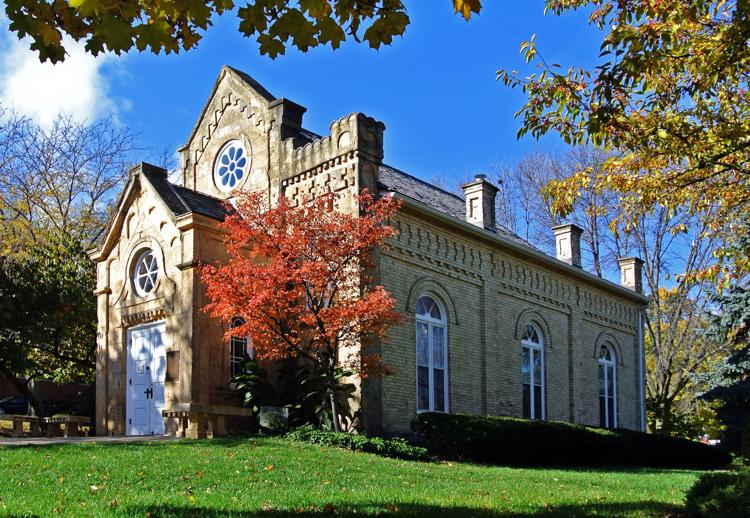 Interior ark, 2014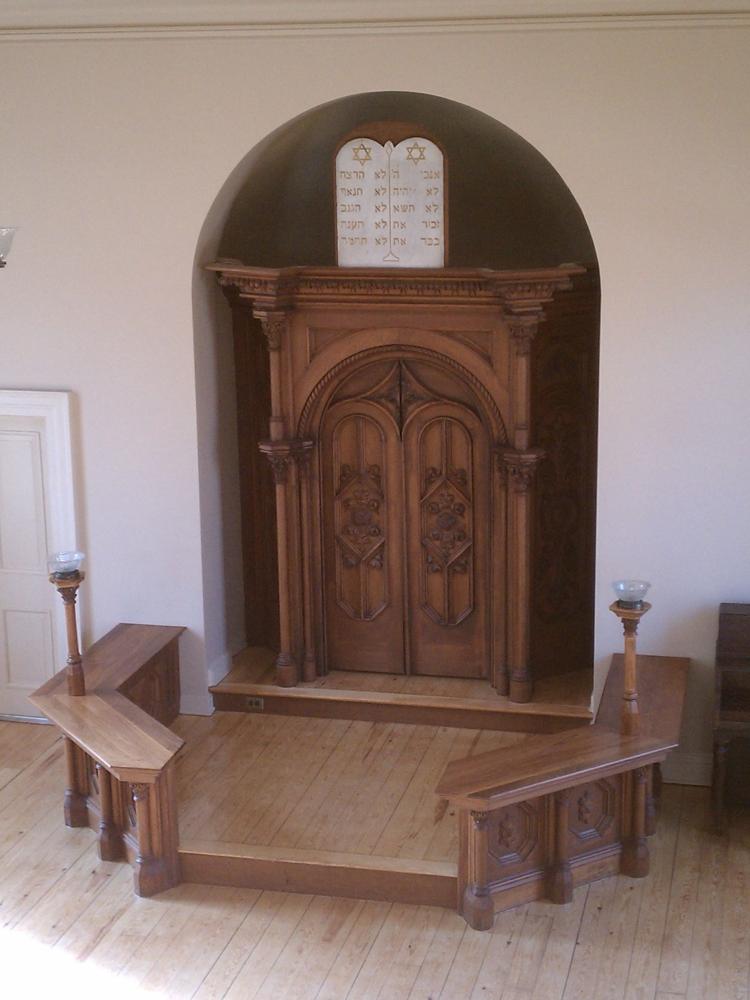 Exterior restoration, 2014
Exterior, 2016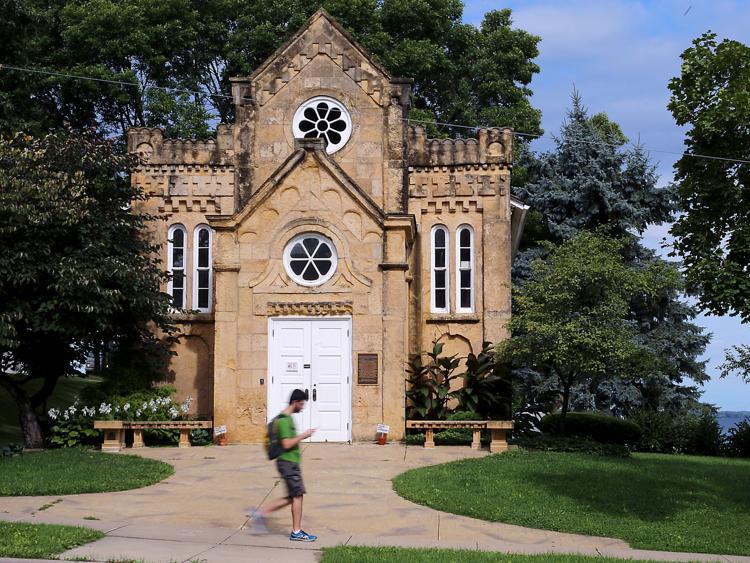 Interior arc, 2016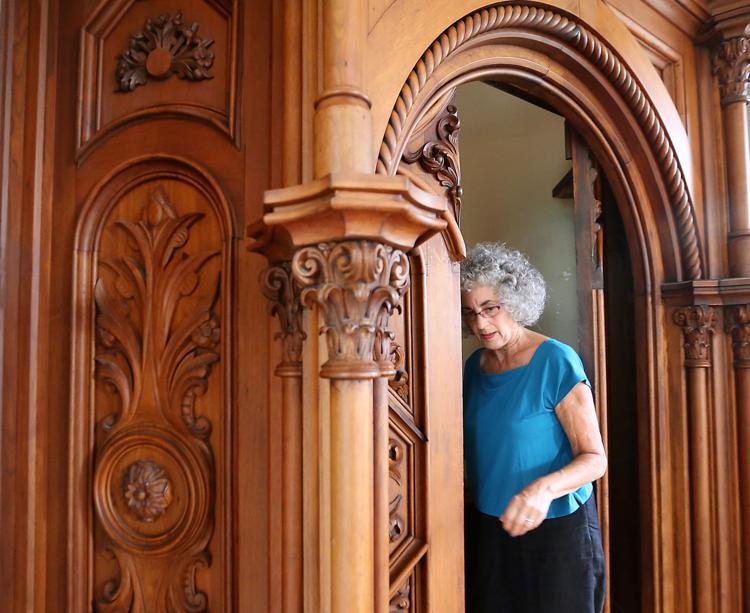 Interior, 2016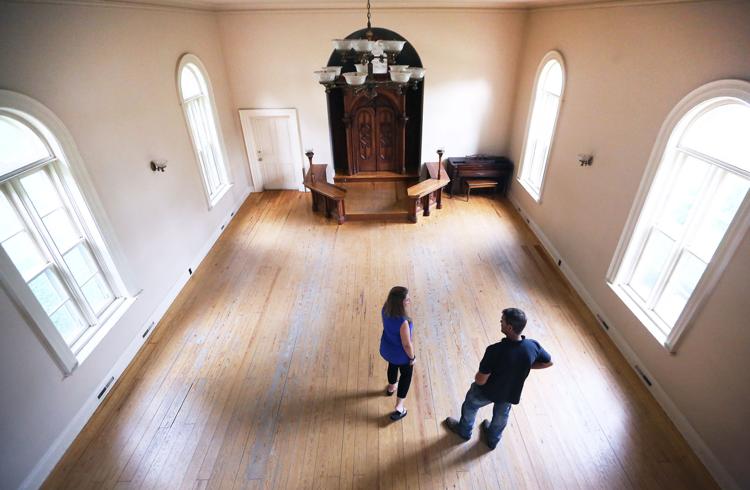 Upper alcove, 2016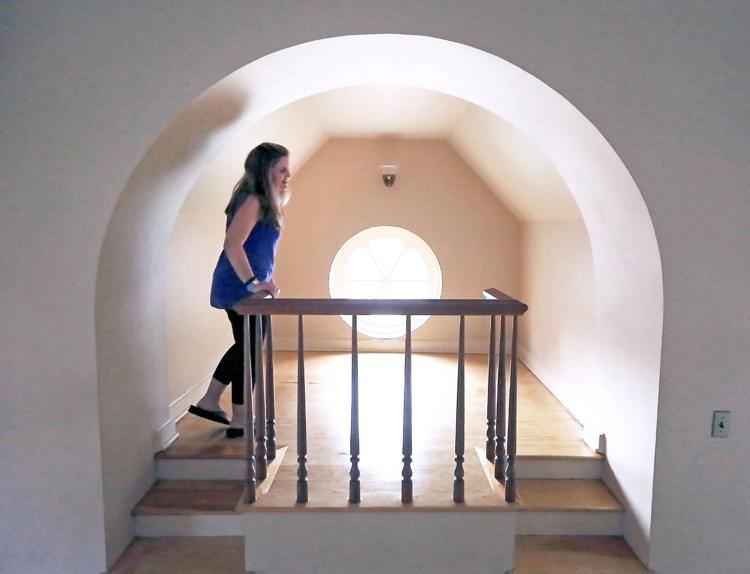 Interior, 2016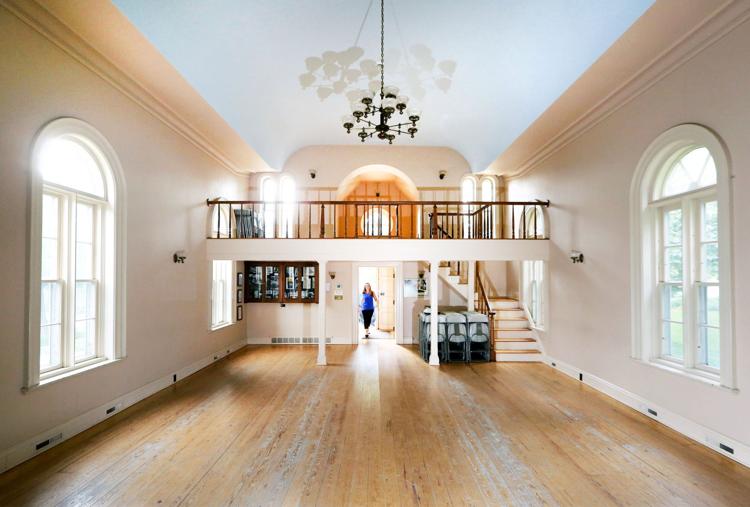 The Gates of Heaven Synagogue, 302 E. Gorham St., was built in 1863 and served Madison's first Jewish congregation. It's the fourth-oldest surviving synagogue building in the nation. In 1971, the building was moved from West Washington Avenue to the edge of James Madison Park and special Jewish services such as those during Rosh Hashana and Yom Kippur are still held there. It also has been a popular site for weddings and other events.
A stone marker on the Abraham Lincoln Brigade monument says it was dedicated in 1999 to the 2,800 Americans that joined the Spaniards fighting Franco's fascist army that was backed by Italy and Nazi Germany. Most of the rest of the world did not join the anti-fascists, and Franco's army eventually prevailed. More than 800 Americans died in the war, including several from Wisconsin.
Hundreds of local and national contributors helped raise the more than $12,000 needed to pay for the project, according to the Capital Times.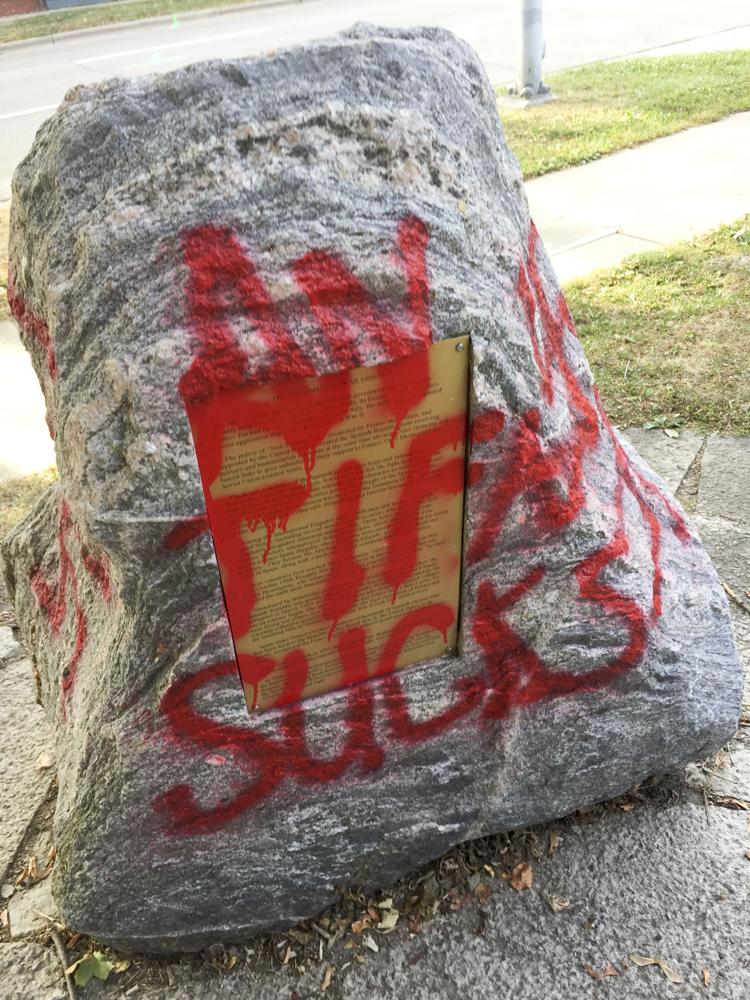 Contributors included actors Ed Asner and John Randolph as well as Soglin, state Sen. Fred Risser, D-Madison, former Mayor Sue Bauman, former Dane County Executive Kathleen Falk and 1998 gubernatorial candidate Ed Garvey.
At a ceremony Wednesday evening, about 50 people gathered by the marker to listen to local leaders speak about the vandalism. Among those who addressed the crowd was John Kailin, whose father, Clarence Kailin, fought in Spain and dedicated the memorial.
Kailin said that while the memorial commemorates the "unique and incredible resistance" of those who fought the Franco forces, it also takes on a new meaning.
"Let this monument stand also as a tribute to the brave people who resist racism and fascism in America," he said.
Jeff Spitzer-Resnick, a lawyer and president of the Shaarei Shamayim Jewish community, said this was the first year his synagogue has had to discuss whether to have security during the Jewish high holidays.
"I know older Jews, including Jews who survived the Holocaust, that if they had to walk by this entering into a synagogue for Rosh Hashana with swastikas on it, it really, really, really would have pained them," he said.
It was the second monument in the city that has been vandalized over the past few days. On Saturday, Wisconsin's Law Enforcement Memorial at the State Capitol had graffiti spray-painted on it that referred to the recent acquittal of a former St. Louis police officer in the 2011 shooting death of 24-year-old Anthony Smith, who was black. The acquittal sparked protests in St. Louis.
Attorney General Brad Schimel said he was "outraged" and offered his support to find the people behind the vandalism that is under investigation by Capitol Police Department and state Department of Administration.
"While our brave law enforcement officers were out risking their lives to protect us this weekend, a coward with spray paint desecrated an important symbol honoring officers who gave their lives to protect our communities," Schimel said in a statement.
The Law Enforcement Memorial, dedicated in 1998, honors Wisconsin law enforcement officers killed in the line of duty.
State Journal reporter Logan Wroge contributed to this report.
Be the first to know
Get local news delivered to your inbox!