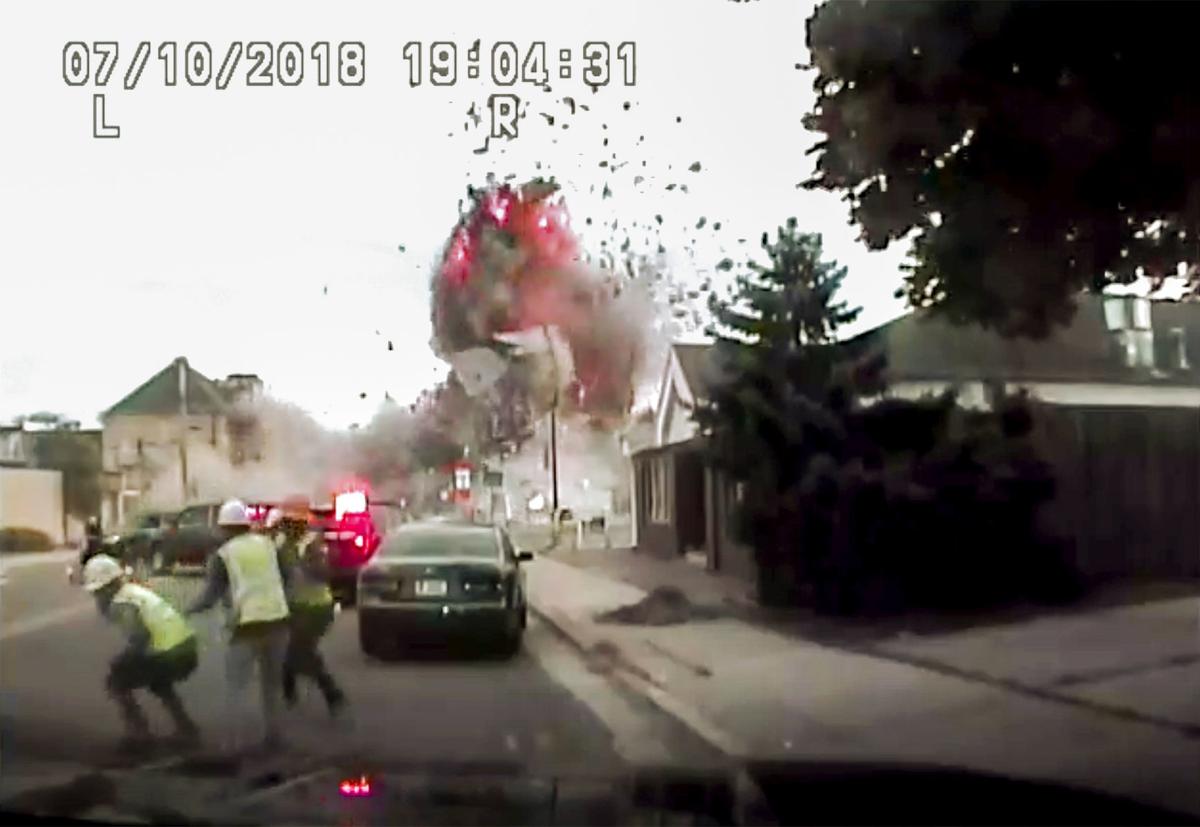 SUN PRAIRIE — A criminal investigation into who was responsible for a massive explosion that leveled several buildings and killed a volunteer firefighter last July has concluded that no crime was committed, Sun Prairie Police Chief Patrick Anhalt said Thursday.
Instead, police said, a broken chain of communication between utility contractors and subcontractors resulted in the location of a gas line being improperly marked prior to the July 10 explosion.
"There is not probable cause to believe a crime was committed," Anhalt said at a news conference at Sun Prairie City Hall. "As a result, the investigation is now classified as inactive."
Anhalt, who was joined by state fire marshal Tina Virgil, Sun Prairie police Detective Sgt. Ryan Cox and Dane County District Attorney Ismael Ozanne, declined to take any questions after the brief announcement.
Abigail Barr — the widow of Sun Prairie Volunteer Fire Department Capt. Cory Barr, who was killed by the explosion — filed a lawsuit Thursday claiming VC Tech, Bear Communications, USIC Locating Services and WEC Energy Group, known as WE Energies, are responsible for Barr's death in the explosion.
Cory and Abigail Barr owned the Barr House, a tavern that was one of the buildings destroyed in the blast. Abigail Barr is raising the couple's young twin daughters.
Volunteer firefighters Ryan Welch and Greg Pavlik also filed lawsuits against the four companies for personal injury.
A police report released Thursday indicated the failure to mark a key spot where fiber-optic communications cable being installed by Verizon was to cross the path of the gas line happened because a subcontractor had dropped out of the project. As a result, the company marking the pavement on behalf of the subcontractor did not finish locating the underground utilities.
When the underground work was passed on to another subcontractor, according to the report by Cox, the contractor doing the work for Verizon told the new subcontractor to proceed, believing the work locating underground utilities had been finished. But it had not.
The new subcontractor then struck the gas line in the street, which led to the explosion.
The state Fire Marshal's Office said in its final report that investigators could not find what caused the gas to ignite, only that the explosion originated near the Barr House, 100 W. Main St.
The announcement comes about two months after the unsealing of a search warrant, initially filed under seal on July 27, about two weeks after the blast, which stated that a Wisconsin-based worker for USIC, an underground utility locating firm, failed to correctly mark a gas line in the street where it was actually located and instead marked a spot about 25 feet away on a sidewalk where there was no gas line.
The search warrant had sought evidence to support a possible charge of second-degree reckless homicide. At the time the search warrant came to light on Oct. 31, police said the investigation was not yet finished.
Here's a look at all of the news coverage of a massive gas explosion and fire on July 10, 2018, in downtown Sun Prairie that killed a firefigh…
VC Tech, which was subcontracted by Verizon contractor Bear Communications to place a fiber communication line underground for Verizon, was boring a hole under Bristol Street and Main Street when it struck the line, the warrant stated.
Valentine Cociuba of VC Tech told investigators that Bear had told him that Diggers Hotline had been called on July 9. Work began after looking over lines indicating utilities, painted by USIC. Cociuba told investigators that he and other VC Tech employees smelled gas and called 911, and said he took a photo of the area before evacuating , showing no "T" markings on the pavement indicating an intersecting utility, such as a gas line.
Information not relayed
According to Cox's report:
Bear had initially contracted with Jet Underground to install fiber-optic cable in the area of North Bristol and West Main streets. Jet Underground requested a work ticket through Digger's Hotline on May 22, and a second ticket on May 23.
USIC was then responsible for marking underground utilities in the area. A USIC employee began locating and marking the utilities on June 10, and also added markings on June 26.
During the week of July 2 through July 6, Cal Jensen of Jet Underground spoke with the USIC employee and informed him that Jet would not be completing the project as originally planned. Because of that conversation, the USIC employee did not finish the markings, including the critical "T." The USIC employee did not tell Jet that his work had stopped, so that information wasn't relayed to Bear.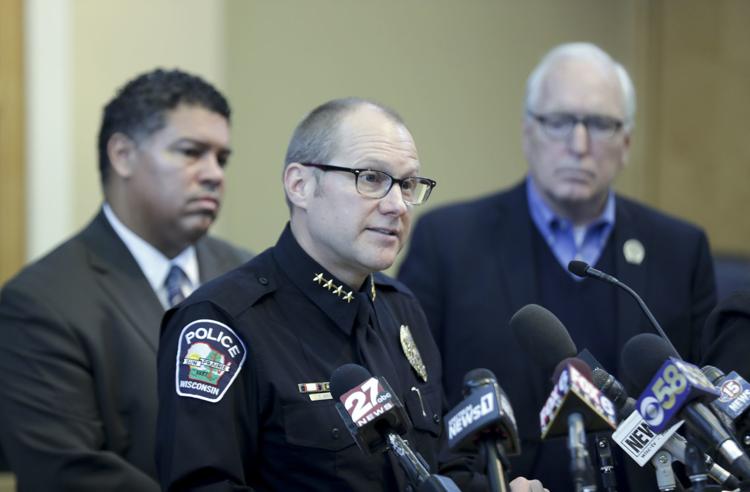 Bear contracted with VC Tech to finish the job. VC Tech asked Bear for underground marking ticket information, and was told by Bear that the ticket, originally sought by Jet on May 23, was still good.
"It was unknown to VC Tech that the locate was not completed through the intersection," Cox wrote, though several utilities at the site, including gas lines, had been marked.
VC Tech began its work at the intersection. Cox notes that state law doesn't say that one contractor can't work under another contractor's ticket, "though it is known as best practice through Digger's Hotline Guidelines to pull a refresh ticket."
The statute also states that each excavator is responsible for assuring that the location of utility lines has been completed, Cox noted.
VC Tech began its work on July 10, working to what appeared to be industry standards. Yet, the "T" utility crossing near the northwest corner of the Bristol-Main intersection remained unmarked.
Cox wrote that it's likely that the gas line was penetrated and pulled open by a "finger sleeve" conduit that was attached to a bore rod, used to pull fiber-optic cable back to the boring equipment. VC Tech called 911 when workers noticed the gas leak.
The three lawsuits filed by Barr, Welch and Pavlik also list WE Energies as a defendant in the wrongful death and personal injury lawsuits, alleging the company failed to recognize the emergency of the leak, failed to respond to the leak immediately and failed to shut off the flow of gas through the line between the time the line was punctured at about 6:20 p.m. and the time of the explosion at 7:05 p.m. The lawsuits also claim WE Energies failed to coordinate accurate marking of its utility line.
WE Energies spokesman Brendan Conway said the Milwaukee-based company has not received or reviewed the lawsuits, but does not comment on pending litigation.
The lawsuits also claim that VC Tech and Bear Communications did not "act with due care and caution." As examples, the lawsuits state both companies failed to request their own tickets from Digger's Hotline, failed to identify the locations of utility lines and failed to check locations with USIC.
USIC failed to accurately identify utility lines, failed to properly mark the lines, failed to notify Digger's Hotline and WE Energies of the locations and failed to warn VC Tech workers and the Sun Prairie Volunteer Fire Department that the lines were not marked, the lawsuits maintain.
Learning from mistakes
With the state Fire Marshal's Office, the Dane County District Attorney's Office and the state Attorney General's Office, Cox wrote, it was decided that no probable cause exists to charge any single person with a crime.
Anhalt said it's possible that the explosion will result in legislation aimed at improving communication between companies involved in underground utility work.
"Moving forward, it is our sincere hope that this tragedy will result in a serious evaluation of regulatory language pertaining to the responsibilities of those engaged in utility work," he said.
Anhalt said State Rep. Gary Hebl, D-Sun Prairie, has pledged to work to improve state statutes governing utility work.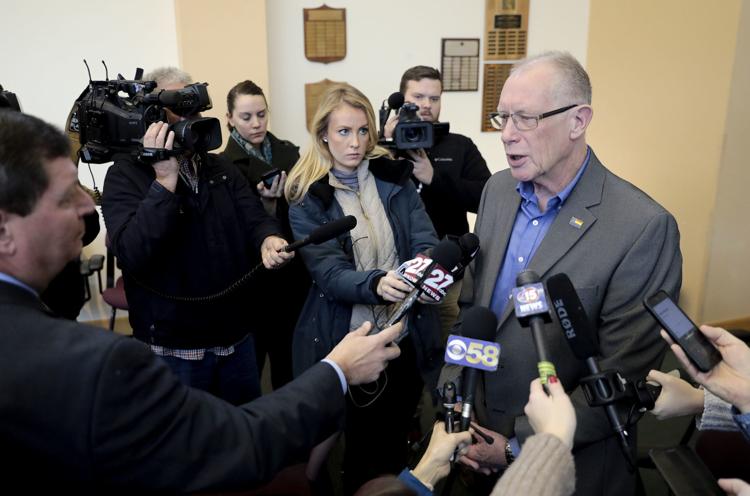 Sun Prairie Mayor Paul Esser said after the press conference that he couldn't say whether the city was considering any civil litigation.
"I have no idea. It hasn't been discussed at this point," he said.
But he said he feels that the community will accept the findings of the police investigation.
"The Police Department in this community has a lot of respect," Esser said. "The community respects the Police Department and I think they'll accept what the police chief said today."
State Journal reporter Shelley K. Mesch and The Associated Press contributed to this report.
Photos: View the scene of fatal gas explosion and fire in Sun Prairie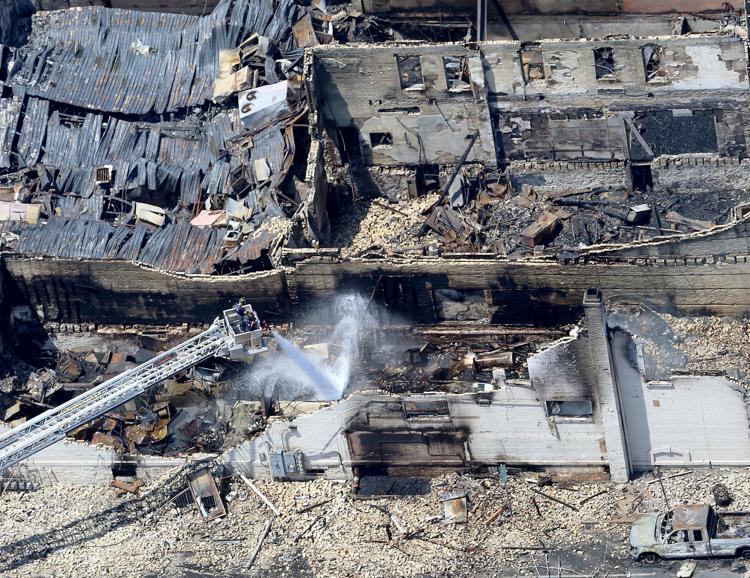 View looking northwest from above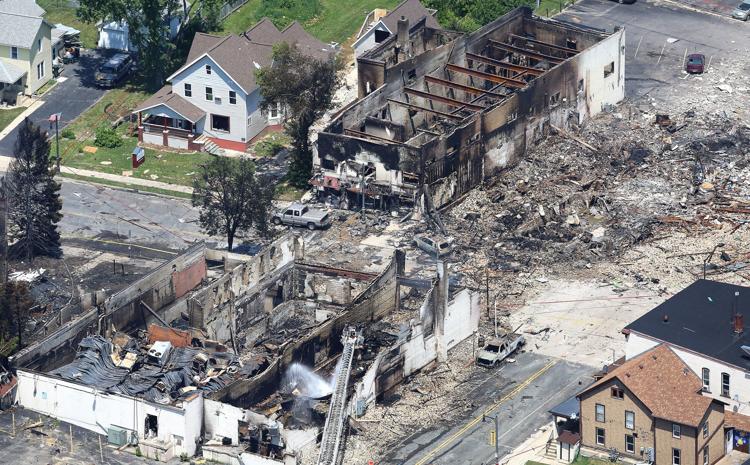 View looking southeast, from above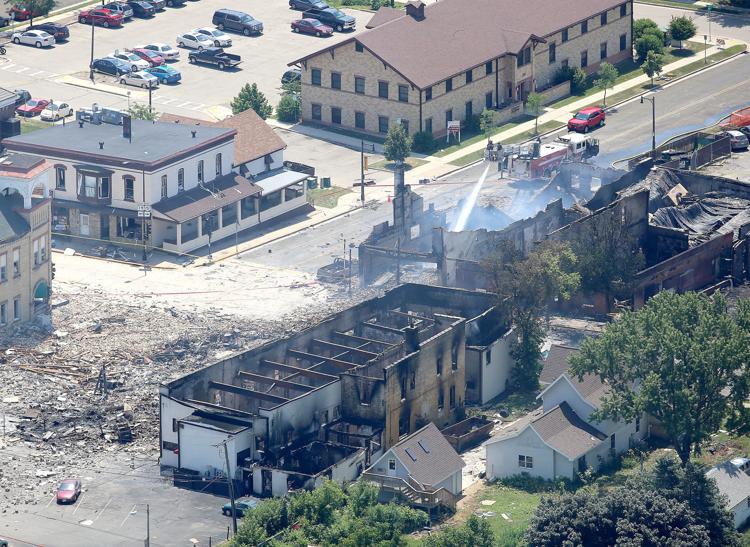 Firefighters working, viewed from above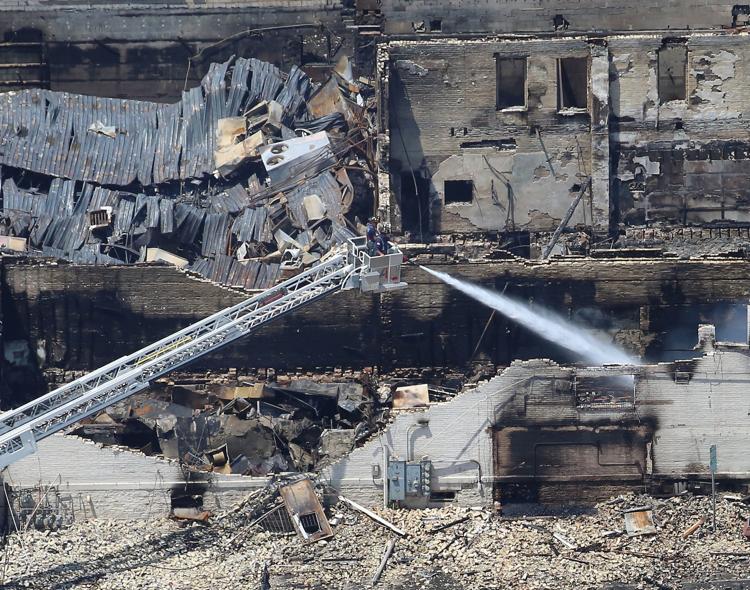 View looking northwest from above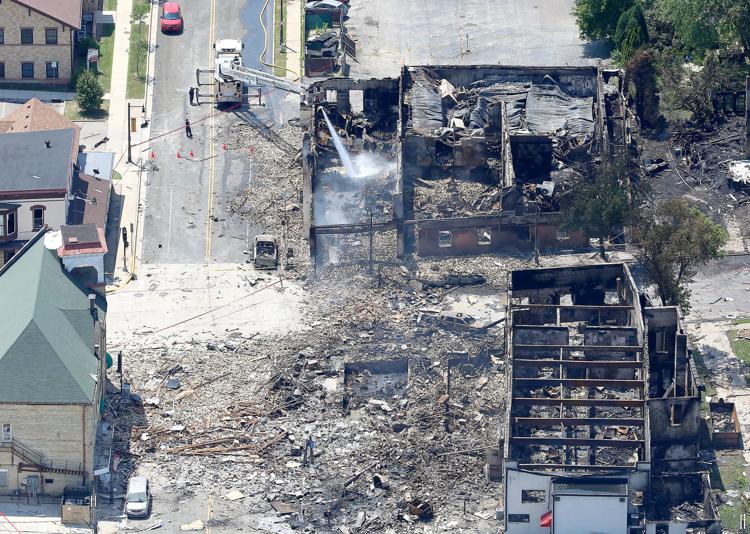 Aftermath of Sun Prairie gas explosion and fire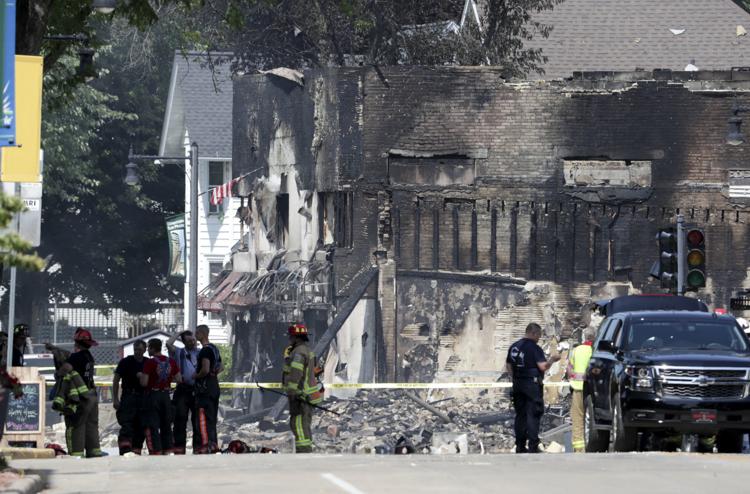 Firefighters remained on the scene Wednesday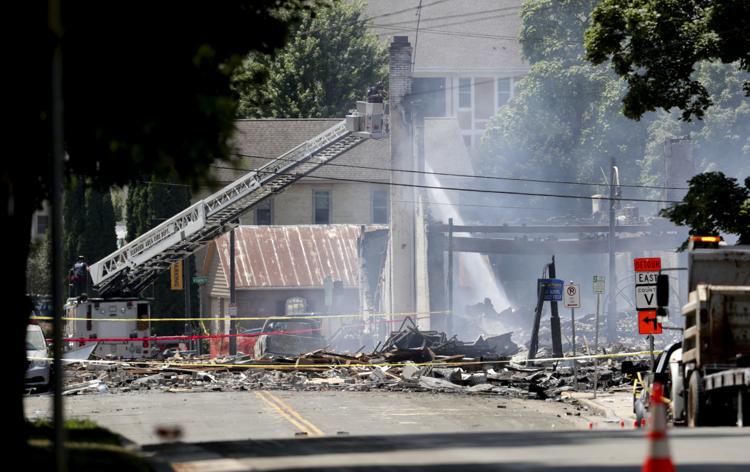 Firefighters, utility workers check homes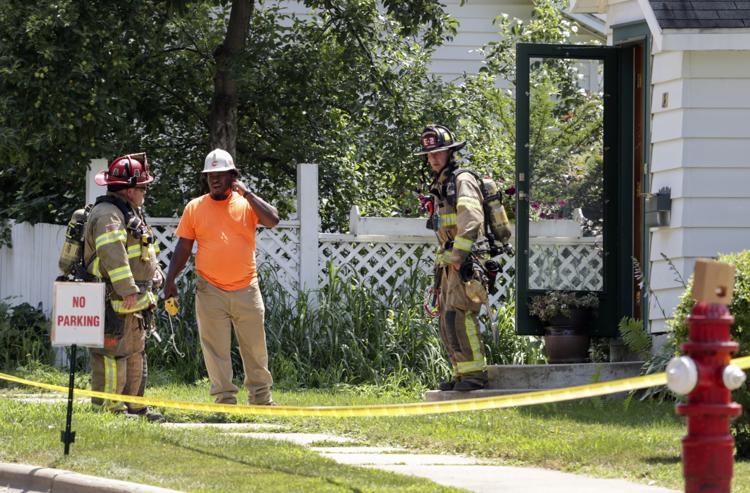 Cory Barr, firefighter killed, Sun Prairie Volunteer Fire Department photo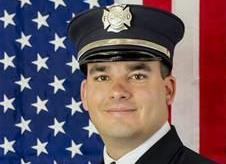 View of explosion site from a drone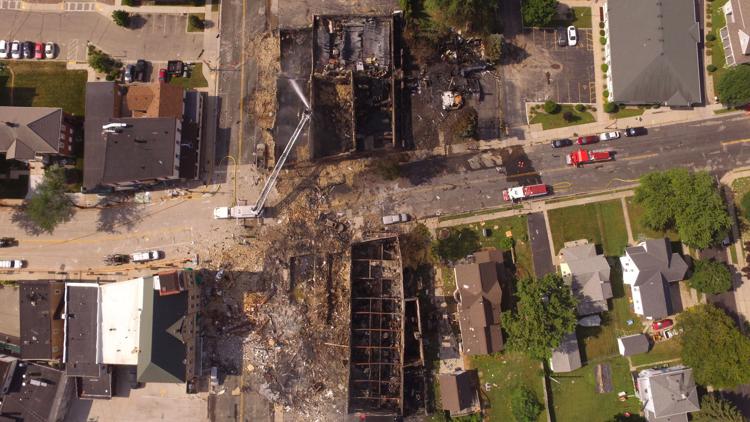 View of explosion site from a drone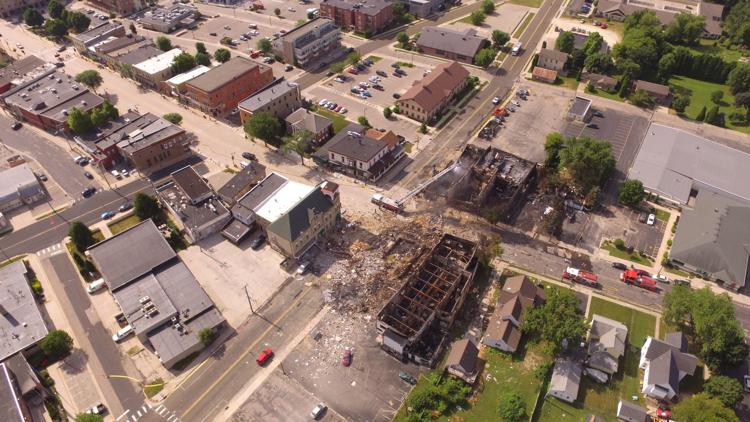 View of explosion site from a drone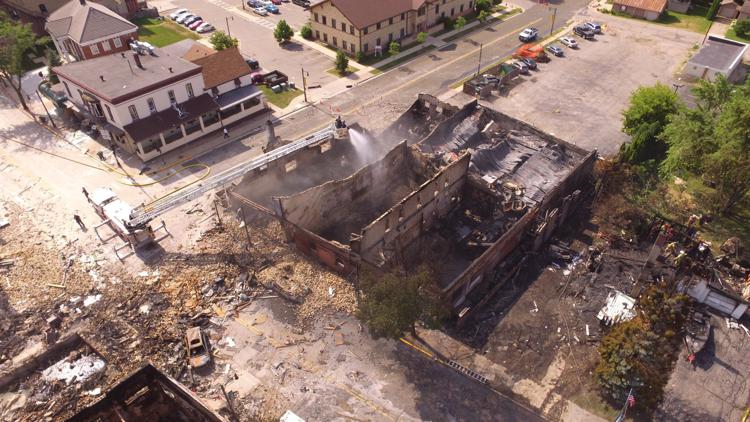 View of explosion site from a drone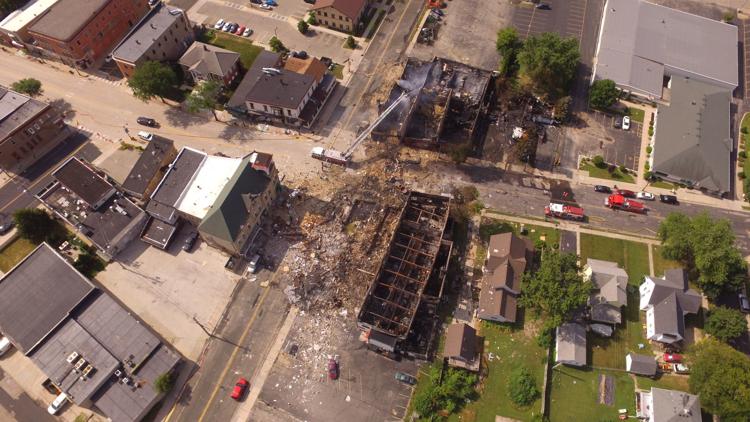 View of explosion site from a drone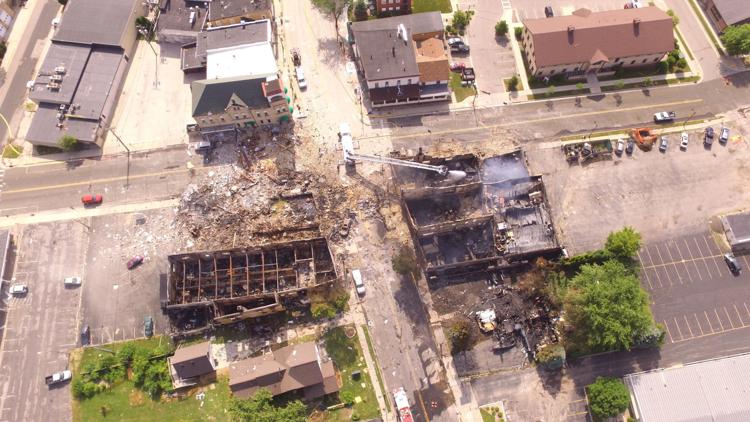 View of explosion site from a drone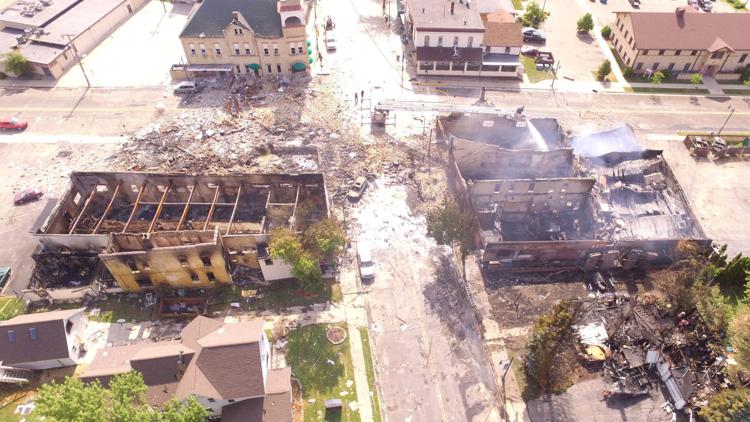 View of explosion site from a drone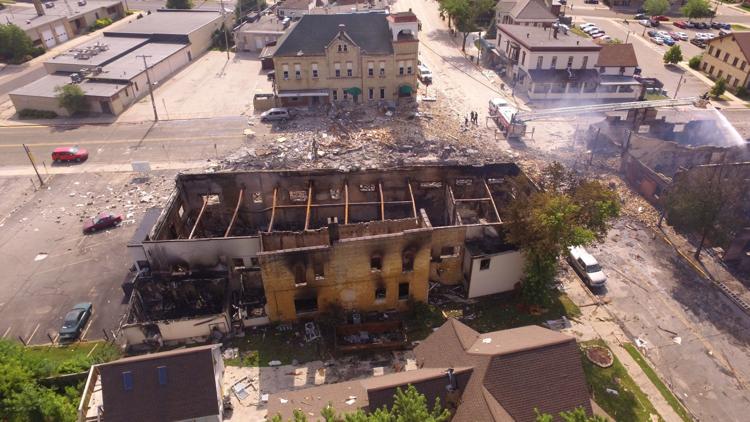 View of explosion site from a drone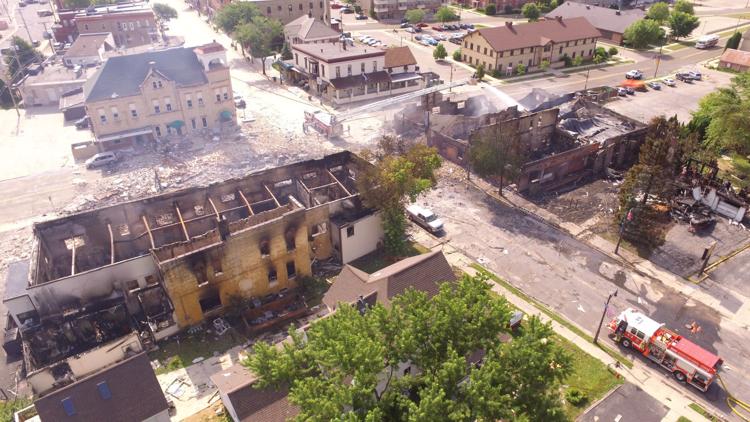 Fire burns in downtown Sun Prairie after a gas leak explosion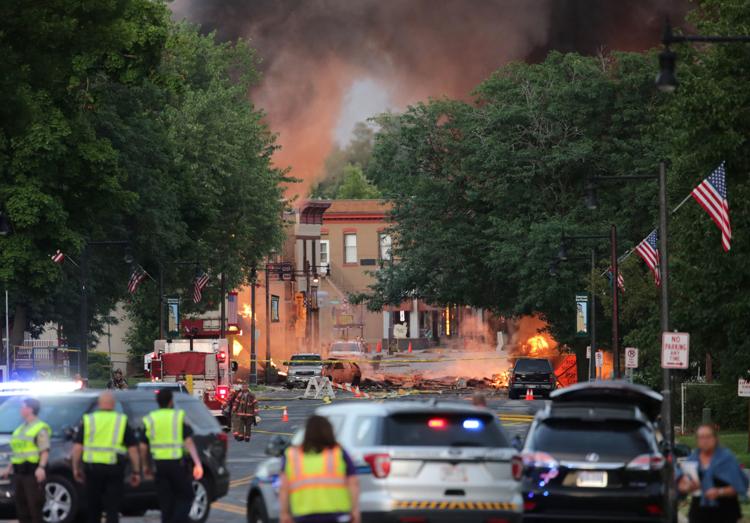 Residents in five-block radius of explosion were asked to evacuate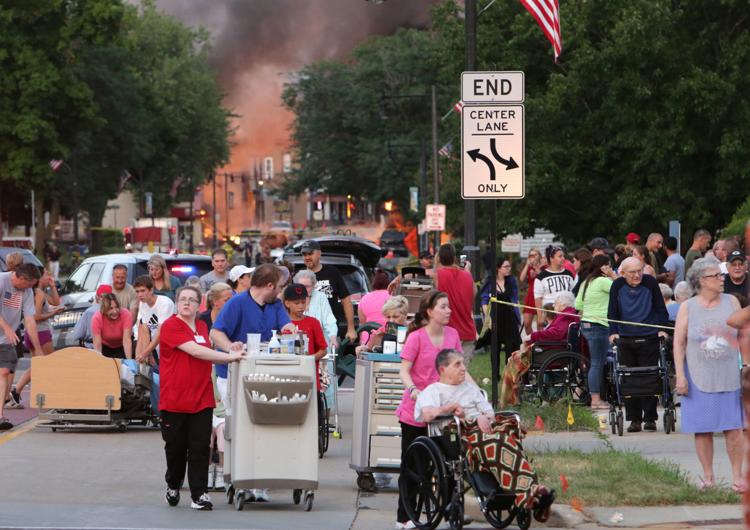 Smoke rises as a fire burns after an explosion in Sun Prairie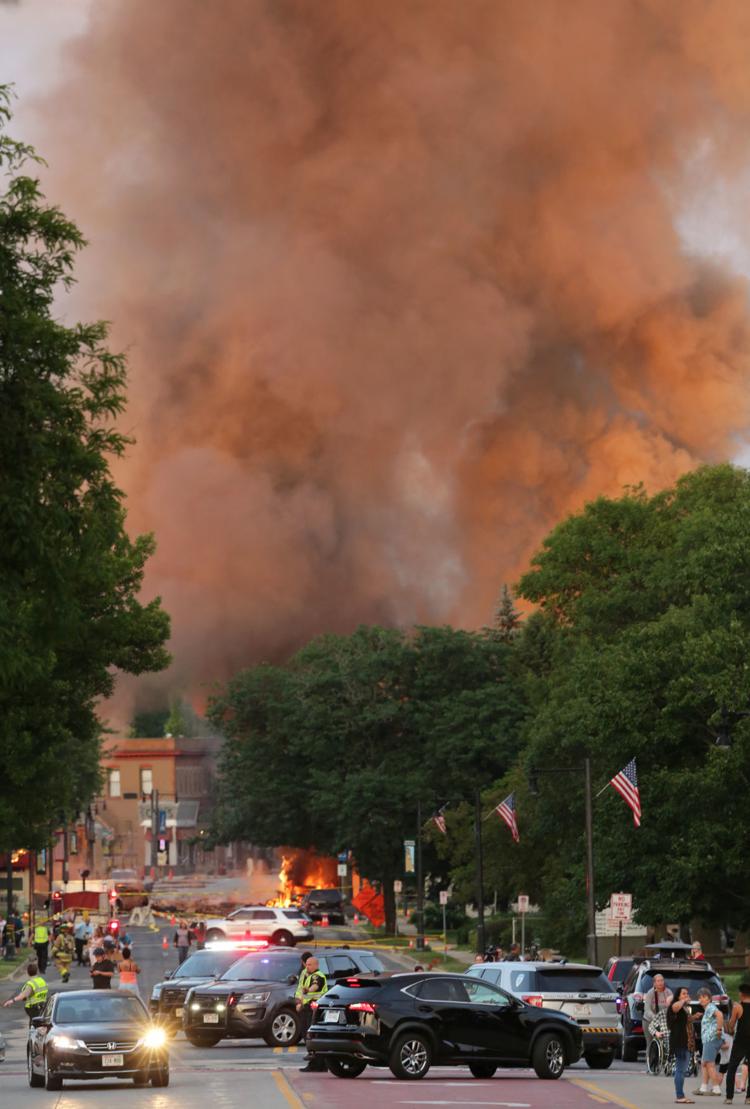 Firefighters battle blaze from Sun Prairie gas leak explosion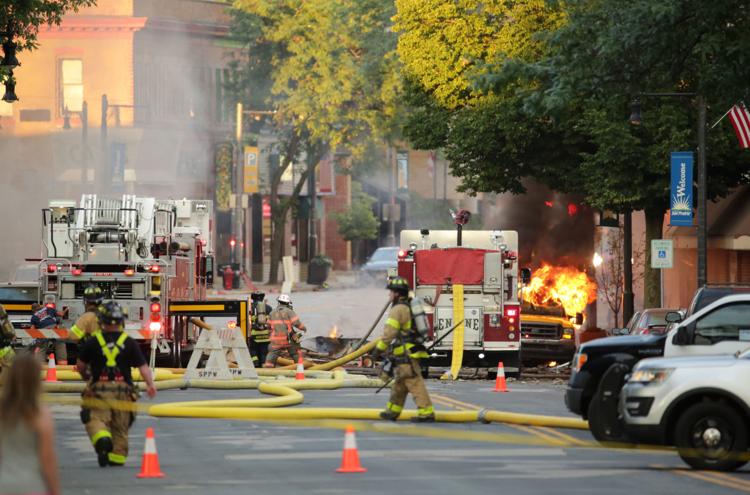 Residents of an assisted living facility evacuated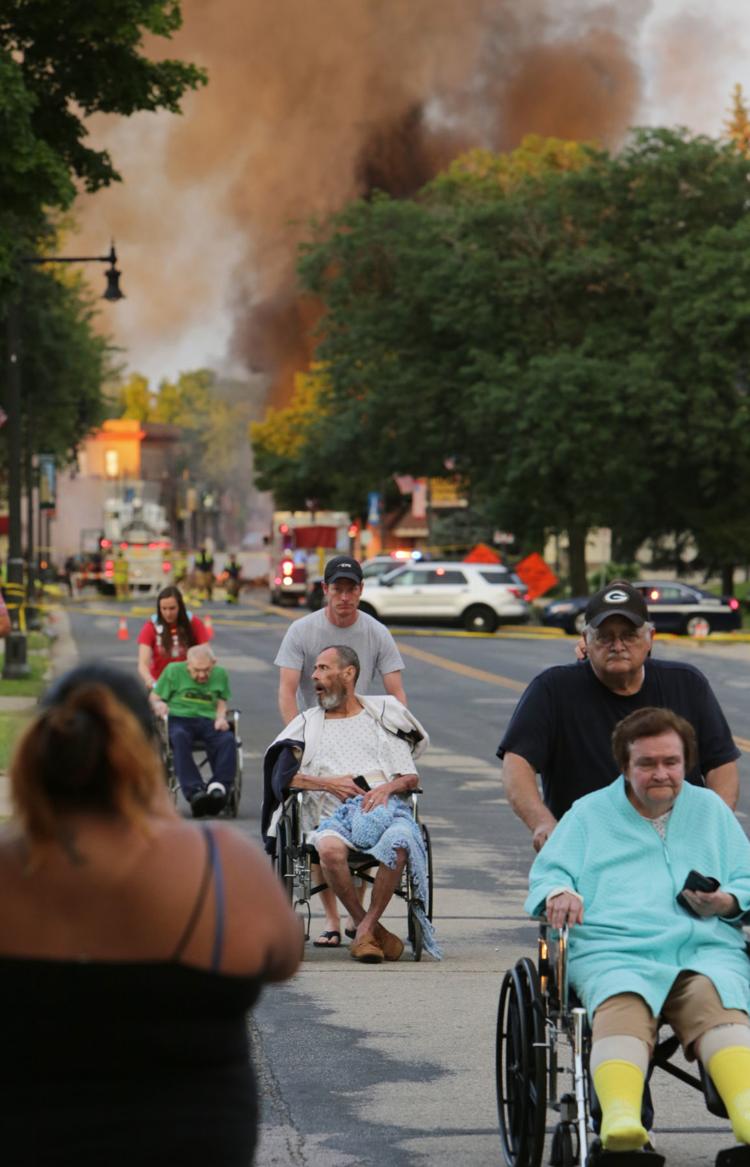 A gas main leak in downtown Sun Prairie led to an explosion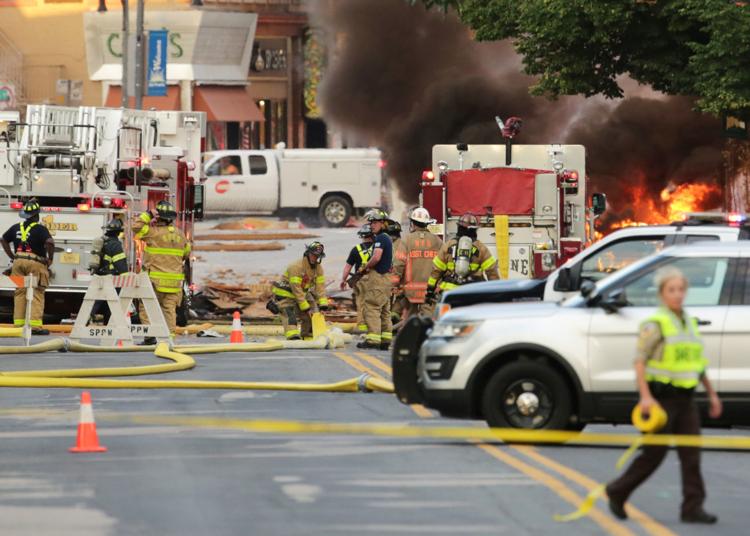 A contractor struck a gas main leading to an explosion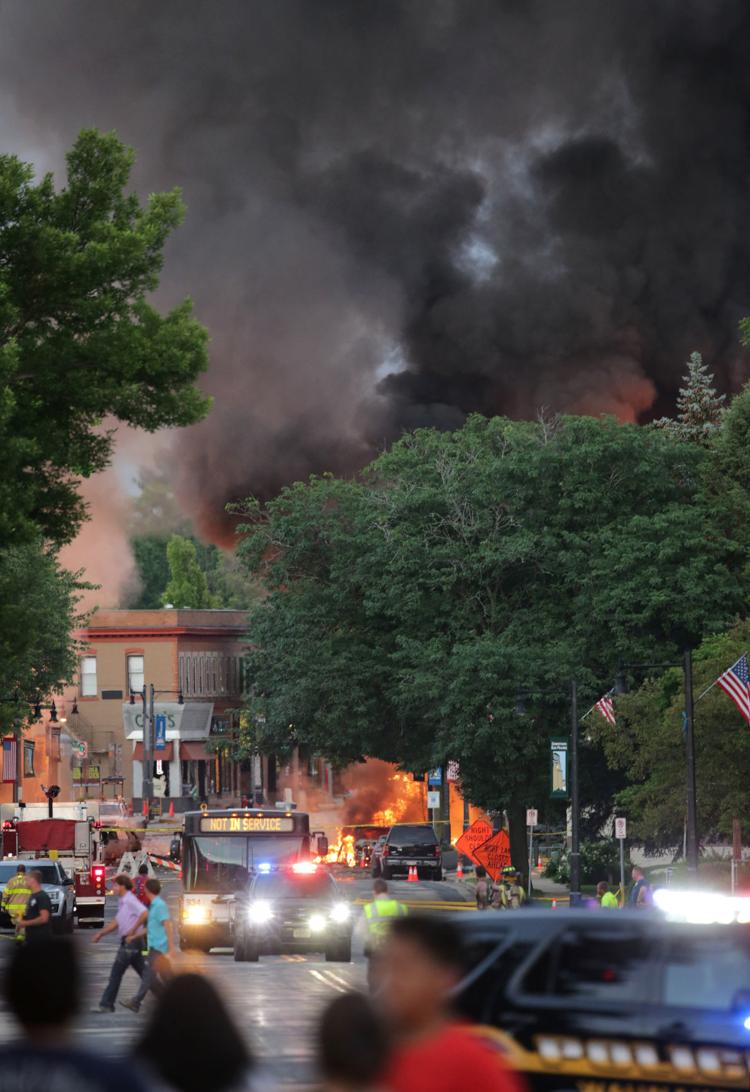 Be the first to know
Get local news delivered to your inbox!