With the target of his defamation complaint looking on, the owner of Madison's only strip club defended security procedures at his business and rejected suggestions Monday that the club's presence leads to crime in the East Side neighborhood it has called home for 34 years.
Visions nightclub owner Tom Reichenberger said a Dec. 9 shooting and fight at the establishment, which left four people injured, was the first time a shooting had occurred in his more than 50 years of running strip clubs. He said he's added extra security since, including a metal-detecting wand to check patrons for weapons.
He said allegations from the area's alderman, David Ahrens, that the club is the source of calls to police about drug use and prostitution "is far off the scale."
"That's rotten that you said that," he told Ahrens, who attended a press conference Reichenberger and his attorney, Jeff Scott Olson, held at the club Monday afternoon.
Ahrens said he "never said it caused crime in other areas."
"I said it's the source of crime in here," he said.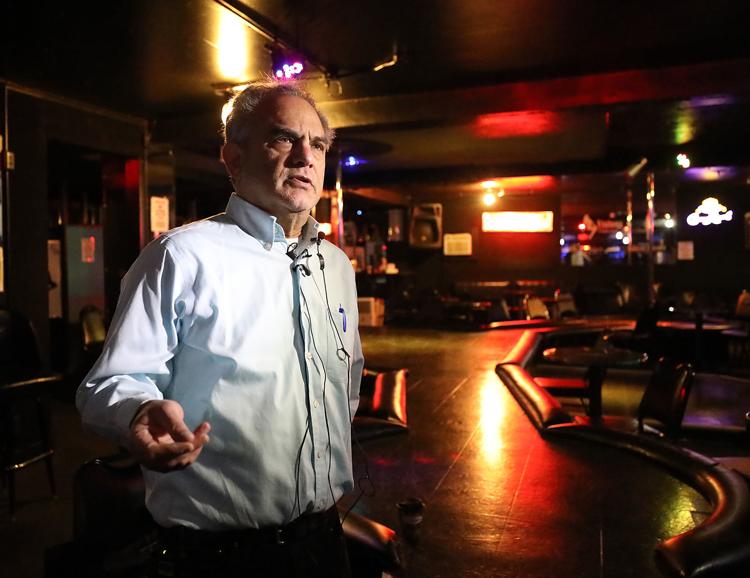 In a Dec. 28 statement on his city webpage asking residents to sign a petition calling for the revocation of Visions' liquor license, Ahrens refers to "crimes regularly occurring in and around the establishment (that) are so serious and frequent that they cannot be ignored."
"Regularly, groups of young men engage in binge drinking and then stumble through the neighborhood looking for their cars and getting sick," he wrote.
You have free articles remaining.
Register for more free articles
Stay logged in to skip the surveys
Madison Police records show more than 50 calls to 911 were made from the Visions address in 2018 and 2017. Many were to check on someone, or complaints about parking, but 17 of the calls in 2018 were for more serious problems, including six for disturbances, two for battery, three for stolen autos, two for theft from autos, two for damage to property and one for theft.
The 2017 calls included two shootings in May of that year, one of which left one man injured.
Ahrens said the threatened lawsuit is an attempt to thwart efforts to revoke the nightclub's liquor license and "has nothing to do with the truth of what has been said," adding, "It is to silence a public attempt to shut this place down."
Olson said that pulling Visions' license would mean 18-year-olds would be allowed in, something Ahrens said he didn't support.
Reichenberger said a long-term solution for the city and the club would be for the club to move to an area zoned for such uses. The site at 3554 E. Washington Ave. is not zoned for strip clubs, but it moved to the spot under a previous zoning classification that allowed them. Today, it's considered a legal, nonconforming use, "grandfathered" in under the former classification.
Ahrens said he would "probably not" be in favor of allowing the business to move, and said he doubted the City Council would allow it.
Olson acknowledged that it's difficult to prove slander against a public official, but a lawsuit "would provide a forum for us to establish the untruth of the statements that we challenged."
The city has 120 days to respond to the notice of claim, and once it does, Reichenberger has six months to file a lawsuit.