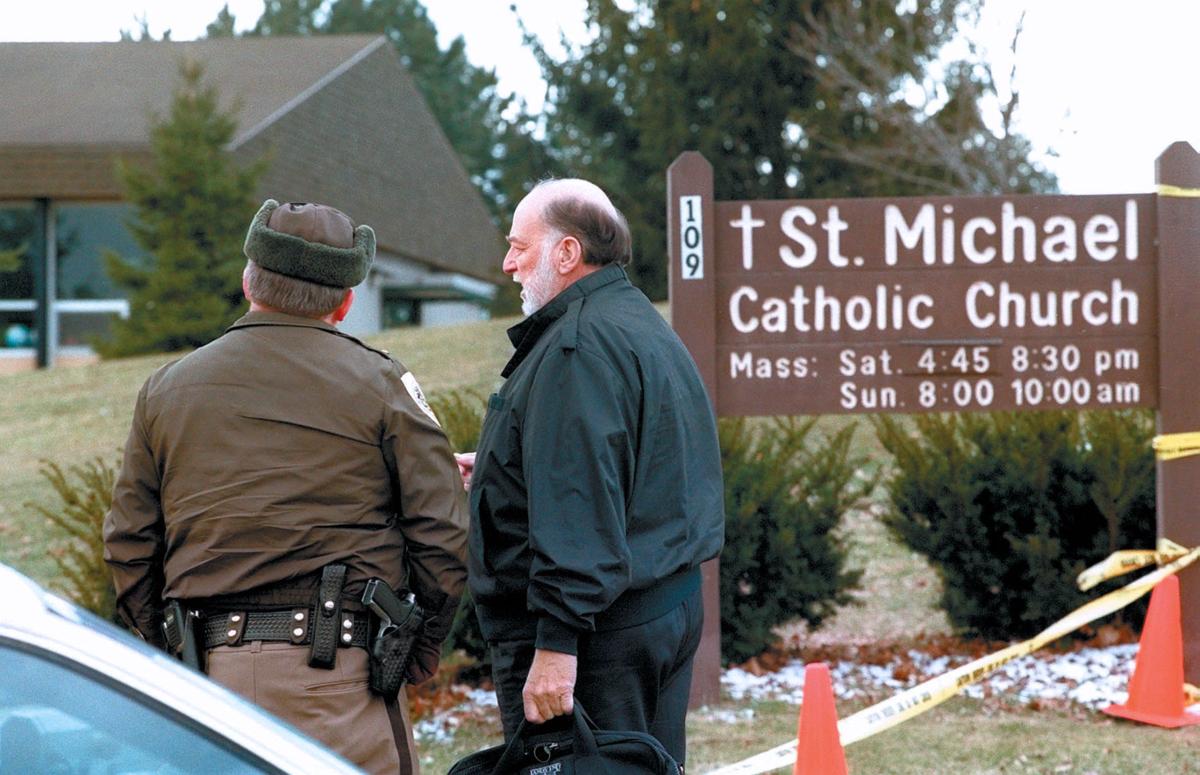 Detectives are investigating a " large number" of leads they received about the 1998 murder of a village of Dane priest during a recently concluded social media campaign by the Dane County Sheriff's Office that spotlighted the unsolved case, Sheriff Dave Mahoney said.
But it was too soon to say if any of the "theories, leads and ideas" the Sheriff's Office received about the murder of the Rev. Alfred Kunz is going to lead to an arrest, Mahoney said.
Kunz, the priest at St. Michael's Catholic Church, died after his throat was slit during a confrontation in a hallway near his sparse living quarters inside the church's school sometime between 10:30 p.m. March 3 and 7 a.m. March 4, the Sheriff's Office has said. The murder that has received national attention is one of the county's more famous and controversial unsolved cases.
At the start of the campaign earlier this month, Mahoney said there were a handful of suspects because of new information that has been uncovered over the past few years. He used a football analogy to explain that the investigation was on the 5-yard line and that detectives needed a tip that was akin to a quality Aaron Rodgers touchdown pass to solve the case.
"I haven't had anybody come to my office yet and tell me that they were working" on a tip like that, Mahoney said.
The social media campaign on the Sheriff's Office Facebook page and on Twitter that included some new information about Kunz's murder was labeled a success by Mahoney, who didn't have an exact number of leads that were called in.
You have free articles remaining.
"It reintroduced a very critical case back into the minds and thoughts of the community and as a result did reinvigorate some thoughts and leads that we're following up on," Mahoney said.
Information about the murder presented during the campaign came from interviews by investigators, according to the Sheriff's Office. It also included some photos of the crime scene.
The reports included a theory by detectives that the killer was a man who most likely was not a practiced killer or a serial killer. There also was evidence that Kunz, a former boxer, injured the killer.
One Sheriff's Office report focused on Kunz's traditional beliefs that "made him an enemy to the ever-changing liberal-minded side of Catholicism." Kunz also was described in a report as a very controlling priest who disbanded the church council and told parishioners that sending children to public school was a mortal sin.
Another report focused on rumors concerning Kunz's alleged romantic relationships with some women and about parents who were unhappy about the treatment of their child in the school. The same report also focused on Kunz's investigations of sexual abuse scandals within the church.
The teacher who called police after he found Kunz's body an hour before classes started on March 4, 1998, was a focus of one report. The teacher is no longer a suspect because of new investigative tools that have detectives chasing another theory, according to the report.
The murder weapon has not been found.