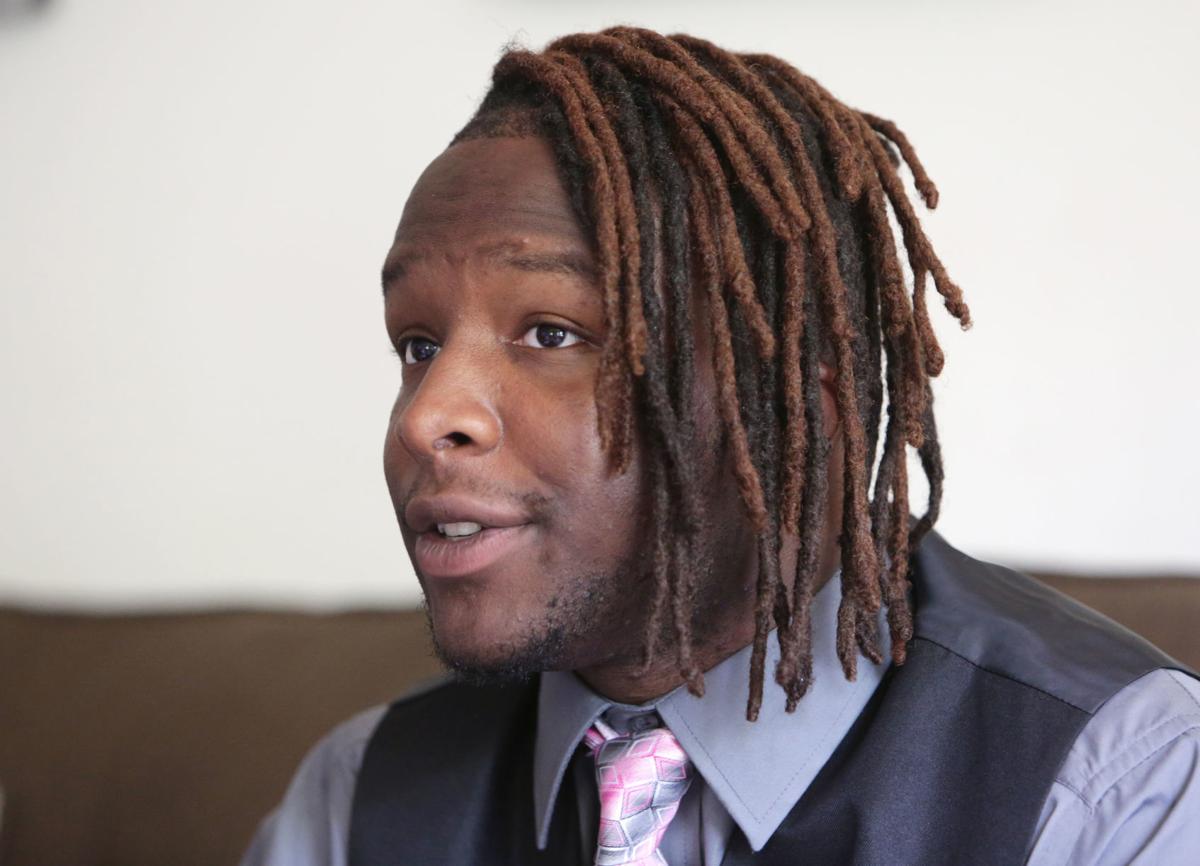 On Jan. 31, Leontae Porter became one of the latest 10.
On that day, Porter, 23, who completed a four-year prison term last fall for the armed robbery of a fast-food restaurant in Sun Prairie, and nine others seen as among Madison's most prolific repeat violent offenders, were given a choice: Accept the help service providers were offering to get their lives back on track or expect swift and stern punishment if they reoffend.
The accountability initiative, a collaboration of the Madison Police, state Department of Corrections and others, has been happening since 2011. But the emphasis has shifted to a younger population in the wake of escalating gun violence in the past three years. Some have seized the opportunity; others are back in prison.
Porter, born and raised around the notorious 6400 block of Martin Luther King Jr. Drive on Chicago's South Side, was shot twice in his youth. His mother moved to Madison in 2010 and he followed the next year. Hoping to continue his education and someday own a business, Porter said he didn't need to be persuaded to accept the program's help.
"I was already doing good," Porter said. "I don't want to go back to prison. It's a horrible experience."
The Madison Police Department's Special Investigations Unit, created in 2011, is based on the concept that a small number of people are responsible for a large amount of criminal activity.
The program has two basic criteria: Participants must be on community supervision, and they must have been convicted of a firearms offense or have been with someone who was. An ever-changing list of about 200 people fit the profile, SIU Det. Brian Baney said.
Twice a year, SIU's two detectives, Baney and Dave Gouran, determine who's most likely to become involved in violence and who could benefit from the program. Baney and Gouran narrow the list to about 25 people, then a committee of citizens, service providers and law enforcement choose the final 10. Until the 10 are picked, their identities are known only to the police.
The 10 individuals are told they'll be in frequent and regular contact with probation and parole officers, and that any new offenses will send them back to jail.
In the last group, half were under age 23.
At a meeting, community partners first offer help with substance abuse, mental health, housing, education and employment. Then, a law enforcement panel including the Madison Police, Dane County Sheriff's Office and district attorney, the regional chief of the Department of Corrections, the FBI, and federal Bureau of Alcohol, Tobacco, Firearms, and U.S. Marshals vow extra vigilance.
The meeting ends with the service providers.
"We're going to offer them every chance to be successful," said Troy Enger, regional chief for the DOC. "If they fail to do that, that's where the other option comes in, and that's going to prison."
Attention is personal
Since its inception, 132 people have been brought into the program, with 69 currently on active community supervision, 32 discharged from supervision, and 31 now incarcerated, DOC spokesman Tristan Cook said.
The attention is personal, most directly from Baney and Gouran and DOC Corrections Field Officer Sarah Krahn and probation and parole agents Keith Lucas, who has fewer cases so he can provide frequent, more intensive supervision to individuals, and Amr Yassin, who provides case management services, connecting individuals to community resources to meet basic needs such as food, housing and transportation.
For the first month or two, the SIU team members meet with the individuals weekly, or less frequently if they're making progress.
On the second Tuesday of every month, a group called the Madison Area Resource Committee including Baney, Gouran, Krahn, Lucas, Yassin and service providers meet to discuss how participants are doing and and how they can be helped.
At a recent meeting, at least one person is homeless. Some are seeking or have secured jobs. Others are obtaining driver's licenses or a GED. There are concerns from some at the meeting about a couple of the men who are not taking advantage of program opportunities.
Porter, who has a supportive girlfriend and sister, studied and took programs while in prison and is working to get his high school diploma or GED. He goes to Madison Area Technical College and has interest in the culinary arts and cosmetology and would like to own his own business. He said he recently talked someone out of shooting another person over a minor sum of money and someday would like to provide peer support to others.
"Who would not want to be in this program?" he said. "Of course, I'm going to take advantage of it. They want you to succeed."
Be the first to know
Get local news delivered to your inbox!