Videos reportedly taken outside a UW-Madison fraternity showing a falling television narrowly missing a woman have prompted police to investigate the incident.
Madison police spokesman Joel DeSpain said the department was made aware of videos on Instagram that show a heavy cathode ray tube television being thrown from an upper-floor balcony and barely missing a woman passing by below before it shatters on concrete.
DeSpain said police believe the incident happened at a fraternity in the Langdon Street area sometime this past weekend.
"This incident is deeply concerning, and we are working to confirm precisely where and when it happened so appropriate action can be taken," UW-Madison spokeswoman Meredith McGlone said.
One video posted on the Instagram account badgerbarstool, which is not affiliated with the university, shows people standing in a semicircle and looking upward. As a woman who appears to be speaking on a cellphone passes through the semicircle, the television smashes into the ground right next to her.
Several people run up to the destroyed television, jumping around and throwing their beverages in the air. Others are seen gasping.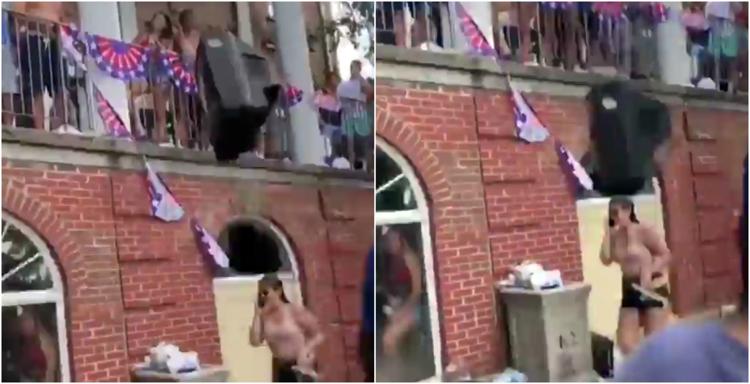 "This girl was an inch away from death," the video's caption says.
In both, the TV appears to fall within inches of the woman.
"Stay alert for potentially dangerous objects being thrown off the roof," the video's caption says.
Both videos were posted on Sunday. Neither DeSpain nor McGlone could confirm the name of the fraternity Tuesday afternoon. But publicly available photos of the rear of Kappa Sigma fraternity, 124 Langdon St., closely match the buildings seen in the videos.
On Tuesday afternoon, a Kappa Sigma fraternity member who declined to provide his name or talk to a reporter was seen speaking with a Madison police officer.
The national Kappa Sigma organization did not respond to a request for comment Tuesday.
McGlone said student organizations are responsible for maintaining the health and safety of members and guests.
"If they do not, they are held accountable through the student organization code of conduct," she said. "Given the clear risk to individual safety in this case, the university response will reflect the seriousness of the act."
Be the first to know
Get local news delivered to your inbox!