Noble Wray has the look of a man on a long vacation.
The former Madison police chief is back in town and enjoying some new perks, like becoming a grandfather for the first time, since completing in November a one-year assignment with the U.S. Department of Justice observing and advising police departments around the country.
"I'm slowing down now for the next few months," said Wray, 56, as he relaxed at a West Side coffee shop just hours after the longtime partner of his youngest son, Elliott, gave birth to a baby boy a few blocks away at St. Mary's Hospital.
Some rare down time has allowed Wray to reflect on what he has learned from other departments in the last year as the leader of the Department of Justice's Office of Community Oriented Policing Services (COPS), and how that can help inform the Madison Police Department, its sometimes-embattled chief, Mike Koval, and policing in general during President Donald Trump's administration.
Among the top takeaways: Madison police need to start wearing body cameras, and officers need to stay on their beats longer.
"Most departments have turned the corner on accepting (body cameras)," Wray said. "They have seen it over and over again how they have helped provide information that might have been perceived differently by the citizen and the officer."
Wray said it was a mistake for the City Council to reject funding for police body cameras in November 2015 after a citizen-led panel concluded the city first needed to focus on efforts to build trust between police and the community.
Wray, who retired as chief in 2013, countered that part of that breakdown in trust occurred after the controversial fatal shooting of an unarmed Paul Heenan by officer Stephen Heimsness on Madison's Near East Side in November 2012.
The Dane County District Attorney's office and an internal investigation cleared Heimsness of any wrongdoing, although he retired in October 2013 after the department later moved to have him fired for unrelated policy violations. But if police had been required to wear body cameras it could have provided an objective account of the incident, Wray said.
"I can't imagine how many nights I was going, 'Damn, I wish we had had a camera on (Heimsness),' " Wray said. "It's a no-brainer. You're trying to get at the truth."
The city later agreed to pay Heenan's family $2.3 million to settle a civil rights lawsuit over the shooting. That settlement would stand as a record for a fatal police shooting in Wisconsin until last week, when the city's insurance company agreed to settle a lawsuit brought by the family of Tony Robinson, a black teenager who was shot and killed by officer Matt Kenny in March 2015, for $3.35 million.
Although part of that incident was caught on Kenny's squad car video, many believe questions about what happened in the narrow stairway of an apartment building on Williamson Street where Kenny shot Robinson could have been resolved had the officer been wearing a body camera.
Both shootings created major use-of-force issues for Madison police and eroded the community policing efforts started by former Madison police chief David Couper and continued by Wray and Koval.
The public backlash that followed the shooting of Heenan, who was white, was the most controversial period of Wray's nine-plus years as chief. He said he empathized with Koval, who is facing a Police and Fire Commission review over how he has handled some of the aftermath of the Robinson shooting.
"It's not easy, especially after officer-involved shootings," Wray said. "There's so much pain inside and outside the organization and you look for ways to relieve that pain.
"Those meetings I went to on the East Side and people were yelling me, that was tough. I remember my wife and my son were at one of those meetings and they said to me, 'Why are you taking that?' I told them I had to take it because there's a human being who's not here anymore and I'm not blaming anyone, but people are hurting.''
'Seek first to understand'
Wray said he agrees that cameras aren't a panacea. But if they're included as part of a broader strategic plan to build trust between the police and the community, Wray said, he believes the citizen panel, the council and mayor will be more comfortable with them.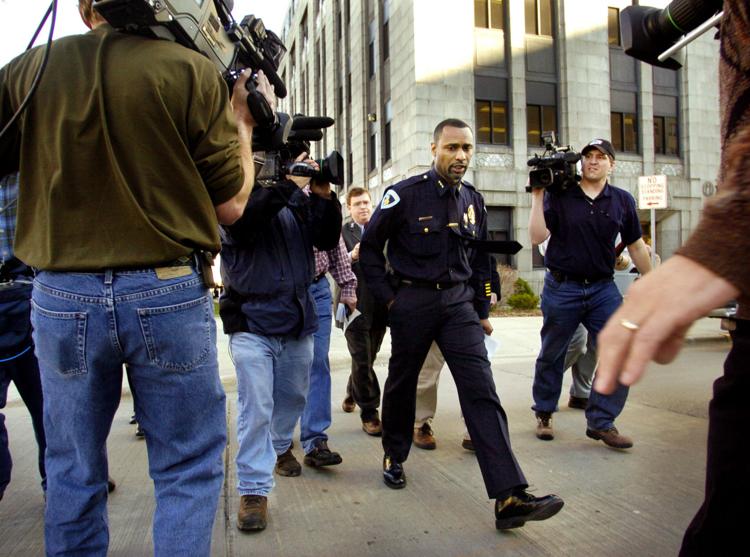 In many communities, it's not a matter of if, but when, the next police-related shooting of an unarmed black man is going to occur. To ensure that they can survive it, police departments need to work with community and outside agency leaders to build trust between them, Wray said.
"We usually don't talk to people to understand, we talk to be understood," Wray said. "That's wrong. We need to seek first to understand, then to be understood."
Trust begins with officers listening "at every traffic stop, every time somebody calls the police department. You have to work in a way where people believe you have their best interests at heart," he said.
It's also important for the police to listen to each other, he said. Wray recalled encountering a police officer in Baltimore in tears last year because a citizen called him a racist at a traffic stop.
"That is the challenge with police officers right now," he said. "When a high-profile incident like Tony Robinson takes place, the entire department is looked at in a different way and (the officers and others) lose their individuality, they lose what they came to that profession for: the nobility of it and the humanity of it because they are all viewed the same way."
In visits to departments around the country last year, Wray said he learned that most officer-involved shootings of unarmed black people weren't isolated incidents by rogue cops.
"There is usually a culture. So it begins with recruitment, hiring, leadership. All of those things culminate in one of those incidents. They are not done in isolation," Wray said.
One key to strengthening relationships in the community, Wray said, is keeping officers on beats longer than a year before moving them to another assignment.
"I think that's critical," Wray said. "This is a debate going on nationally. The question is not about keeping somebody on the same beat forever, but how do you increase someone's time on a beat?"
When he attended community meetings, Wray said citizens showed higher levels of respect for officers if they knew them.
Critical reviews necessary
If he could start over as Madison chief, Wray said, he'd engage in more strategic planning and have assessments done of his department every five years to identify any growing problems.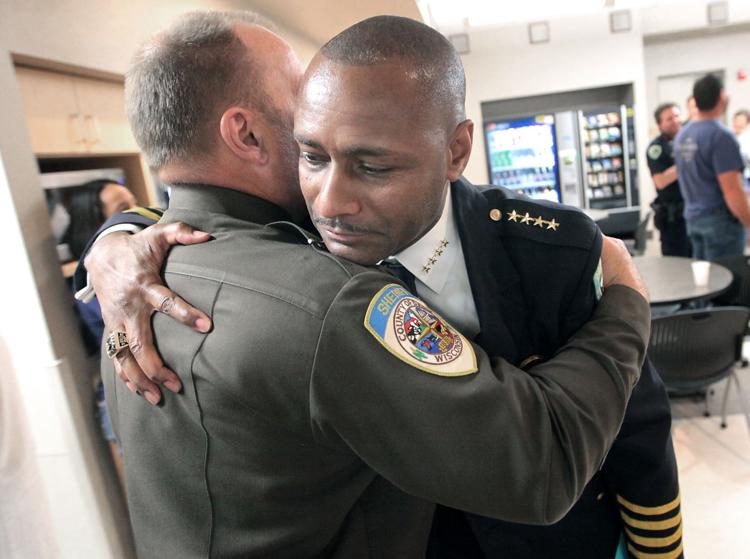 In the year he spent with COPS, he said about a dozen chiefs allowed the Department of Justice to assess their departments. "It's a framework for how to improve no matter how good you are as an agency," Wray said.
He backs the decision the City Council made in June to spend $400,000 to hire an expert to examine the Madison department's policies, procedures, training and culture.
"I think it's very impressive for our city government to want to allocate resources for our department to improve," Wray said.
Koval, who calls Wray a mentor, confidant and good friend, said he doesn't disagree — despite a very public spat with the council at the time over the funding, which he said could have been better spent on more urgent needs. After the assessment comes out, Koval said, he'll include any constructive feedback from it in his strategic planning.
But his actions at the council meeting and during a confrontation with Tony Robinson's grandmother, Sharon Irwin, that same night when he allegedly called her "a raging lunatic," are the basis for a complaint Irwin filed against Koval with the Police and Fire Commission.
Wray said Koval needs to insulate himself better within the department as a matter of protection.
"The unique thing about Madison is that people think they can walk up to the chief and tell him things," Wray said. "So my staff would tell me that you can't let just anybody have a meeting with you."
That might be a tall order for Koval, who likes to connect with the community.
"The tension is palpable because you have an intense desire by the community for the chief to be their chief, and then there's this intense desire within the organization for the chief to be their chief and back them up," Wray said. "A lot of chiefs see themselves as either/or."
Stress of the job
Wray was a diplomat, walking a fine line between protecting himself and working with the community. Koval wears his emotions on his sleeve and freely admits that he lacks Wray's panache.
"I've tripped over that fine line a few times," Koval said.
But Wray and Koval agree on much — especially where it comes to community policing — and talk by phone about twice a week, although they haven't talked since December. Wray wouldn't say what he tells Koval but said he worries about his friend who supervised hiring during his time as chief.
Wray remembers how previous chiefs Couper and Richard Williams stumbled at times under pressure, and that he himself had a heart attack when he was 37, five years before being named chief.
"There's a learning curve to any job," Wray said.
To clear his head, he used to drive over to the East Side YMCA in the morning and shoot baskets by himself.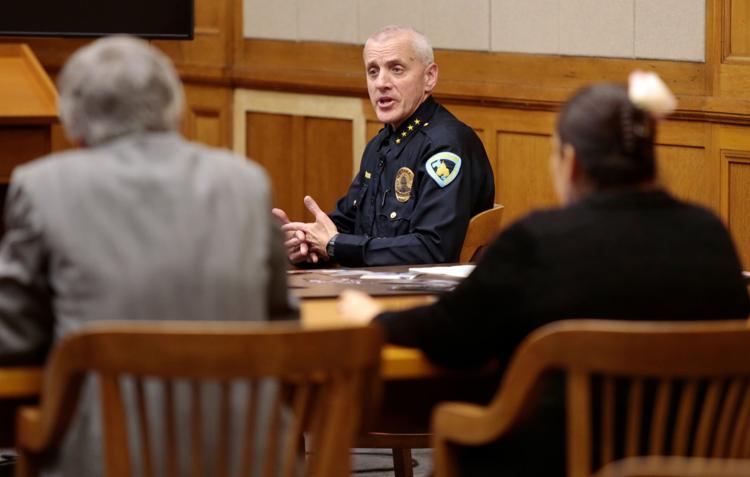 For Koval, the stress of the job includes waiting to hear whether the more then $20,000 he has spent on legal fees so far to deal with the Irwin complaint will be reimbursed.
"If I win, I get to put in for a resolution, which I hope the council will vote to reimburse me," he said. "If I lose, that's $22,000 that might arguably not be compensated for."
Koval said he takes long walks, has long talks with his wife and prays to keep himself grounded.
But having either hired, trained or worked with all but eight of the Madison department's 470 officers, Koval's stake in the department is too personal to effectively leave it behind. To clear his head, Koval rides a beat four to eight hours a week.
Avoiding that kind of stress is on Wray's mind as he contemplates his next move. He said private and public agencies continue to pay him as a consultant and he is contemplating writing a book. He hasn't ruled out running for political office — some encouraged him to run for mayor after he retired — but he said he likes how he feels right now.
"I would literally make less money (as mayor)," Wray said. "I have to be honest. Going to work every day and making less money? From a health standpoint, I would put all my energy into it. After 10 years as chief of police, I just don't know."
---
Editor's note: This story has been updated to clarify the circumstances of Wray's departure from the Madison Police Department in 2013. He retired from the chief post.