While workplace shootings aren't common in Dane County, businesses have joined schools and other organizations in making sure employees know what to do in such situations.
Both the Madison Police Department and Dane County Sheriff's Office have offered free active-shooter training for at least two years.
"The frequency of these incidents has risen," said Madison Police Chief Mike Koval. "They're at houses of worship, schools, playgrounds, malls … nobody can insulate us from the same sort of dynamics that are playing out across the country."
Koval said his officers trained more than 3,200 people at 52 local organizations last year, significantly more than the previous year.
"There's a lot of folks that are taking inventory of how pervasive this can be," he said. "They want some basic skill sets."
American Family Insurance, one of Dane County's largest employers, has developed a corporate security program with an increasing emphasis on active shooter scenarios.
Spokesman Ken Muth said the insurance company is planning a full-fledged exercise next year for the 3,000 employees on its Madison campus and will eventually extend training to all workers.
"You always learn from experiences like this one to make it better," Muth said of the company's response plan.
Most police and sheriff's departments today offer some kind of active shooter training, said Ryan Finnegan, a security consultant from Spokane, Washington. He said employers should offer it, too.
"Training can be as simple as ensuring everyone is aware of the primary and alternate meet-up point, where good covered … locations are, how to hide effectively in preparation to defend themselves," Finnegan said.
The full course takes about four to five hours.
Longley has done presentations for schools, businesses, churches and community groups.
"It's kind of all around the board," she said.
Longley said requests for training typically increase after high-profile mass shootings like those last year in Las Vegas and Sutherland Springs, Texas.
"It's on people's minds," she said.
While she expects her phone will be ringing in the coming days, Longley notes that the department is currently scheduling training for January, although there is a public event in Oct. 2 in Deerfield.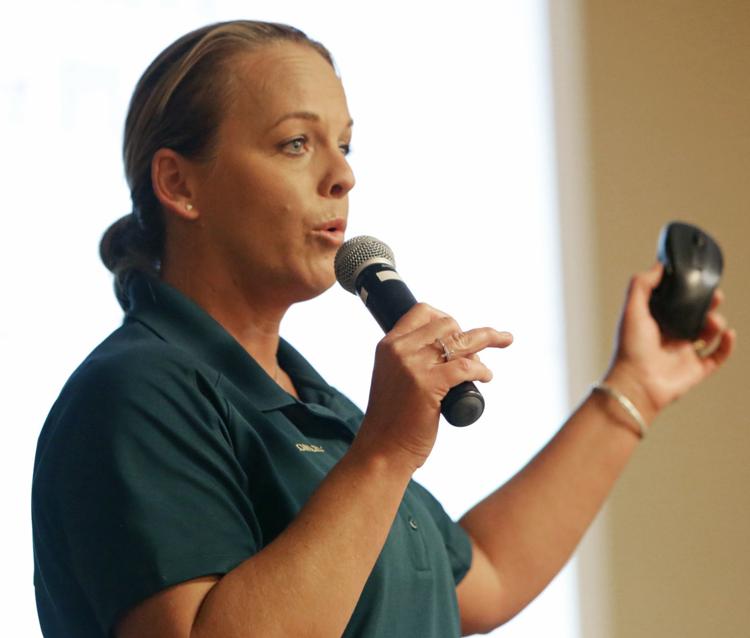 Nationwide, workplace assaults are on the rise and accounted for more than 16,000 injuries in 2016, according to the National Safety Council, a nonprofit organization that recommends regular training opportunities.
Failure to take steps to prevent or plan for a workplace shooting could expose an employer to violations of federal workplace safety regulations as well as legal liability, said Jack Plaxe, founder and director of the Security Consulting Alliance, a security consulting firm in Louisville, Kentucky.
"Many people believe that only luck can save you from an active shooter, but the right training really can make a difference," said Kelly Nantel, vice president of communications for NSC. "Active shooter training is just as important as running tornado and fire drills."