An 18-year-old man pleaded guilty Tuesday to a reduced charge in the shooting death of a Fort Atkinson man in a Fitchburg apartment parking lot in March.
Joshua B. McInnis, formerly of Lone Rock, was convicted of first-degree reckless homicide as part of a plea deal that included dismissal of first-degree intentional homicide and armed robbery charges. A child abuse charge against McInnis from another case also was dismissed.
McInnis faces up to 60 years of combined prison and extended supervision when he is sentenced at a later date by Circuit Judge John Hyland. A first-degree intentional homicide conviction would have carried a mandatory life sentence.
McInnis was 17 when police say he shot and killed Julian J. Patterson, 20, in the parking lot of New Fountains Apartments on Anton Drive around 6 p.m. on March 12. The incident occurred after police say McInnis and two other men — Travon A. Jackson, 19, and Gary C. Mays, Jr., 18, both from Madison — robbed Patterson and his girlfriend of 3 ounces of marijuana they had been trying to sell them.
Jackson was sentenced to five years in prison and five years of extended supervision in October after pleading guilty in July to armed robbery in exchange for dismissing a felony murder charge, along with a child abuse charge from the other case, which also involved McInnis and Mays, and other charges from a third case.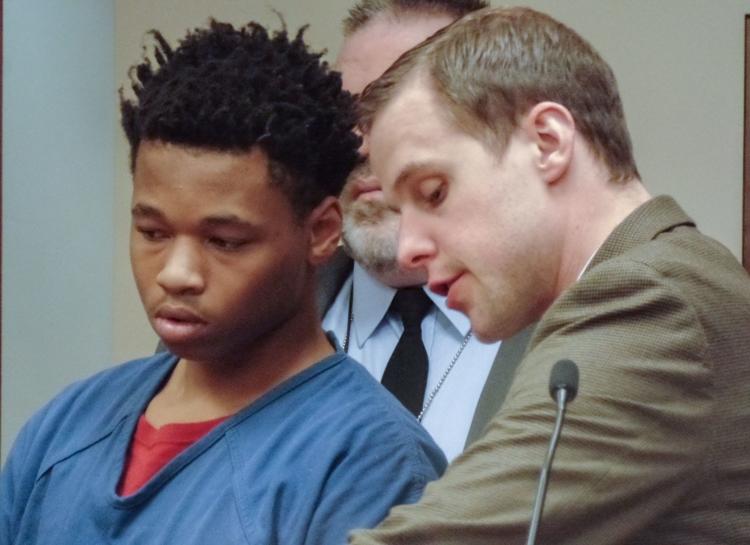 Mays is scheduled to go to trial in December on charges of first-degree intentional homicide and armed robbery. He is scheduled for a status conference Wednesday.
You have free articles remaining.
According to a criminal complaint:
Patterson and his girlfriend arrived at the apartment complex in a silver minivan. Patterson's girlfriend told a Fitchburg police detective she had been communicating with a man she knew as "YC" about delivering the marijuana to him there. She later identified "YC" as Jackson in a photo lineup.
She also told the detective that Jackson and two other men met her in the lobby of the apartment building and then, at her request, went to the van with her to conduct the drug transaction. Mays sat in a back seat next to Patterson and McInnis sat in a front passenger seat next to Patterson's girlfriend, who was in the driver's seat.
After a fight broke out, Patterson's girlfriend told the detective that McInnis displayed a handgun and Mays told him to turn on the gun's laser light. McInnis told Patterson to give him the marijuana as he pointed the gun at him, while Mays started rifling through Patterson's pockets and began to strike him, she said.
At that point, all three suspects were throwing fists and Patterson was pinned against the door but he eventually opened it and fled the van, Patterson's girlfriend told the detective. She said McInnis then grabbed the marijuana she was holding and left the van with Mays to find Patterson. After they fought with Patterson and knocked him down behind the van, she said McInnis stood over Patterson and fired one shot. Both men then fled.
Patterson died later that night at UW Hospital.