A man charged Monday with the execution-style shooting death of a Madison man in May could have killed several others if his small handgun hadn't malfunctioned during a harrowing incident that had dozens of people in a South Side neighborhood fearing for their lives, police say.
Antonio R. Gentry, 36, was charged with first-degree intentional homicide for the shooting of Rayshawn Jackson outside an apartment building on Waunona Woods Court on May 16. Jackson died five days later at UW Hospital.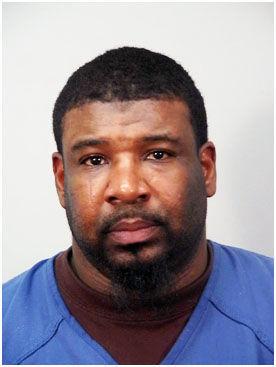 Gentry also faces multiple felony charges stemming from his futile attempts to shoot some members of Jackson's family and others who witnessed the shooting and his subsequent attempt to flee the area by carjacking vehicles, one of which contained two young girls, according to a criminal complaint.
The charges include attempted first-degree intentional homicide, two counts of second-degree recklessly endangering safety, armed robbery, three counts of attempted armed robbery and theft from a corpse.
According to the criminal complaint:
Jackson's father told police he was in a group that included Gentry, two men and two children when Jackson drove up in his vehicle. He said many knew that Gentry and Jackson were arguing over a woman, so Jackson's father told his son to leave.
Gentry then walked up with a gun in his hand and began arguing with Jackson, according to Jackson's father. He told police that his son ducked and turned his head away after Gentry pointed the gun at him. He then witnessed Gentry shooting his son in the head.
Another witness told a Madison detective that he saw Gentry holding the gun so close to Jackson's head that it was obscured by Jackson's dreadlocks. He said the gun may have been in contact with the back of Jackson's head when Gentry fired it. He told the detective that Gentry emptied Jackson's pockets and then spit in his face as Jackson lay motionless on the ground.
Jackson's father said Gentry continued to point his gun at Jackson and pulled the trigger two or three more times but it wouldn't fire. He told police that Gentry wanted to shoot Jackson in the face so he couldn't have an open casket at his funeral.
Gentry pointed the gun at Jackson's cousin but it continued to malfunction and didn't fire and Jackson's cousin ran away, Jackson's father said.
Gentry then tried to fire his gun at Jackson's father as he tried to help his son but the father said he heard only clicking sounds. Jackson's father retreated behind a dumpster and witnessed Gentry taking money out of his son's pockets.
After approaching several witnesses in the area to give him their vehicle keys, Gentry tried to shoot a man who said he didn't have keys, Jackson's father told police. But, again, the gun wouldn't fire. An angry Gentry repeatedly tried to clear the malfunction but couldn't get the gun to discharge, Jackson's father said.
Gentry then ran to the parking lot of the Riverwood Apartments in the 6000 block of Bridge Road and attempted to carjack two vehicles. Blood and an unfired cartridge from a gun were found by police near one of the cars.
Gentry pulled a 51-year-old man out of his Toyota Camry. The man told police he gave Gentry his keys but held onto the ignition fob and told his nieces, ages 10 and 3, to flee from the car. A woman witnessing the event told the girls to hide in her apartment. She also let Gentry into her apartment unaware that Gentry was the suspect police were chasing.
Gentry eventually barricaded himself in a maintenance room inside an apartment building also in the 6000 block of Bridge Road and was eventually taken into custody.
A Kahr Arms .380 caliber pistol was recovered inside the maintenance room. It was loaded with a magazine that contained four unfired cartridges. Jammed in the ejection port was another unfired cartridge. More than $300 smeared with appeared to be blood also was found.
A detective who was with Gentry said he heard Gentry ask if "the other guy" was dead. He also said he heard Gentry say he didn't want to fight anymore.
At the hospital, an attending trauma surgeon told police that Jackson suffered a spinal cord injury. The surgeon said one of Jackson's vertebrae had been destroyed when the fired round went through his spinal column and that he went into cardiac arrest.