When a suicidal man was on the loose near Hawk's Landing Golf Club in June, Madison police launched a drone to help officers locate him.
And again, when Madison police investigated a late June homicide and armed robbery at a South Side Culver's restaurant, a drone hovering overhead helped officers map the scene.
Those are just two of the five times the Madison Police Department has deployed its new drone team since June, part of a nationwide push by law enforcement to use unmanned aircraft systems — commonly referred to as drones — to investigate crimes and track down fugitives.
"They're here to stay," said Madison Police Lt. Mike Hanson, who commands the 11-member team. "This is going to be a successful program. The department's committed to it. The chief's committed to it. We want the community to understand it's a tool for us to be able to keep them safe, and our officers."
At the department's Southeast Side training center Monday, the two drones buzzed overhead as the team demonstrated how the aircraft and their high-tech cameras could be used to monitor an unfolding crime scene or, say, find a drowning victim.
Weighing between five and 10 pounds, the drones can take pictures and video using one of three cameras, including an infrared camera — by far the costliest part of the package, which totaled about $17,500 for the two machines.
Drones are already used by hobbyists and commercially by insurance companies to assess storm damage, by farmers to survey crops, by researchers or mapmakers and by photographers, filmmakers and journalists. And increasingly, public safety agencies nationwide are adding aerial vehicles to their toolboxes.
"They're a tremendous investigative tool ... the ability to have a camera taking aerial shots or giving you a live feedback to an officer is invaluable," said Brian Landers, criminal justice program director at Madison Area Technical College.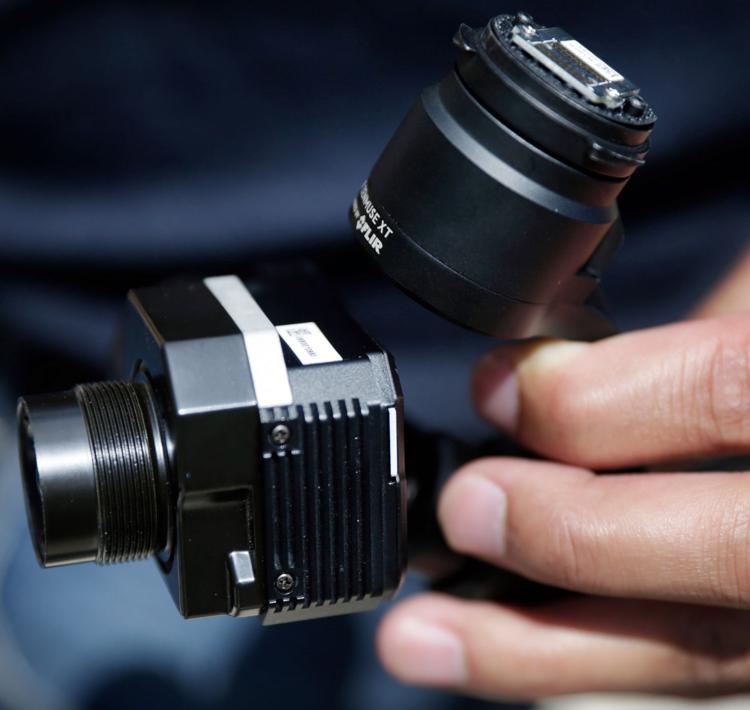 Multiple uses seen
Madison police anticipate using the aircraft for search-and-rescue operations, to look for fugitives, to map crime scenes or help guide officers in tactical situations. They could also be used to survey storm damage and to monitor large gatherings like the Mifflin Street Block Party or protests.
In one incident near the Wisconsin Dells, Landers said a drone tracked footprints in the snow of a man who wandered away from a bar and fell off a cliff.
Each drone is operated by a three-person team, according to police. Already, the drones have been used to track fugitives and look for dementia patients who had wandered off, Hanson said.
Locally, the Middleton Fire Department and Dane County Emergency Management have acquired drones, according to the center.
But as more law enforcement agencies adopt the technology, privacy and civil rights concerns are also being raised.
In a Rasmussen Reports survey of 1,000 Americans earlier this year, 36 percent said they favor the use of unmanned drones by police, with 39 percent opposed.
Concerns for privacy
For the American Civil Liberties Union, law enforcement use of drones raises concerns about protecting privacy. While the organization said drones can be helpful in situations like a search-and-rescue operation, their use should be tightly controlled.
"The ACLU recognized that there are situations that drones can be useful ... But we also have concerns about how they are used and when they are used," said Chris Ott, executive director of the ACLU of Wisconsin. "The technology is still so new, it's worth being cautious and asking questions."
Among other concerns, the ACLU said, were the possibility that drones will one day be equipped with facial recognition technology or microphones to pick up private conversations, or track individual movements.
The group urged agencies to use drones only with a warrant or in emergencies. The ACLU also said images should only be retained if there is reason to believe they're part of a crime or investigation.
In Wisconsin, police are already required to get a warrant before they use a drone to gather evidence or other information during a criminal investigation at a place where an individual has a reasonable expectation of privacy.
Hanson said privacy concerns were considered when drafting department policies for drone usage. Drones won't be flown over backyards and businesses to try to catch residents breaking the law, for example. But there may be times when an unmanned aircraft system, or UAS, will fly over private property as part of a search or during an investigation, Hanson said.
"Privacy is obviously the initial concern with any UAS program. Let's keep in mind, though, that there are thousands of cameras already in our community," he said. "We, as the UAS team, will not be flying over to watch people in their own backyard and their own business doing their own thing. That is not the intent of this, nor will it ever be the intent of this program."
He also said all events where the drones are used will be tracked and included in a yearly report. Drone photos and video will also be subject to disclosure under the state's open records law.
Under Federal Aviation Administration rules, commercial drone pilots generally may not fly above 400 feet above the ground, over people, at night or within 5 miles of larger airports. Pilots also must keep the aircraft in sight at all times.
As a public aircraft operation, Madison police operate under a different FAA rule that lifts those restrictions, though they must notify air traffic control to go near airports. They can fly up to 1,000 feet if necessary.
Like commercial operators, all of the Madison police drone team members were required to pass an FAA certification test, which they took in April after completing a four-day training program. The program cost the department about $1,600, Hanson said.
Adequate training is key for departments to use these tools safely, effectively, ethically and to maintain public trust, Landers said. MATC also operates a two-day drone training class for law enforcement agencies.
"It's not a toy … if it's treated haphazardly, there's going to be incidents," he said.