A town of Madison man and frequent protester who unsuccessfully ran for Congress was in federal court Thursday on charges he tried to buy radioactive materials on two separate occasions, specifically to kill someone.
Jeremy Ryan, 30, was arrested Wednesday in Black Earth for allegedly attempting to possess radioactive material with the intent to cause death or serious bodily injury.
At Ryan's initial appearance in federal court Thursday morning, U.S. Magistrate Judge Stephen Crocker ordered Ryan to remain in jail until a detention and probable cause hearing on Monday.
The complaint against Ryan was unsealed Thursday. It includes an email message in which Ryan describes the possible target as a 6-foot-tall male weighing 220 pounds.
According to the complaint, the potential seller of the substance was actually a covert employee of the FBI.
"A package containing an inert substitute for the radioactive materials was delivered to an address in Madison and was picked up by Ryan," the U.S. Attorney's Office said.
If convicted, Ryan faces a maximum life sentence.
According to the complaint, the covert FBI employee had listed several illicit items, including radioactive materials, on a hidden website in March, a website that was accessed by Ryan.
Ryan allegedly asked in subsequent contacts about how long would it take the poison to kill someone after ingested.
"I'm looking for something that's very rare/difficult to get a hold of. Also that doesn't show symptoms immediately but kills them fairly soon after," the message said.
He also said he wanted the material to be "extremely difficult" to get so people would automatically suspect the government, and that the material would be safe to ship.
The FBI employee didn't hear anything more from the suspect until October, when he allegedly placed an order for a "dose" of the material that cost $569, the complaint said.
He asked for the order to be shipped to an Odana Road address, which is a UPS store that offers mailboxes.
In more back and forth messaging, the FBI employee asked Ryan if he wanted the target's death to look like he died of cancer or from treatment for cancer, and he allegedly agreed.
On Oct. 15, Ryan was given a package tracking number, and on Wednesday, FBI surveillance personnel saw him go into the UPS store to pick up the package.
Ryan was known as "Segway Jeremy" for riding around the state Capitol on a Segway scooter during the 2011 protests against Gov. Scott Walker's legislation curtailing collective bargaining rights for public workers. During that time he organized civil disobedience protests designed to challenge rules against displaying signs.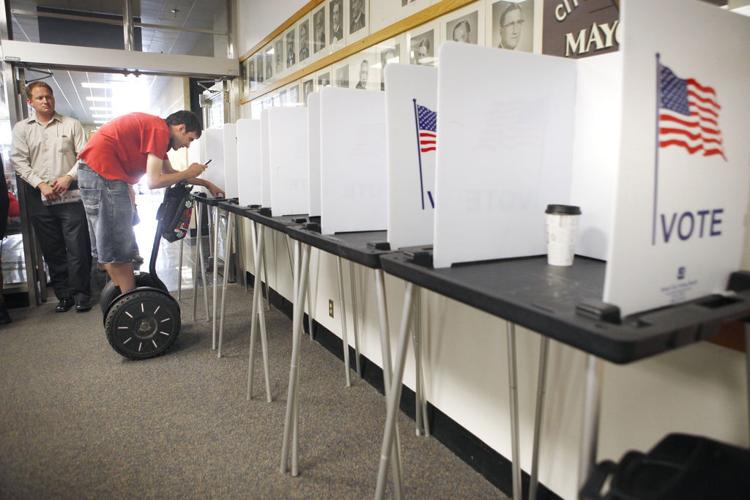 In a 2016 interview with the Wisconsin State Journal, Ryan said he participated only in passive resistance and never prompted or did anything violent. But he was also frequently cited by Capitol Police for his activities.
Last year, he was sentenced to 20 days in local jail and fined $518 after reaching a plea deal in a drug-related case. He has also pleaded no contest to a misdemeanor disorderly conduct charge. Various charges he had faced include repeatedly taunting and disrupting journalists working in the state Capitol press room in 2012 and a charge of receiving stolen property for allegedly keeping the jacket of a Capitol Police officer , which he reportedly wore at parties as a joke.
He was cited more than a dozen times by Capitol Police for various protest-related activities, including displaying a sign in the Capitol without permission. He and five other protesters later sued to overturn the state's administrative rule that banned such displays as unconstitutional. They won a $300,000 judgment in the case, but it was overturned upon appeal with no money being paid out.
He later was involved in Black Lives Matter protests against the Madison Police Department over the shooting of black teenager Tony Robinson in March 2015 by a white police officer.
Ryan ran as a Republican against U.S. Rep. Paul Ryan, R-Janesville, in 2014. The Republican Party filed a complaint against his nominating petition, saying he told people they were signing a petition to legalize marijuana. The complaint was dismissed and Jeremy Ryan went on to lose in the primary with less than 6 percent support.
In response to a Wisconsin State Journal election questionnaire in 2014, Jeremy Ryan stated: "I would say I am both more conservative and more liberal than my opponent. … It's time to get away from polarizing politics on both sides and unite as a nation under something we can almost all agree will help."
He ran again for the same seat this year and came in fifth in a six-way Republican primary with 6,221 votes.
State Journal reporter Chris Aadland contributed to this report.