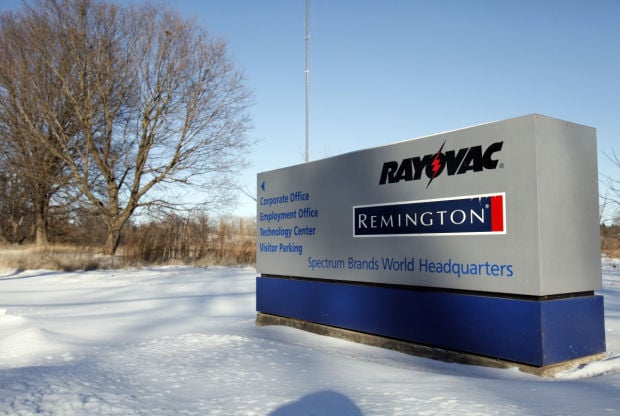 A former Spectrum Brands employee was sentenced to 3½ years in federal prison in Madison on Tuesday for setting up an elaborate fraud scheme that allowed him to steal money from Spectrum, some of which was used to organize and operate beauty pageants.
Shonn Northam, 46, of Briggsville, also was sentenced by U.S. District Judge James Peterson to three years of supervised release and ordered to pay back to Spectrum $281,000 that he embezzled from the company. He was convicted in January in U.S. District Court in Madison of mail fraud, money laundering and aggravated identity theft.
Peterson rejected an argument by Northam's attorney, Peter Moyers, for a lesser sentence that was partly based on a claim that Northam's criminal behavior wasn't a product of greed but his refusal to acknowledge that he was suffering from mental illnesses.
After noting that Northam had also been fired from his job with Ho-Chunk Casino for theft in 2007 and lied to federal agents investigating the scheme he set up at Spectrum, Peterson said, "We have a really relentless and persistent trajectory of dishonesty here."
Mental illness contributed to Northam's "really sophisticated and long pattern of deception," Peterson said, "but his anti-social behavior was over and above mental illness."
Assistant U.S. Attorney Daniel Graber argued for a four-year prison sentence, saying that Northam planned and executed a multifaceted scheme that involved submitting false warranty claims for almost two years. "It was not your run-of-the-mill state fraud case," Graber said.
In a pre-sentence memorandum, Graber wrote that Northam's job included evaluating warranty claims for defective products in Spectrum's small appliance division. Northam filed 268 false claims from February 2013 to October 2014 that generated checks to Northam and others, according to Graber.
Graber wrote that the scheme was complicated because Northam needed to create multiple false stories for the warranty claims and find customer names to attach to the claims. He wrote that Northam used the names of old Spectrum customers as well as his own friends and family members or derivations of the names of his friends and family members.
"He needed to keep track of all of these names and how many times he used them because the internal controls at Spectrum (tracked) multiple claims by the same person," Graber wrote.
Graber also wrote that Northam lied to his supervisor and Spectrum accountants to keep his scheme going. Northam also lied to performers in the US Proud pageants that he organized in 2013 and operated for the LGBT community.
Northam told some of the performers that the owner of Spectrum was personally involved in the LGBT movement and was providing financial support to US Proud, Graber wrote.
Northam used about $95,000 of the $281,000 that he embezzled from Spectrum to support the pageant and pay the performers, according to Graber.
Graber told Peterson that Northam "has a gift" for running quality beauty pageants.
Even more impressive is that he ran them while working full time and operating the fraud scheme, Graber said.
After noting that Northam stole $12,200 from Ho-Chunk Casino by issuing unauthorized gift certificates to himself and friends as the casino's hotel manager, Graber concluded that Northam's behavior wasn't the product of mental illness.
"It's a character flaw," he said.
Northam didn't speak during the hearing but he sent a letter to Peterson that began with an apology "to everyone who I have hurt in the course of this case."
He wrote that he was recently diagnosed as bipolar and that he also suffers from a schizoaffective disorder. Those illnesses kept him from understanding the results of the choices he had made in the past. After beginning treatment that includes medication he can now see the damage of his poor choices, Northam wrote.
A former figure skater who competed at the national level as a teenager, Northam wrote that he is rebuilding his relationships with family members. He also has become active in his church, which is helping him choose "stronger, morally based friends."
Moyers disputed Graber's claims that Northam apologized only because he was trying to get a lesser prison sentence. Moyers told Peterson that Northam was self-medicating with street drugs and was in an abusive relationship with his then-partner after he was fired from Spectrum. He found another job but was fired due to erratic behavior and that led to suicide attempts and mental health commitments, according to Moyers.
That's when Northam sought psychiatric help, which was prior to his indictment for stealing from Spectrum, Moyers said. "Thank goodness that he asked for that kind of help," the attorney said.