At 3:34 p.m., May 17, they gathered for a meeting none of the participants wanted.
The previous evening, with children playing outside and people around, a man fired a bullet into the back of the head of Rayshawn Jackson, 24, outside an apartment building at 9 Waunona Woods Court on the South Side.
The alleged shooter terrorized the neighborhood, entering and leaving buildings and vehicles before police followed a trail of blood to a maintenance room in an apartment, where the suspect, Antonio Gentry, 36, tried to barricade himself before he was taken into custody.
The overnight was gut-wrenching. Jackson's family and friends — perhaps 30 people in all — gathered at UW Hospital. The medical prognosis was grim, and emotions ran high, ranging from grief to anger.
Members of the community-based Focused Interruption Coalition, which intervenes in highly charged incidents, and the Dane County District Attorney's Victim Witness Unit tried to provide comfort and support.
The next afternoon, as Jackson clung to life but his death a seeming certainty, a newly organized group of service providers seeking to provide a coordinated response to violence known as the Community Safety Intervention Team (CSIT) came together at the North District police station on Londonderry Drive.
The group includes representatives of the mayor's office, Madison Police Department, multiple city and Dane County agencies, the Madison schools, FIC, UW Health and nonprofits.
The mood is somber. Participants express concern for the victim, the families of the victim and suspect, children and others who witnessed the shooting. There is fear of potential retaliation. After the shooting, a fight involving perhaps 50 people erupted in a Southwest Side neighborhood where family and friends of both the victim and suspect live, which may or may not have been connected to the attempted homicide.
"I'm just worried about tonight, this weekend," Deputy Mayor Gloria Reyes tells the group. "Is there anything we can do to prevent something from happening?"
A broader response
Madison has never had an entity like CSIT, which was created in response to increasing gunfire and a jump in homicides in 2016 and 2017, including an alarming new crime for the city: retaliatory killings in public places in broad daylight.
"All we had for response is police, essentially, and the district attorney's Victim Witness Unit to support victims," Reyes said in an interview.
The team was an outgrowth of an initiative the mayor's office began assembling last year, which involved working with community groups and others to provide a broad-based "rapid response" to shootings.
"We recognized early on, there had to be intervention during incidents," Reyes said. "We want to connect families to peer support and then resources. They were hot incidents. They could spiral out of control if we didn't respond."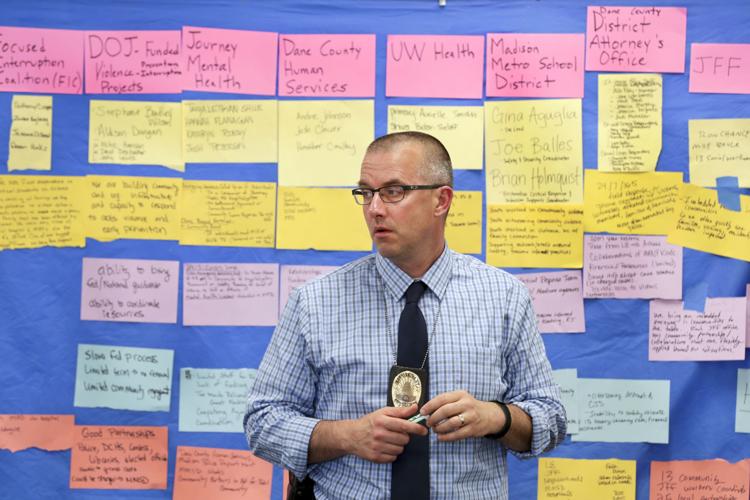 The plan included helping families in danger relocate and cover funeral costs, but also quickly connecting people involved to social services, while a team from the city, county and social service providers would explore long-term strategies for calming the violence.
Along the way, FIC's role expanded, gaining behind-the-scenes access at crime scenes and hospitals, where counselors could provide peer support in real time.
"We had to take risks," Reyes said. "We had to rely on community members stepping forward. It was an unusual way of doing business."
Addressing trauma
Shortly after gathering at the North District station, Detective Sgt. Diane Nachtigal and Detective Norra Stachel share with CSIT what they can about the previous night.
Jackson's girlfriend is the mother of Gentry's children. There's a long history between the families. There are gang affiliations, but the shooting isn't believed to be gang-motivated. At least four children between ages 10 and 14 witnessed the shooting. Many children were outside. Retaliatory threats were made. Some fear for their lives.
Stachel says many incidents in the past two years are connected to people who are related or have other associations, and that violence is possible. "We don't know if they will go that route," she said. "We do know they are capable of going that route."
Anthony Cooper Sr. and Zandra Hagberg of FIC describe the tense night at the hospital and their efforts to help the county Victim Witness Unit get temporary housing for children and family members who didn't feel safe returning to their homes. They are careful not to share sensitive information that could help police with their investigation, knowing they need to maintain confidentiality and credibility on the street.
Brian Holmquist, coordinator of Intensive Support and Critical Response for the school district, says staff are trying to help children who may have been exposed to trauma that evening.
The common aim is to address trauma and minimize potential for more violence.
Four days later, Jackson is pronounced dead at UW Hospital.
'Acting as a community'
Every Tuesday, at 10:30 a.m., a dozen or more CSIT members gather at Rev. Alex Gee's Fountain of Life Church on the South Side.
Led by Reyes and Jerret Jones of Public Health Madison and Dane County, they share updates on incidents. But much of the time is spent searching for new ways to address the violence that go beyond simple police work: Who else can help, and how much information can they share with one another?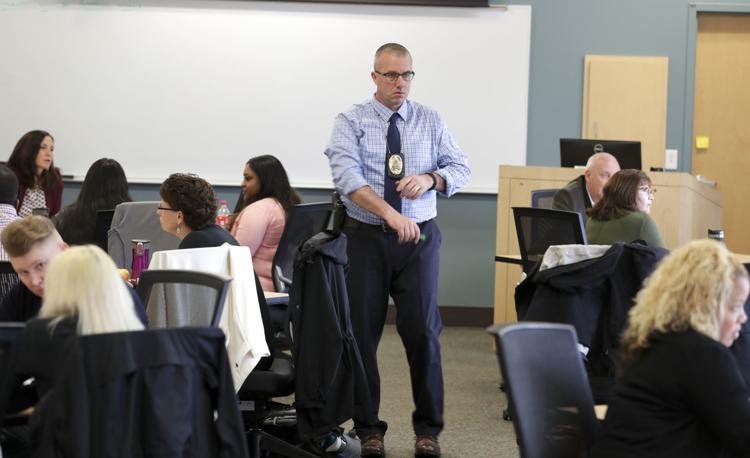 "We have no community response to violence," said CSIT member Ron Chance, community programs manager at Dane County Human Services, which oversees the Joining Forces for Families initiative in challenged neighborhoods. "We have response in the schools, but we have no community response."
This past winter, CSIT worked with Rev. Marcus Allen from Mount Zion Baptist Church on the South Side, who led a community effort to address an increase in youth stealing cars by visiting the suspects at home or in the juvenile jail, discussing the danger they were putting themselves in and generally letting them know they had their eyes on them. At the same time, they offered to help them with any problems they were having at home or school.
The group also benefits from regular, in-person contact among agencies and providers who historically had worked in isolation, which members say is producing a shared sense of mission and trust.
"To me, we're acting as a community," Cooper told members at a recent meeting. "It's the village taking care of the village."
And it's becoming more organized. On May 21, more than two dozen CSIT members and partners spent a full day in training led by Jones and Madison Police Violent Crimes Unit Lt. Tim Patton. They learned about the work different community organizations do, where they could use more help and used mock case studies of gun crimes to explore more effective responses.
Since then, the various participants have been working to lower barriers between them and share what information they can legally.
"We can no longer depend on a sole response from law enforcement to respond to violent incidents," Reyes said.
"We have to develop strategies to respond using partnerships with city, county, nonprofit organizations and private entities. We have to stop the impacts of generational trauma in our community."