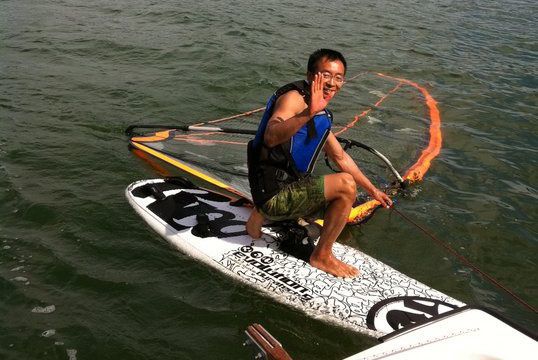 The family of a windsurfer who was killed on Lake Mendota last month in a crash involving a UW-Madison lifesaving boat plans to ask a Dane County judge to grant them access to evidence that their attorney says is being withheld by the university, the Sheriff's Office and the state Department of Natural Resources.
Evidence from the crash that killed Yu Chen, 43, likely will form the basis of a wrongful death lawsuit, said attorney Jay Urban, who is representing Chen's mother, Xiao Xu. Under state law, any such claim involving state employees must be filed within 120 days of the death.
But Urban said the Dane County Sheriff's Office has withheld records of the crash and doesn't plan to release them until its investigation is complete, which he said could take longer than 120 days.
"The state and county records will likely show that the boat was traveling too fast for conditions, that the boat's crew was inattentive or both," Urban said.
Sheriff Dave Mahoney declined to comment on the cause or details of the May 31 crash, citing the open investigation.
The lifesaving boat was returning from a call on Governor's Island when the crash occurred straight out from the area between the UW Lifesaving Station and The Edgewater hotel.
In a statement Tuesday, Urban said Chen was hit from behind, "where his body was chopped by the power boat propellers" despite the fact that the crash happened on a clear day when Chen should have been visible from about a mile away.
Among other things, the family is asking the state to help recover Chen's arm, which was severed in the crash and held a GPS watch that could provide evidence related to Chen's speed and coordinates that day.
The motion, which had not yet been submitted, seeks permission to depose the three operators of the boat that struck Chen, as well as access to all documents, photos and videos related to the incident, including any videos from the Governor's Mansion in Maple Bluff, which overlooks the lake. Attorneys are also seeking UW Lifesaving training and maintenance records.
The motion also seeks to examine the boat that struck Chen, which Sheriff Dave Mahoney confirmed to the State Journal has been released back to UW Lifesaving. Urban said the boat has been put back into service, and the DNR has refused to share data about it or permit it to be inspected.
Urban said the Sheriff's Office told him the DNR was doing GPS analysis or mapping. Mahoney said he didn't know how DNR was involved in the investigation.
A DNR spokesman referred questions to the Sheriff's Office.
You have free articles remaining.
Remembering Chen
Through his tenacity and kindness, Chen made friends everywhere he went, said one of those friends, Dandan Zheng. She said around the world, those friends are mourning the loss of the physicist and windsurfer they knew and loved.
Chen was born in Zhengzhou, China, in 1973, and was an only child. After graduating with a master's degree in nuclear physics, Chen moved to the United States to earn a doctorate in nuclear and medical physics from the University of Michigan. He researched new and better methods for radiation cancer treatment.
Chen moved to Madison in 2007 and worked as a senior medical physicist. He began to windsurf with the Hoofer Sailing Club and became an instructor with the club.
"When we were out there windsurfing together, he always had his eye on you, and you felt his intensity and joy whether he was a mile away or greeting you when passing nearby," windsurfer Chamond Liu said.
Chen's compassion for his friends and all that he did made him a treasured friend to many people around the world, Zheng said.
Zheng met Chen in 2006 at the University of Michigan. While Zheng became a clinical physicist, working with cancer patients undergoing radiation therapy, Chen believed he could help more people by going into research.
"He really loves research, and he is a very persistent person," Zheng told the State Journal. "He thought he could make a bigger impact on these cancer patients (as a researcher)."
Making others happy
The need to help others was a common thread throughout Chen's life.
After Chen's passing, his mother wrote a letter to her son detailing her love for him and the kindness he showed to others throughout his life. Zheng provided the State Journal with an English translation.
"You volunteered and devoted your time to all those people in need, simply because making them happy would also make you happy," she wrote.
In his professional life, Chen took time to help those around him while working on products that would help thousands of cancer patients, said former co-worker Weiguo Lu.
"Not only is his (research and development) so important, he also spent a great deal of time helping other researchers," Lu said. "He is the person who cares for others more than himself."