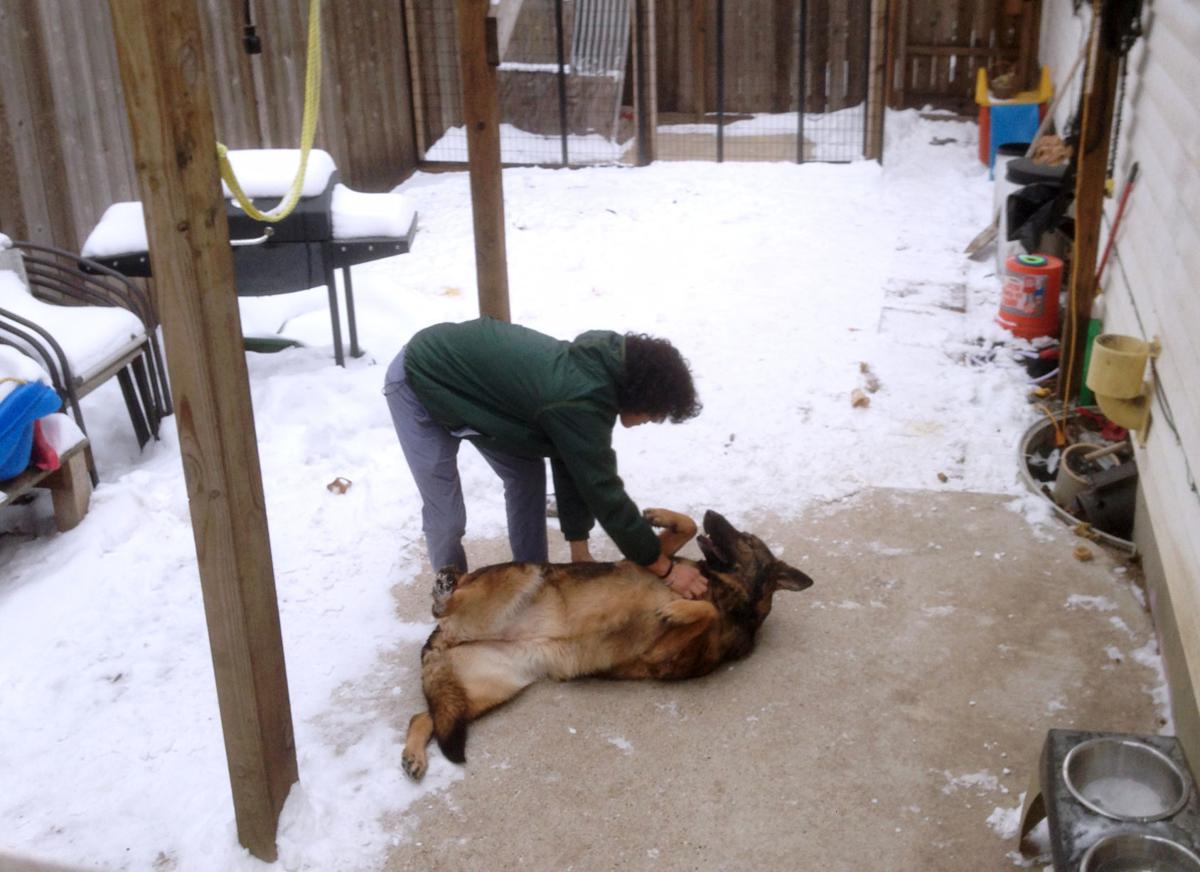 Neighbors complain that the 4-year-old German shepherd barks much of the day from her postage stamp-sized privacy-fenced backyard at 4316 Kennedy Road on Madison's North Side. Her owner says he had to stop using a shock collar on the animal because she barked so much the shocks were burning her neck.
She barks so often that police responded 11 times to the home in 2016 and 2017 for an "animal disturbance" — more times than for any other address in Madison.
Despite the racket, the dog's owner, Levi Aleman, has not been issued a ticket for violating Madison's ordinance against allowing an animal to disturb the peace.
In fact, over the past two years, there have been only 10 such tickets issued in Madison, although there have been more than 900 calls to police about animal disturbances.
Police notes from the calls to 4316 Kennedy indicate Aleman was often not home when the dog was barking. In a note from a May 2 police call, the responding officer wrote: "will issue citations w/ any continuing complaints." Records show police responded to complaints about the dog's barking five more times after that.
Aleman acknowledged his 4-year-old German shepherd is "a very loud dog. She does bark when anybody comes up to the house."
But there's usually someone home to bring her inside when she's barking, he said, and most of his neighbors are away at work during the day anyway.
As for why he's never gotten a ticket, Aleman said the police know he's willing to work with them to quiet the animal.
"I've always found that they're pretty understanding guys," he said.
Madison Assistant Police Chief Randy Gaber, who oversees the department's field operations, said barking dogs are a low priority that officers get to when they don't have more serious things to deal with. In some cases, the wait for responding officers can be so long, the calls are dropped entirely.
What constitutes barking that's too much or too loud also "is very subjective," Gaber said, and "in order to take any enforcement action, (officers) have to actually witness the noise," should it still exist by the time they arrive.
Madison police received nearly 2,900 calls in 2016 and 2017 about animals – usually dogs – running loose, biting people, barking or causing some other kind of problem.
Broadly speaking, police take more of a problem-solving and less of a punitive approach to such calls, Gaber said. Depending on the circumstances, officers could issue a citation in response to one complaint or could choose not to issue one after multiple complaints.
Josh Blanchette is one of the unlucky ones ticketed after one complaint — or at least one incident.
His long-haired old English sheepdog-poodle mix "had slept outside for a year without incident" when for some reason, he started barking — and continued barking — for several early morning hours in July 2016.
Blanchette, who described himself as a very sound sleeper, said he didn't hear his neighbor or police knocking at his door to alert him to the dog's barking, and in the morning found the ticket in his mailbox.
"My dog is a criminal now," he quipped, although he admits to being irked that the ordinance he was ticketed under states that it applies to animals who "habitually by any noise disturb the peace and quiet."
"And this was a one-time thing," he said. But he paid the ticket.
Blanchette's experience notwithstanding, Gaber said "we often just try to change behavior, not necessarily penalize behavior" — the idea being to "try to come up with a long-term, problem-solving solution."
That can be frustrating for people who experience dog-barking as a day-in, day-out nuisance.
Dustin Thompto spoke of being woken up "between 5 a.m. and 6:30 a.m. at least once a week for years" by the dogs from the home behind his, and having a "perfectly good afternoon on the back patio completely destroyed by obnoxious barking dogs."
The owners of the home, Fred and Carol Kusse, live in the only other single-family home in Madison to see more than two animal disturbance calls having to do with a dog left barking in a yard. Police provided records from two of three calls, and they show Thompto made both of them and complained the dogs are an ongoing problem. Like the Kennedy Road residents, the Kusses have not been issued a ticket.
The couple has three dogs, including two yellow labs Fred Kusse said help scare away potential criminals and safeguard equipment he keeps at his Derek Road house for use in his contracting business. He said the neighborhood experiences "stop-and-drop drug deals," that police told him his dogs aren't a nuisance and that every other neighbor he's spoken with doesn't have a problem with them, either.
"My dogs aren't out there barking all day," Fred Kusse said, and "there's barking dogs all over this neighborhood."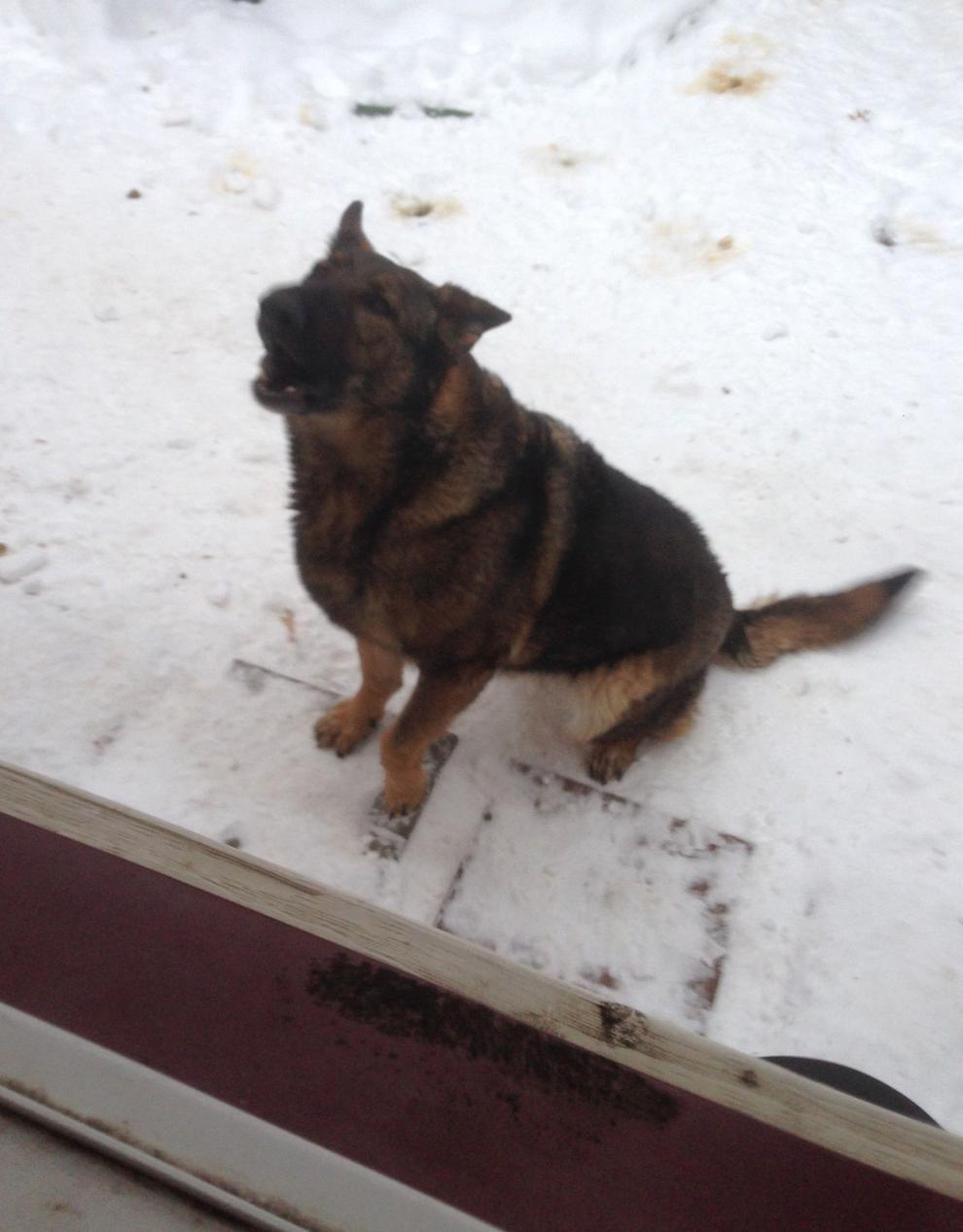 Reactions mixed
On Kennedy Road, the reactions neighbors had to Aleman's dog ranged from accepting to indifferent to irritated.
Aleman thinks most or all of the calls about Kiara are from one neighbor whose name he doesn't know but who's complained to him before about how hard it is to control her dog when his dog is barking. Other neighbors said someone had circulated an anonymous letter urging them to report the barking to police.
"They have that dog out during the day when they're gone," said neighbor Michael Hewitt. "That dog in general is a nuisance and it has been. ... It would be nice if the city did something about it."
But Austin Inman and Alisha Kushnaryov, who moved into their home across the street from Aleman in July, seemed little bothered by the dog.
"I do hear it. It's not bothersome," Kushnaryov said. "It's just become part of the normal noise that you hear. ... I just kind of figure dogs bark."
"Animal disturbance" calls came from all over the city in 2016 and 2017, although they tended to increase during warmer months. Most of the addresses with multiple calls were for large retailers such as Woodman's and Home Depot where, police say, patrons have been known to leave their dogs in their cars while they shop.
Reviews of police notes for repeated animal disturbance calls to single-family homes show callers worried about dogs running off leash and locked in vehicles on residential streets.
Sandi Sawchuk, a clinical instructor in the UW-Madison School of Veterinary Medicine, said dogs bark for a variety of reasons — from separation anxiety to squirrels.
Her advice? Dogs with barking problems "should not be outside without human supervision," she said. "Once the dog alerts to something, that owner needs to call the dog to them ... and take the dog inside if necessary."
No central reporting
While police-call data show thousands of Madisonians relied on police over the last two years to handle strays and noisy animals and animal bites, it's not clear they were reporting recurring animal-related problems to the people who influence and shape city policy.
City Council members and neighborhood association officials who represent the residential addresses with more than two complaints about barking dogs or other animal disturbances reported never hearing about any problems at the addresses, or hearing very little.
There is no neighborhood association that includes the home at 4316 Kennedy — and that neighbors could try to work though to curtail the barking. Ald. Rebecca Kemble, whose 18th District includes the area, told the State Journal she wasn't familiar with the address and to contact the city's Building Inspection division.
Building Inspection, though, doesn't handle barking dog complaints.
"I would guess people call the police to ask them to enforce noise ordinances," Kemble said. "Alders can't do that. I don't know what alders could do about a problem like this other than create a new ordinance specifically about barking dogs."
A "perfectly good afternoon on the back patio completely destroyed by obnoxious barking dogs." Dustin Thompto