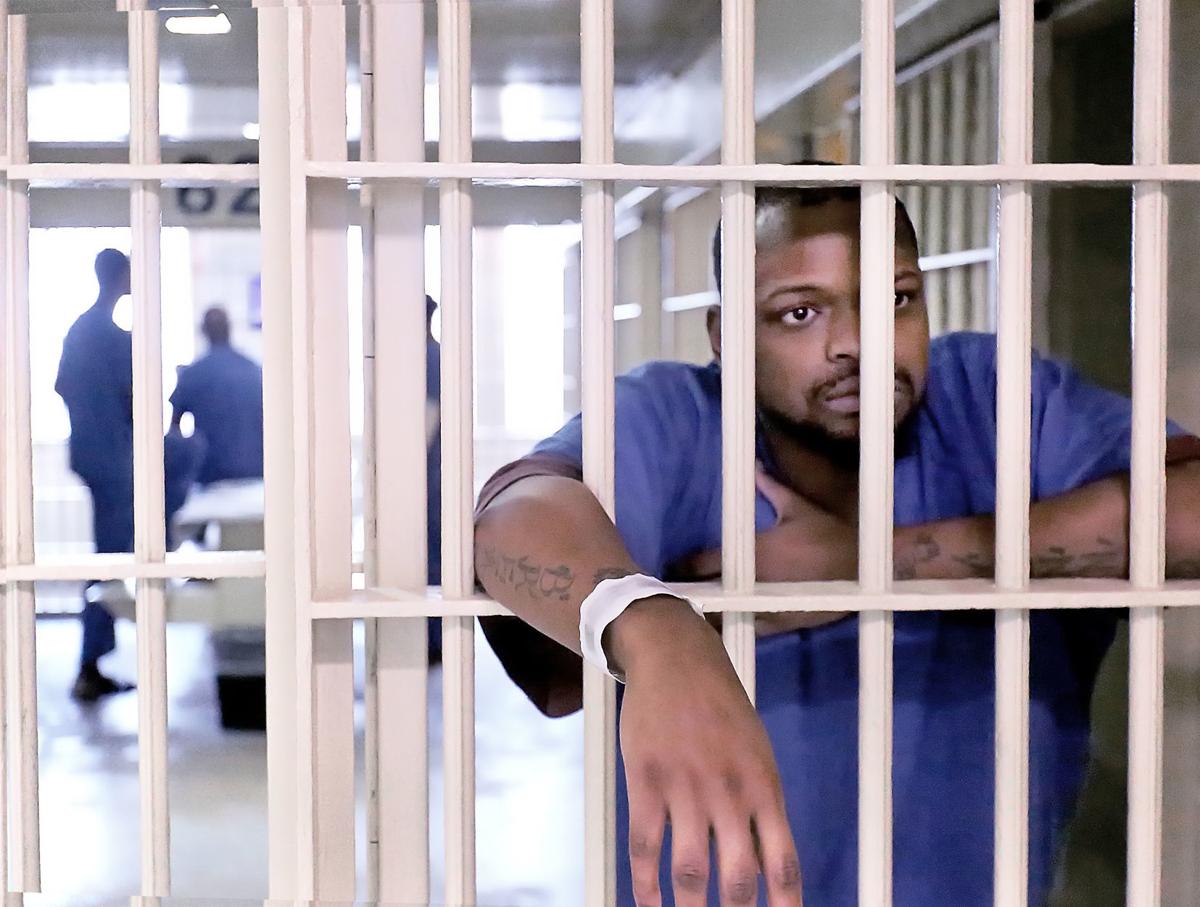 When people commit certain crimes or pose an extreme danger to others, most agree, they need to be locked up.
Incarceration can also concentrate the mind, forcing offenders to confront the alcohol and drug dependencies that often led to their crimes, allow them to address anger problems and further their education.
But it's also true that incarceration can compound the effect of childhood trauma, make some problems worse, separate families, and renew cycles of trauma, making everyone less safe.
"We know that in many instances men and women enter the prison system with mental illness and histories of trauma," said Dr. Pajarita Charles, assistant professor of social work at the UW-Madison Institute for Research on Poverty and Center for Child and Family Well-Being.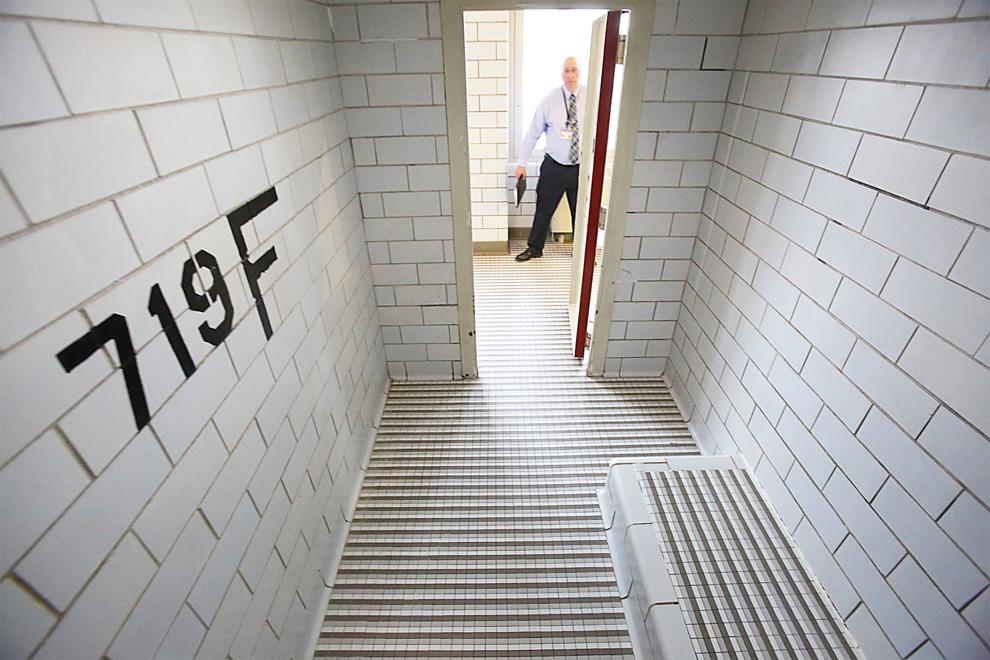 "However, they are often misdiagnosed or not diagnosed at all upon entry, are subsequently not treated or are mistreated, and then are punished further under traumatizing conditions like solitary confinement that worsen their underlying health and well-being and exacerbate their trauma."
In Dane County and Wisconsin, those impacts are concentrated in African-American families, which are affected by incarceration at rates that far exceed those of whites.
Last year according to the Sheriff's Office, 40 percent of all male admissions to the Dane County Jail were black, as were 29 percent of all female admissions, although blacks make up just 5.3 percent of the population.
It's the same story in the state.
Between 2000 and 2003, even though blacks represented only about 6 percent of the state's population, the percentage of prison admissions between whites and blacks was nearly the same, about 48 percent. Since then, the proportion of whites admissions rose to 56 percent in 2016 while admissions for blacks dipped to 37.3 percent.
Such disparities mean "a generation of kids without male role models," families undergoing trauma, and disproportionate cycles of incarceration, said Jerome Dillard, director of the statewide organization Ex Incarcerated People Organizing. "Children are raising themselves. Children are becoming more violent. We have communities today under great stress."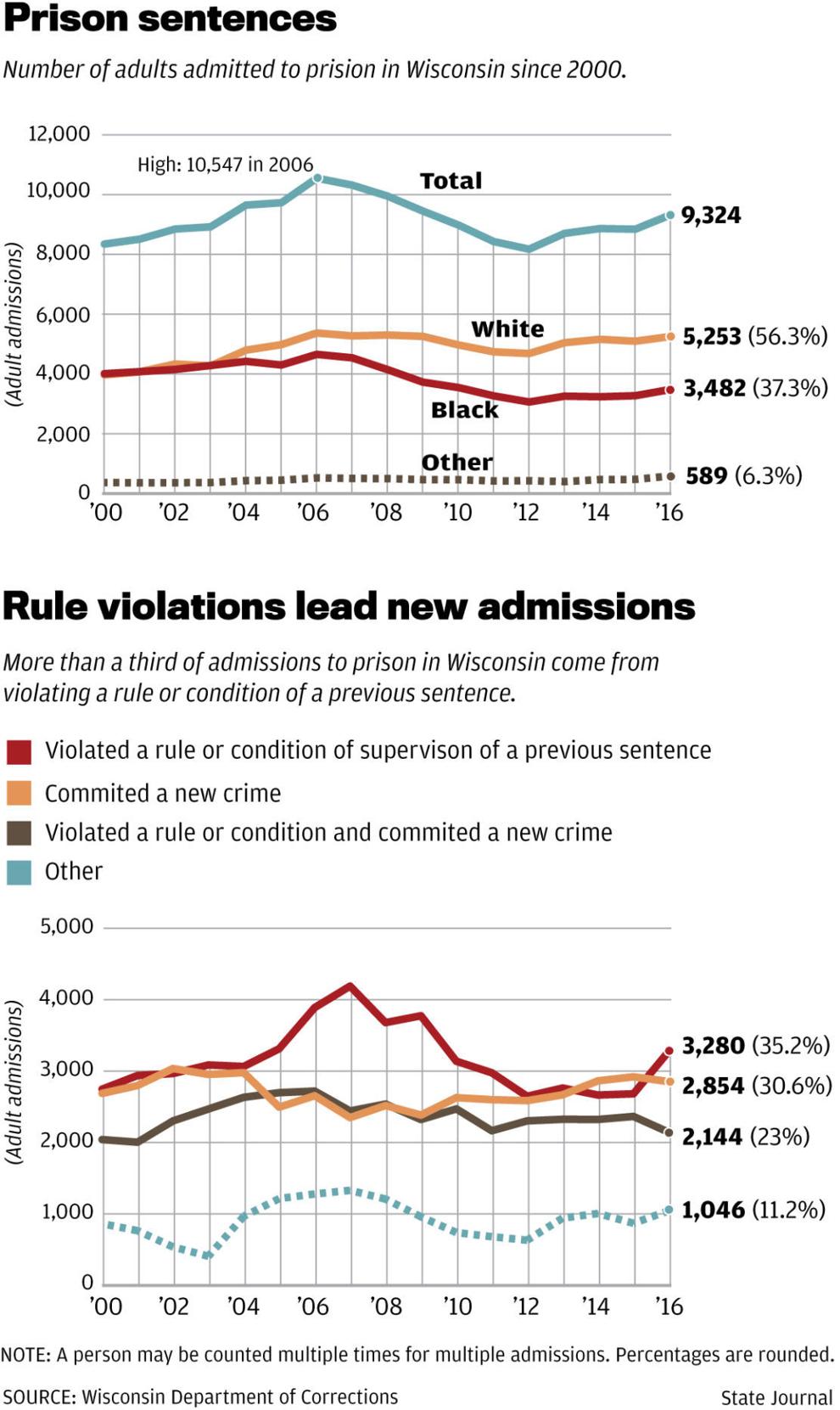 That's compounded when offenders are sent back to prison or jail not for committing a new crime but for violating the terms of their supervision.
In Wisconsin, roughly a third of admissions to prison are for failure to meet conditions of supervision, not a new criminal offense. In 2015, 40 percent of those revoked without a new conviction were African-American, while 54 percent were white.
Dane County District Attorney Ismael Ozanne said his office understands the research on trauma, considers root causes of behavior in seeking sentences and supports alternatives to incarceration such as diversion, restorative justice or supervised release when appropriate and possible.
"We look at what brings someone to court," Ozanne said. "For very violent offenses, there's a need to separate a person from the community." For others, "you can change the trajectory."
But Ozanne said his office lacks the personnel and resources to conduct time-consuming investigations that can produce context and rationale for alternatives to incarceration. The office has state funding for 26.8 full-time attorneys plus some grant support, roughly the same size it was in 1985, while Ozanne said it needs 40 to 45 attorneys for the county's population now.
"Time is the prosecutor's currency. You can't create more of it," he said. "We're trying, but we do not have adequate resources. This is a statewide issue."
Judges say they face similar challenges.
"The court system needs more tools that assist us in addressing the high trauma, emotional, psychological and educational needs of many of the youth and families that enter the court system," Dane County Circuit Court Judge Everett Mitchell said.
Dane County Circuit Judge William Hanrahan, who handles adult cases, said, "I've got the tools of a cave man doing neurosurgery," he said.
Hard on families
While offenders choose to commit crimes and put their liberty in jeopardy, their children often end up paying for those decisions.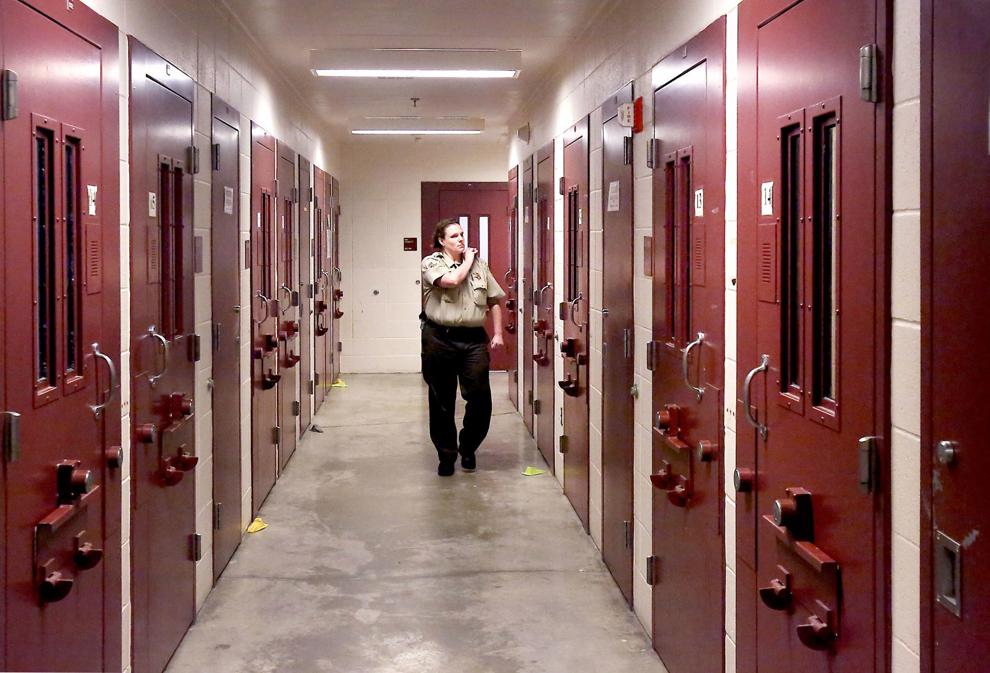 Children of incarcerated parents suffer higher rates of homelessness, behavior problems, and long-term health problems, said Dr. Julie Poehlmann-Tynan, professor of human ecology at UW–Madison.
Losing a parent to jail or prison undermines the trust children have in their adult caregivers and confidence they are loved, and can create sadness, anger, sleeplessness and indifference, she said. It can lead to aggressiveness at school, poor grades, bullying, truancy, drug and alcohol use, risky sexual behavior and violence.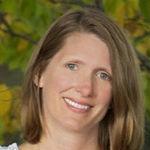 In almost all cases, mothers become the lone caregivers and can face housing instability, increased stress, depression and physical health problems, Poehlmann-Tynan said.
"Five million children nationally are experiencing the incarceration of a parent," Poehlmann-Tynan said. "That's crazy. Think of what it's doing to the children. I'm all for accepting responsibility, but we're doing it in a way that punishes kids."
Dane County Sheriff Dave Mahoney, who oversees the jail, said such concerns and overcrowding helped push the county to dramatically expand electronic monitoring in 2008.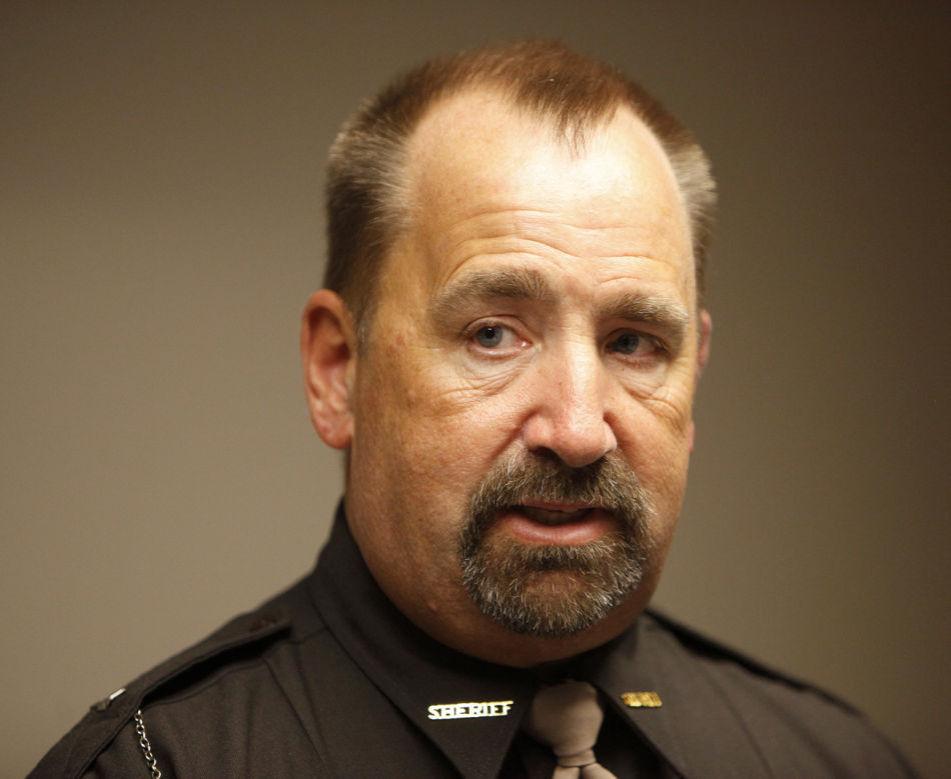 The program, which lets people serve sentences in their homes while wearing an electronic GPS bracelets, serves 80 to 100 people a day. More than 7,000 people have used it in the last decade, with a 97 percent success rate, he said.
"It allows moms and dads to be at home and decreases stress and anxiety," he said. "They're allowed to go to work. We don't break even, but it's cheaper than the $120 a day to incarcerate. It's the most successful program we have going right now."
A vicious cycle
The alternative could be Brandon Crockett.
Crockett, 28, is in the Dane County Jail on charges he fatally shot a man in a dispute over a woman. He has pleaded not guilty and declined to discuss the case before it goes to trial.
But he followed a well-worn path to prison.
Crockett grew up with an incarcerated father and addict mother and relentless violence in neighborhoods segregated by race and gang rule on Chicago's South Side. As a youth, he and family members were into sports; his brother was a standout baseball player.
But reality was unyielding. Exposed to robberies, kidnappings and homicide, his brother became a major drug dealer and is now incarcerated. Seeing only jobs offering minimal pay, Crockett was eager to follow in his footsteps. He moved to Madison in his late teens, eventually selling drugs to make money.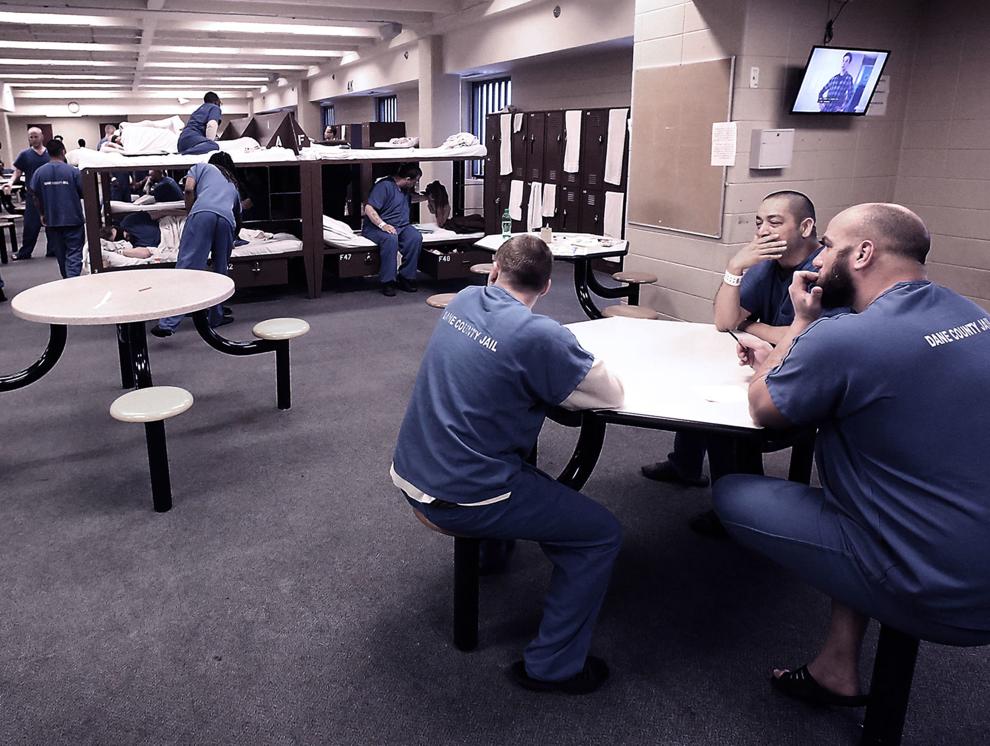 In 2009, before he was 21, Crockett pleaded no contest to felony charges possession with intent to sell THC, bail jumping, and misdemeanor disorderly conduct, and received two years of probation. In 2010, he pleaded guilty to burglary and misdemeanor disorderly conduct, which caused his probation to be revoked, resulting in a 3-year prison sentence and five years of extended supervision.
He was released in April 2015.
"It was hard to get a job," he said, adding that opportunities to earn a good wage for ex-felons can be limited. "What do I know how to do best? Why struggle eight to 10 hours a day to make somebody else rich when I can sell drugs and provide for my family?"
The community he returned to, however, had become more violent. "The gun violence was up," he said. "It's like everybody had a gun."
Without change, Crockett said, the cycle will only continue.
"You can't have to fight, fight, fight," he said. "We feel this is the only way for us. You change the mind frame of the youth and they become the working class and the leaders of the community."
Focus on re-entry
Eventually, the vast majority of inmates return home, making it important to prepare them for re-entry, advocates say.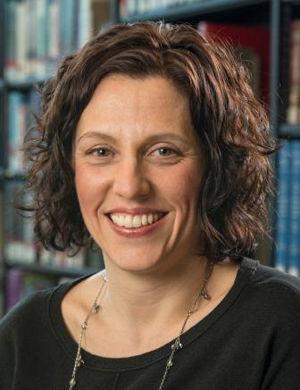 "Adequately funded programming that addresses people's needs during and after incarceration would go a long way in improving chances of successful re-entry," Charles said. "A focus on physical, behavioral and mental heath, employment readiness, and family connections are areas in great need of attention."
Mahoney said the older part of the Dane County Jail atop the City-County Building, which dates to 1953 and where 335 of the most restricted inmates are housed, actually contributes to mental health problems.
Dated, linear hallways lined with barred cells in the City-County Building contrast with more modern facilities in the Dane County Public Safety Building across the street, built in 1994, which allows a different kind of bunk-style housing for many lower-risk inmates.
"We try to use the least restrictive housing we can," Lt. Kurt Pierce said.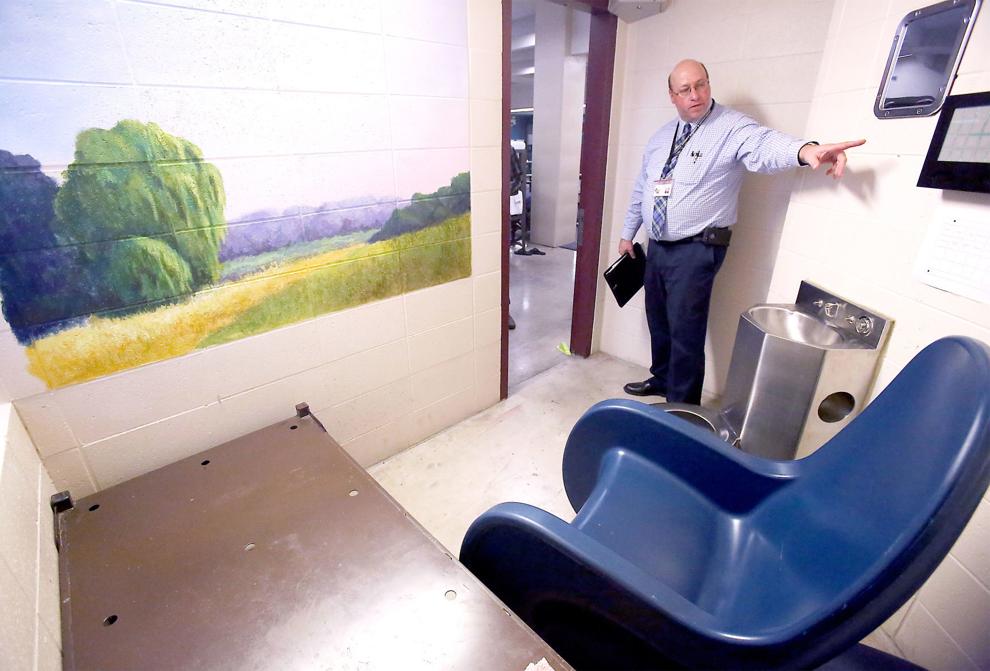 But problems in the older facility are many. Obstructed views lead to increased risk of fire, fights, suicide and sexual assault. In April 2017, the county installed filters to address elevated lead levels in drinking water. During a recent tour of the facility, inmates complained about conditions and lead in the water, asking for access to bottled water.
Mahoney doesn't defend the old facility.
"We have an organization that has greatly progressed since 1953, but infrastructure that forces us back to that era," he said.
The jail, Mahoney said, is able to provide church ministry to individuals, is doing more staff training in trauma-informed care, has limited space for programming and offerings like yoga, is putting more emphasis on preparation for re-entry and moving to new options for inmates to communicate with families, including tablets — one for every eight inmates — that will be introduced this fall.
He's optimistic about opportunities in a $76 million jail renovation project that will close the old portion of the jail and the Ferris Huber Center in the town of Madison and add four floors to the top of the Public Safety Building.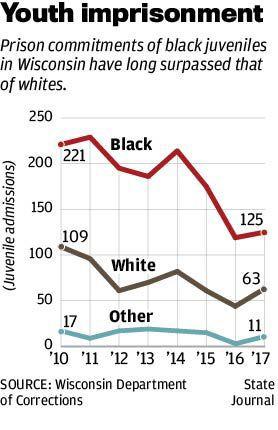 The new facilities, he said, will provide better living conditions for inmates and space and opportunities for programming and services. It will allow the jail to bring programs to inmates, eliminating the staff-intensive process of bringing inmates to limited spaces. Planning and design is set for this year with construction complete by 2021.
The state is acting, too, DOC spokesman Tristan Cook said.
"Over the last several years, other than facility security, most department investments have been in programs that address education and vocational skills, mental health services, or a primary treatment, with a goal to expand those services, he said.
But Cook stressed, "It's the inmates' decision how they want to use this time. While may different programs are available, an inmate must decide to begin a different path than the one that initially led them to prison."