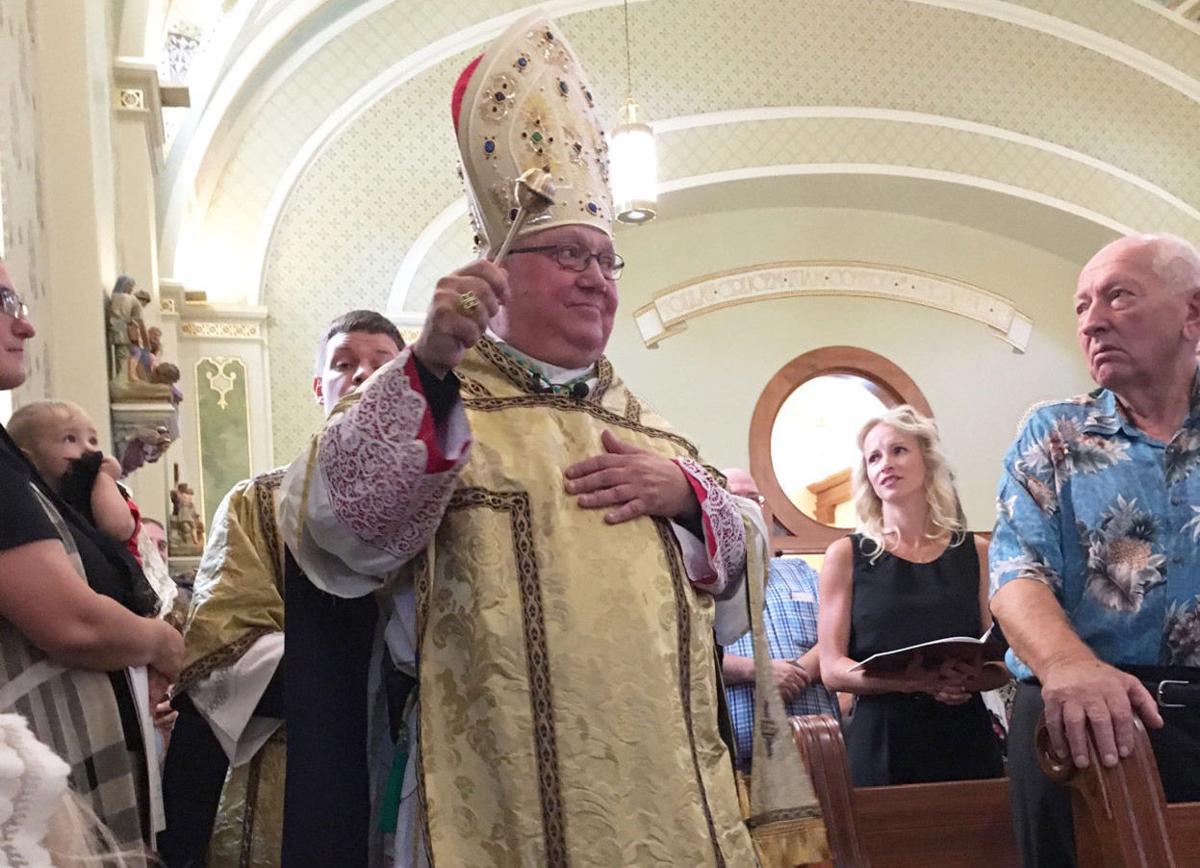 As the Catholic Church's sexual abuse scandal continues to escalate, Madison Catholic Bishop Robert Morlino has aligned himself publicly with some of the church's most outspoken critics of Pope Francis, including a former Vatican diplomat to the U.S. who has called on the pope to resign.
In his latest statement to the Madison Diocese on the scandal, Morlino wrote glowingly about Archibishop Carlo Maria Vigano, the former Vatican diplomat and traditional Catholic who published an explosive letter over the weekend claiming the pope reinstated Archbishop Theodore McCarrick in ministry even though, Vigano said, Francis knew about sexual abuse allegations against him.
Vigano also claimed the pope knew that his predecessor, Pope Benedict XVI, had imposed sanctions on McCarrick. Vigano urged Francis "to set a good example for cardinals and bishops who covered up McCarrick's abuses and resign along with all of them."
Morlino did not address Vigano's resignation demand. But he wrote that he got to know Vigano both professionally and personally during his tenure as the Vatican diplomat to the U.S.
"I remain deeply convinced of his honesty, loyalty to and love for the Church, and impeccable integrity," Morlino wrote in his statement that was published Monday.
Vigano, Morlino said, offered "a number of concrete, real allegations" that included "giving names, dates, places, and the location of supporting documentation. … Thus, the criteria for credible allegations are more than fulfilled, and an investigation, according to proper canonical procedures, is certainly in order."
Morlino also said he agreed with comments made by Cardinal Daniel DiNardo, president of the United States Conference of Catholic Bishops, that Vigano's letter raised questions that deserve to be answered about how several U.S. cardinals and bishops advanced within the church.
You have free articles remaining.
A traditional Catholic, DiNardo is one of the 13 U.S. cardinals who sent a letter to Francis on the opening day of the Synod on the Family in 2015 that listed their objections to decisions made, or approved, by the pope regarding the organization and conduct of the synod.
After Vigano's letter was published, DiNardo asked the pope to support the USCCB's plan for "a prompt and thorough examination into how the grave moral failings of a brother bishop could have been tolerated for so long and proven no impediment to his advancement."
The USCCB plan includes proposals to make reporting of abuse and misconduct by bishops easier and improve procedures for resolving complaints against bishops, according to DiNardo.
Morlino, who also is aligned with traditional Catholics, wrote in his statement that he was disappointed with Francis' decision not to respond to questions about Vigano's claims at a news conference on the papal plane flying back to Rome from Dublin Sunday evening.
"I will not say a single word about this. I believe the statement speaks for itself. And you have the sufficient journalistic ability to make your conclusions," the pope said, adding he would leave it to the "professional maturity" of journalists to assess the truth of the claims.
Morlino said in his statement that he would "never ascribe professional maturity" to journalists. "In the United States and elsewhere, in fact, very little is more questionable than the professional maturity of journalists," he wrote. "The bias in the mainstream media could not be clearer and is recognized almost universally."
While Morlino expressed disappointment with some of the pope's comments, he said he was in solidarity with DiNardo's commentary about renewing his "fraternal affection for the Holy Father in these difficult days."
Last week, in his first statement to the Diocese about the scandal, Morlino claimed that a homosexual subculture within the Catholic Church's hierarchy is mostly to blame. Morlino wrote that it was wrong to blame much of the scandal on priests who victimize young children. He said the problems involve both pedophiles and homosexuals within the priesthood.