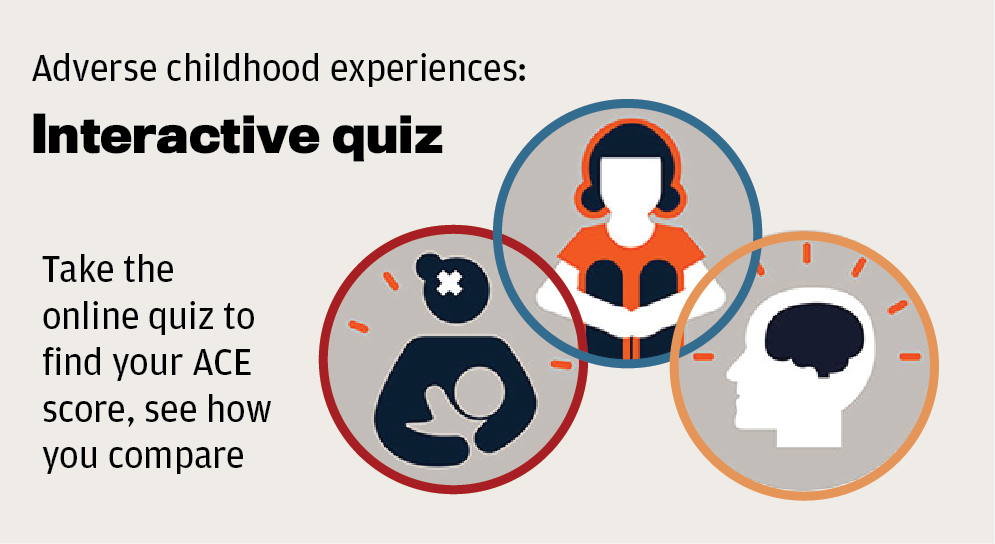 Criminologists have long known that childhood trauma can impede development and lead to health and behavioral problems later on.
Increasingly, those who study the root causes of violence nationally and in Wisconsin are turning to a common survey tool to inform public policy.
Developed by Dr. Bob Anda at the Centers for Disease Control and Dr. Vince Felitti at Kaiser Permanente, the Adverse Childhood Experiences (ACE) study of 1998 found that childhood abuse, neglect and household challenges like parental incarceration or separation can lead to later onset of chronic diseases, mental illness, violence and other problems.
Since then, multiple studies have confirmed and expanded upon the original research.
The original study, conducted between 1995 and 1997, asked more than 17,000 adults about their childhood history of exposure to physical, emotional or sexual abuse; physical or emotional neglect; parental mental illness, substance dependence or incarceration; domestic violence; or parental separation or divorce.
A point is given to every "yes" answer for each of those 10 questions. The result, when correlated against health outcomes, is profound.
ACEs — seen in yes answers — are common, with 67 percent of the population having at least one and 12.6 percent four or more, according to the CDC. It was also found that the higher the score the worse the health outcome. The results were the same regardless of demographic.
In Wisconsin, which conducted its first ACEs survey in 2010 with three more in 2011, 2012 and 2013, at least 58 percent of adults had at least one ACE and 14 percent had four or more. Results varied by county, with 6 percent of respondents in Pepin County reporting at least four ACEs to Rock County's 24 percent.
The Wisconsin study, which includes answers from more than 25,500 people, also found that those who experienced certain ACEs, such as a family member incarcerated, usually had additional ACEs.
"There are many possible negative mental health concerns that appear to be associated with high ACE scores, including depression, anxiety, ADHD, suicide attempts," said Dr. Dipesh Navsaria, associate professor of pediatrics at the UW-Madison School of Medicine and Public Health. "However, there are also many negative physical concerns, including higher risk of heart disease, diabetes, chronic obstructive pulmonary disease."
Possible outcomes include behavior, said Dr. James Topitzes, associate professor at the Helen Bader School of Social Welfare and clinical director at the Institute for Child and Family Well-being at UW-Milwaukee.
"Unaddressed trauma and ACEs increase the probability for a number of different deleterious outcomes, including aggression and violence," Topitzes said. "The relationship between ACEs and negative life course outcomes are probabilistic. Not all ACE and trauma sufferers perpetrate violence, including gun violence. And it's probably true that not all perpetrators of gun violence endured ACEs and trauma earlier in life. But trauma exposure increases the risk for violence perpetration."
'Not a life sentence'
There's no precise guideline on who should administer ACE surveys and when, and there is no standardized way to screen.
Some say screening for ACEs in children should occur as early as possible, making them as routine as checking for hearing loss or exposure to lead paint during pediatric visits. Others suggest that questionnaires be given to older children and adults.
While high ACEs scores "are not a life sentence," they can help inform a course of treatment, Navsaria said.
"Everything in life is a balancing act," he said. "Even a child surrounded by significant adversity might do very well if they have at least one caring, consistent, nurturing adult in their life. That social connection is essential, and may be the number one thing. The power of responsive relationships is a major, major buffer against what we call toxic stress, the impact of these adverse experiences on the young, developing brain."
Creating safe, stable environments can also help reverse the impact of early trauma, according to the CDC, which recommends public policies that promote such things as home visits to pregnant women and families with newborns, parent training programs, intimate partner violence prevention, teen pregnancy prevention and support for teen parents and substance abuse and mental illness treatment.
Sleep, nutrition, exercise and mindfulness also help, the national Center for Youth Wellness says.
"I think the emphasis shouldn't necessarily be on ACEs screening for the sake of generating a score, but rather to recognize that trauma and adversity is likely one of the largest factors affecting human health, but is only sparingly addressed in our current health care systems," Navsaria said.
Be the first to know
Get local news delivered to your inbox!