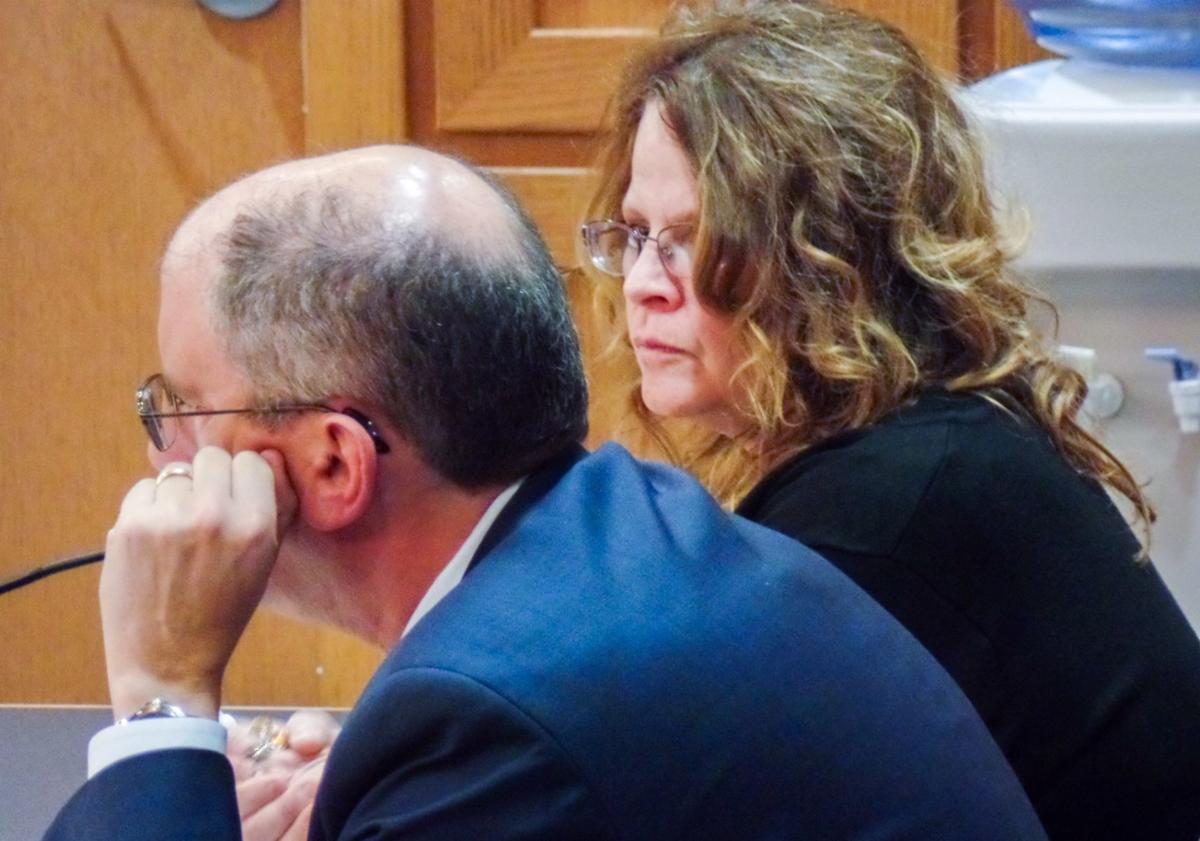 Meichelle Goss, whose testimony in January at her boyfriend's trial contributed to his conviction for the shooting death of Jesse Faber near Marshall last year, will spend time in jail in part to remember Faber's birth and death, a judge ordered Monday.
Goss, 52, of Marshall, who was in her home when her boyfriend, Daniel Lieske, shot Faber to death in an adjoining apartment, was sentenced Monday by Dane County Circuit Judge Jill Karofsky to six years of probation, following her guilty plea in December to being a party to hiding Faber's body after his death.
As a condition of her probation, Goss was ordered to spend 10 months in the Dane County Jail. But Karofsky also took to heart a suggestion made by Faber's father, Dan Faber, as he spoke in court Monday. Karofsky ordered Goss to spend two more weeks in jail each year she is on probation — one week around the Jan. 16 anniversary of Jesse Faber's death, and one around his July 22 birthday.
"You had a chance to save Jesse," Karofsky said. "You chose not to. You chose to put yourself and your safety and security above everything else."
Lieske, 60, was convicted of first-degree intentional homicide for Faber's death after a jury trial that ended on Jan. 16. He will be sentenced on April 19, when he faces a mandatory life prison sentence. Karofsky must decide at the hearing how long Lieske must wait in prison before he is eligible for release on extended supervision. Under state law, the minimum time is 20 years.
According to Goss' testimony, she and Lieske had been using cocaine that night, when Faber had come and hung out with Goss' son and others at a neighboring building at the rural farm complex where Lieske was caretaker.
The weather was bad, so Faber was going to stay at Lieske's home. When Goss returned after taking some people home, she testified, she found Faber and Lieske in the adjoining unoccupied apartment drinking beer.
Later, she testified, she heard a noise and came over and found Faber on the floor with Lieske aiming a gun at him. She said Lieske asked her to hold the gun while he went to the bathroom, but she refused and went back into her apartment. Moments later, she said, there were gunshots.
Goss testified that she later followed Lieske in another vehicle as Lieske put Faber's body, wrapped in plastic and a rug, in a shed. Lieske later took Faber's body to a storage locker in Rio.
Members of Faber's family, some of whom asked for the maximum sentence for Goss, said Goss could have prevented Faber's death and then said nothing as volunteers and officials searched for Faber, hoping to find him alive in the extreme cold.
"The fact that they discussed cutting up or burning Jesse's body proves that they are monsters," said Faber's aunt, Nancy Faber, commenting on some of Goss' trial testimony. "Meichelle deserves to spend time in prison."
Faber's mother, April Faber, said her son was unknowingly on his own at Lieske's home, with nobody to watch out for him, since Goss would not do it.
"She walked right past him," she said. "As a human being, how could you do that to anybody? How can you just walk away? How could you just look the other way? I just don't understand it."
In a letter she read to Karofsky, Goss said she couldn't "imagine the horror, the heartbreak and the loss that the Faber family and their friends experienced, and every day I know that my actions contributed to this terrible tragedy."
She apologized "for the unnecessary pain that I've caused the family of Jesse Faber," adding that she regrets not calling police after the shooting, and then lying to protect Lieske.
Karofsky sentenced Goss to probation after first sentencing her to six years in prison and six years of extended supervision, then stayed that sentence. Should Goss' probation ever be revoked she would automatically serve the prison sentence.