Panhandling at major Madison intersections has cropped up again amid the COVID-19 pandemic and the Police Department's decision to limit enforcement of a 4-year-old ordinance that had largely curtailed the activity.
Police brass have no timeline for when more robust enforcement will resume, but officers on the East and North sides of town are making it a priority this summer to let panhandlers — and the drivers who give them money — know that if they continue the curbside exchanges they could be pulled over or fined.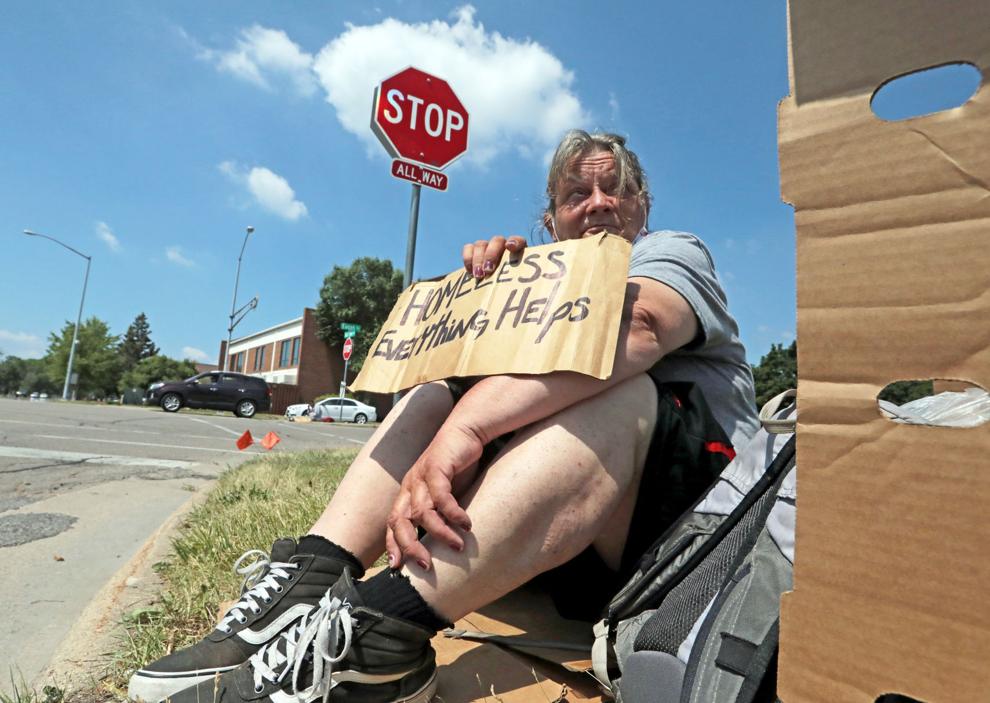 Panhandling has been a fixture in Madison, mostly Downtown, since well before the pandemic caused massive economic hardship. And in a city with a comparatively strong social safety net for people without stable access to housing or food, it's generally understood that at least some of the money panhandlers collect goes toward alcohol or other illicit purposes.
Technically, asking strangers for money on the streets is not illegal, because it's considered an exercise of one's First Amendment rights.
But faced with an increase in panhandling on major roadways in 2016, the City Council narrowly passed an ordinance to stop people from entering a road to approach an operating car on roughly 90 of the city's most active roadways, while limiting how long people can remain in medians.
Enforcement of the ordinance, much like enforcement of certain minor traffic laws, however, was limited with the onset of the pandemic so as to reduce face-to-face contact between officers and the public. And panhandling has since returned to various busy intersections around Madison, especially on the North and East sides and including spots along East Washington Avenue, near East Towne Mall and along Aberg Avenue/Route 30.
"My sense is it increased once we stopped addressing it," East District Capt. Jamar Gary said.
Gary and North District Capt. Brian Austin have made reducing panhandling part of their summer strategic plans — three-month-long proactive strategies each of the six police districts rolled out Monday to reduce specific types of crimes, improve specific quality-of-life measures and boost police-community engagement.
While police in those areas still won't be responding to calls solely about panhandlers or others in the median, they will be passing out brochures explaining the ordinance and showing where it applies, and ordering panhandlers out of medians when they encounter them. They could also conduct operations to pull over motorists seen giving to panhandlers.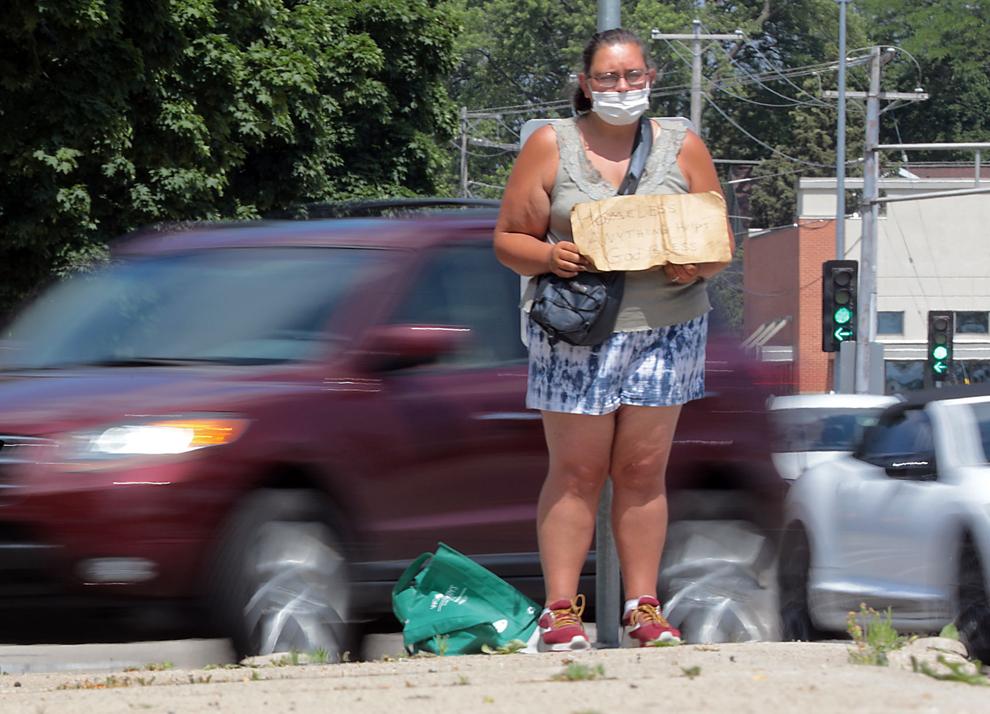 Violators would first be given warnings, but after that fines range from $92.50 for a first offense to $439 for a fourth offense in the space of a year, but Austin said "we want to avoid citations, if possible."
The North District's plan also includes possibly using signboards in medians to discourage giving to panhandlers and a media campaign to let the public know that giving them money "works against coordinated system of services that exist in this community."
Austin said the joint Madison and Dane County Homeless Issues Committee, which he used to be a member of, determined around the time the ordinance went into effect that most repeat panhandlers weren't homeless and that service providers would prefer they come directly to them rather than beg for money on the streets.
In plain sight
It wasn't difficult midday Wednesday to find people panhandling at one of the city's busiest intersections, East Washington and Stoughton Road — where it's prohibited under the ordinance — or at Eagan Road and East Towne Boulevard, where it remains legal. The difference was that police soon showed up at the former spot to tell panhandlers to leave.
"I got PTSD issues," said a man who described himself as a 64-year-old veteran before police forced him to move from the median at Stoughton and East Washington. "I got a lot of problems, man — more than money. ... PTSD is not fun."
The man said his disability checks were not enough to live on and used the $5 to $10 a day he made panhandling to pay bills and buy gas, clothes and food.
He declined to provide any other name but "G.G." without being given money, but the name on the Veterans Affairs card the man displayed matched one in court records that showed a home address on Rethke Avenue where a publicly funded apartment complex for homeless singles and veterans opened in 2016. It's a little over a mile from where the man was panhandling.
'Endless battle'
At Eagan and East Towne Boulevard, 55-year-old Renee Duncan and a 17-year-old she described as cognitively delayed split time soliciting for money in the median. Duncan said the two have an arrangement under which he gets the morning and she gets the afternoon.
Duncan said she lost her apartment a few years ago after she could no longer work because of chronic pulmonary obstructive disease. She said she generally can make $20 to $50 in a day that she uses for motel rooms, cigarettes or food, but that she doesn't drink or do illegal drugs. She said she's trying to get federal disability benefits.
"Churches are all tapped out. Salvation Army's overcrowded. It's been an endless battle," she said.
Efforts to cut down on panhandling will "hurt a lot of people," she said. "A lot of people survive doing this. I'm being real. People have no other way ... besides this."