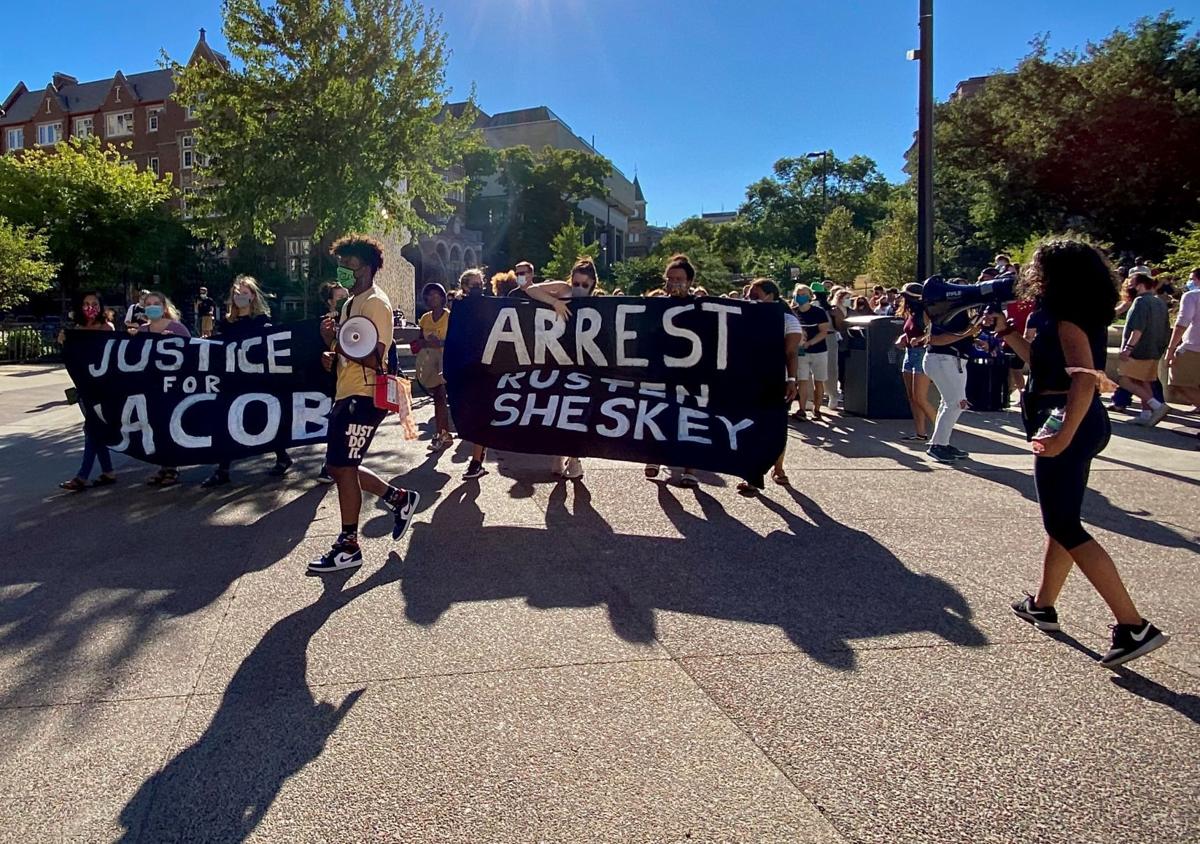 Hundreds of demonstrators gathered Saturday on UW-Madison's Library Mall calling for the state Department of Justice to arrest the Kenosha police officer who shot Jacob Blake seven times in the back.
The demonstrators, led by a group of youth organizers, clapped and sang civil rights-era protest songs as they readied to march from Library Mall up State Street toward the state Capitol and Risser Justice Center.
For a number of the protest organizers, the police shooting of Blake, a Black man, hit too close to home.
Naomi Hollard, 22, grew up in McFarland, which has a majority white population, and recounted the experiences of her family members.
"My brother, who's darker skinned than me, he would always get pulled over by the cops in front of our house," she said. "Because of the color of our skin and how we look, we were seen as already criminal."
For Hollard, organizing and showing up at Saturday's rally meant she was able to take a stand against police brutality. When she heard about the shooting of Blake, she thought of her brother and her uncle, and it was the proximity of the shooting, roughly 100 miles from where she was raised, that motivated Hollard to get back out in the streets and organize peaceful demonstrations.
"When it comes so close to home, it just really weighs on you that you have a responsibility to fight for justice. You just can't turn a blind eye anymore, it's home. It's Wisconsin," she said. "I want to make it so kids who look like me, who were raised in a small town 15 minutes from Madison, can feel safe."
Demonstrators chanted Blake's name, "Black Lives Matter" and "No Justice, No Peace" as they rallied on the mall.
"Make sure they hear you in Kenosha," one organizer yelled.
Hundreds of protesters gathered in Kenosha on Saturday to march and rally for justice in the largest demonstration the city has seen since the shooting. The southeastern Wisconsin city of fewer than 100,000 residents has roiled with unrest since the Aug. 23 shooting.
The day of the shooting and the following day, demonstrators clashed with law enforcement and less-lethal munitions were used in an attempt to subdue the crowds as Kenosha businesses were set on fire. On Tuesday, demonstrations in Kenosha turned deadly as Kyle Rittenhouse, a 17-year-old Illinois resident, allegedly shot and killed two protesters with an AR-15 and wounded a third. Rittenhouse was arrested in Illinois and faces homicide and other charges.
Armed civilians were seen during protests Monday night on Madison's Capitol Square.
Laëtitia Hollard, 17, of McFarland, said the presence of armed civilians around the Capitol during protests that took place earlier in the week scared her, and the shootings Tuesday night in Kenosha that took the lives of two people drove home how dangerous demonstrations can become.
"I'm 17 and I might be murdered fighting for my future — that really hit me hard. After a while you realize that's how white supremacy works, that's what they do to keep change from happening … I have no other choice, really," she said. "We're here because we're fighting for our future, we're fighting for our kids' future."
Demonstrators in Madison Saturday marched up State Street chanting "join us" and "white silence is violence" at patrons who sat on makeshift patios outside of open businesses.
Madison police blocked off traffic at intersections as the marchers made their way toward Capitol Square. Demonstrators wound around the Capitol and turned onto Martin Luther King Jr. Boulevard, where they stopped in front of the Risser Justice Center.
There, organizers called for demonstrators to pull out their phones and call the state Department of Justice to demand the arrest of Kenosha police Officer Rusten Sheskey and circulated a petition for protesters to sign.
The rally concluded peacefully just after 6 p.m.