Building owners and shopkeepers swept up shattered glass and surveyed damage Tuesday morning as city crews scraped up charred remnants of dumpsters set ablaze after a second night of unrest in Downtown Madison.
Following a pattern set earlier this summer, protests over systemic racism and police brutality that started peacefully devolved into vandalism and looting overnight.
With State Street businesses mostly boarded up, the worst damage occurred on Capitol Square, where vandals lit fires, smashed windows at more than a dozen buildings, looted some stores and spray-painted slogans. Police reported one unsuccessful attempt to set a building on fire.
Madison Fire Chief Steve Davis said what transpired Monday night into Tuesday was "probably the most destruction and damage" he has seen in the city in his 31 years with the department. He said Madison Fire is working with Madison police on plans for Tuesday night's protests and asked that "things settle down now."
The state Capitol was also damaged, with door handles broken and about a dozen ground-floor windows smashed, including those of Lt. Gov. Mandela Barnes' office. A Department of Administration spokeswoman said the agency was still assessing damage to state property.
Urban Land Interests principal Brad Binkowski estimated there was more than $100,000 in damage to his eight buildings, including U.S. Bank Plaza, where more than a dozen windows were shattered.
"It's inconceivable to me that people think it's OK to go and damage property," Binkowski said. "It's one thing to peacefully protest for change. It makes no sense."
Mayor Satya Rhodes-Conway called Tuesday for an end to what she called "looting and senseless destruction" and urged protesters to channel their anger in other ways, such as volunteering in the community and contacting elected officials to push for new laws.
"Our city honors the First Amendment and peaceful protests, but we draw the line on arson, theft and criminal damage to property that puts people's lives in danger," Rhodes-Conway said. "This behavior doesn't build a movement — it undercuts the movement, and in Madison it divides a community that largely supports change."
City Council President Sheri Carter said at a Tuesday news conference that the purpose of protest should be to "effectuate change" and honor the lives lost through voices, not violence.
"You are not protesting anything when you swing with your hands, break windows, set fires, carry knives, loot," she said. "We protest for the change, not the burning. We protest for the change, not the breaking."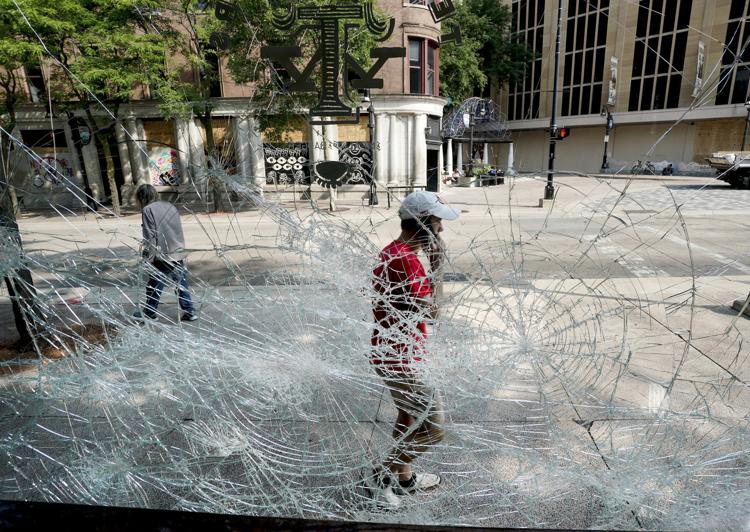 March from Capitol
Demonstrators began gathering shortly after noon Monday, sparked by outrage over the police shooting of Jacob Blake in Kenosha. Blake, who is Black, was hospitalized with multiple gunshot wounds.
Cellphone video circulated widely on social media showed at least one officer shooting Blake from behind as Blake leaned into his SUV, where three of his children were sitting. Seven shots can be heard in the video.
A couple of hundred demonstrators marched from the Capitol to the UW-Madison campus Monday afternoon. More gathered Monday night as the crowd swelled to more than 500 people filling two blocks of State Street.
Damage began after a smaller group split from the main crowd.
Most State Street storefronts were boarded up, many with panels featuring murals commissioned earlier this summer during protests sparked when another Black man, George Floyd, was killed by Minneapolis police.
Madison police used tear gas, pepper spray and sponge bullets on crowds after the first round of damage began. Officers reported that demonstrators threw rocks, bottles and other projectiles back at them, and three officers were injured as a result of being hit. Police said they arrested six people overnight, one of which was found armed with a handgun, and were working to identify other suspects.
Acting Police Chief Vic Wahl said Tuesday some 40 businesses sustained damage during the course of the night, a number of which were also looted. He said the department is "committed to preserving people's ability to express their opinions" but will intervene when people's actions put the community at risk.
Wahl said the department's "big-picture strategy" going into the next night of protests hadn't changed, but officers are "going to be very selective" about when to engage, something they have been fine-tuning since the protests in response to Floyd's death began in late May.
Merchants respond
Binkowski, whose eight buildings were damaged overnight, voiced frustration with city leaders for not doing more to prevent destruction. He said he planned to board up the dozens of broken windows Tuesday and was considering covering every window to prevent more damage.
"We're going to do what we need to do to protect the buildings and limit the damage," Binkowski said. "I expect the city to do the same."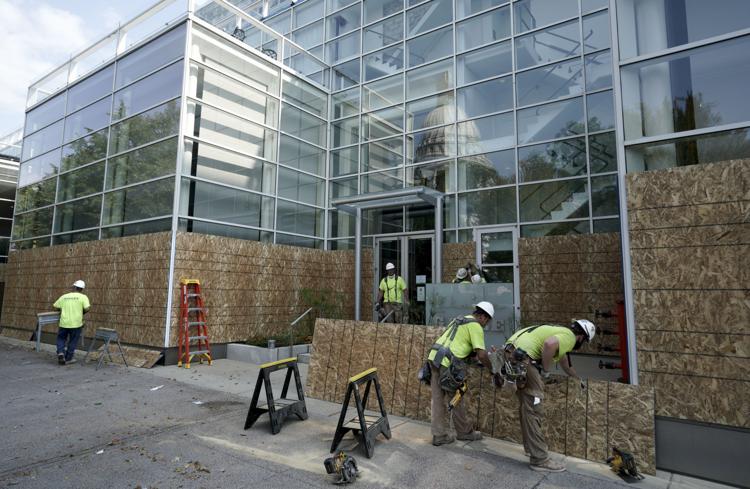 Others were more sympathetic to the protesters.
"Lots of unrest in our city. Thankfully no one was injured," wrote Ken Monteleone, owner of Fromagination, which had its windows shattered and some merchandise taken.
As he worked to reopen the cheese store Tuesday, Monteleone said he would try to remain active in healing the community.
"We support the community and the community has supported us," he said.
Chef Tory Miller of the Deja Food Restaurant Group said his Capitol Square restaurants Graze and Estrellón would be closed Tuesday but that he stands with protesters and blamed police for provoking violence.
"To be honest, what's happening to black people in this country is bull——," Miller wrote in an Instagram post showing a broken window at Graze.
"I'd rather wake up (and) see every window in this city broken than wake up to another video of an unarmed black man or woman being shot, strangled, kneeled on, or killed by police ever again."
State Journal reporters Barry Adams, Shanzeh Ahmad and Emily Hamer contributed to this report.