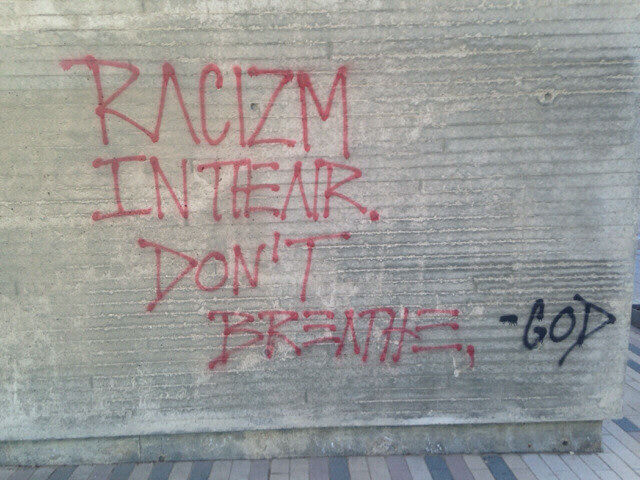 A UW-Madison student was arrested Thursday for allegedly creating a string of anti-racist graffiti that has marred buildings across the campus in recent months, resulting in thousands of dollars in damage.
Denzel J. McDonald, 21, was arrested by UW-Madison police after a six-month investigation, police spokesman Marc Lovicott said.
McDonald is tentatively charged with 11 criminal counts for graffiti and one count of disorderly conduct for allegedly threatening a bystander who tried to stop him from defacing university property.
The graffiti, each signed by "God," included writings such as "Racism in the air. Don't breathe," "The devil is a white man" and "Warning: slave society."
Buildings vandalized include the Memorial Library, Chazen Museum of Art, Humanities Building, Birge Hall, Grainger Hall, School of Education, Sterling Hall, Van Vleck Hall and Vilas Hall.
Police estimate the cost to clean and repair the graffiti damage at more than $4,000.
Officers, who had tried to contact McDonald for two weeks, found him in a classroom Thursday morning after two more instances of graffiti occurred on campus overnight.
McDonald left the classroom with the officers, then moved outside of the building at the student's request to talk further.
McDonald was arrested and booked into the Dane County Jail. He posted $5,650 bail Thursday and was released.
The graffiti comes amid recent racially charged incidents on campus and a social media hashtag, #therealUW, that have resulted in administrative action to address the racial climate.
"I know there were some messages and there may have been some meaning behind what this individual was trying to get across but, bottom line, you can't spray paint on a building," Lovicott said. "It's illegal and so that's why we took action."