Two men who took part in a fatal beating in rural Lodi that authorities said was prompted by a jealous girlfriend pleaded guilty Friday to felony murder.
Jacob A. Johnson, 25, of Sun Prairie, and Drew D. Luber, 21, of DeForest, each face up to 18½ years of combined prison and extended supervision for the Oct. 30 death of Dalton D. Ziegler, 24, who died in his town of Dane home from injuries he received in a beating.
Felony murder is charged when the commission of a crime leads to the death of another person. In this case, the underlying crime was substantial battery, which carries a 3½-year maximum sentence on its own. But because the battery led to a death, the maximum penalty is increased by 15 years.
Plea agreements for both men, recited in court by Assistant District Attorney William Brown, do not contain sentencing recommendations. Prosecutors and lawyers for Johnson and Luber will be free to argue the sentence before Dane County Circuit Judge Susan Crawford.
Johnson will be sentenced on Aug. 6, while sentencing for Luber was set for Aug. 12.
A third co-defendant, McKayla R. Tracy, 20, of Lodi, is still apparently headed for a trial on a felony murder charge, but no dates have been set.
Johnson will remain free on $35,000 bail until his sentencing, while Luber will remain in the Dane County Jail on $50,000 bail.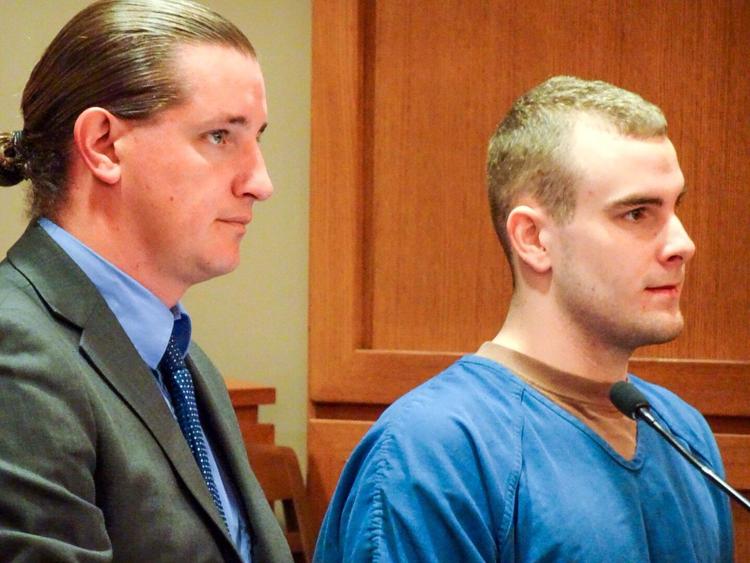 You have free articles remaining.
Luber also pleaded guilty Friday to a misdemeanor disorderly conduct charge involving an incident last year at the Nitty Gritty restaurant in Sun Prairie. He received a two-day jail sentence, which has been deemed served.
Luber was free on bail for the Nitty Gritty incident at the time of Ziegler's beating. Under the agreement, a bail jumping charge against Luber was dismissed, but Crawford can consider it when she sentences Luber.
A criminal complaint states that a woman who had been at the home on Highway 113 where Ziegler and Tracy lived told police that she decided to sleep over at the house, but after trying to sleep on the couch, Ziegler offered to let her sleep in his bed because Tracy was intoxicated and was being too loud.
The woman told police she woke up about 3:30 a.m. when a car pulled into the driveway, the complaint states, and she heard Tracy say, "She's in my (expletive) bed." When Ziegler got out of bed and opened the bedroom door, the woman told police, Ziegler was attacked by two men, later identified as Johnson and Luber.
Johnson later told detectives, the complaint states, that Tracy had called him and his friends to say that Ziegler had hit her and was in a bedroom with another woman. Tracy told police that when Johnson and Luber arrived at the home, she thought they were all going to leave, but the two asked where the bedroom was and went inside.
She told police that Luber held Ziegler down while Johnson struck him. An autopsy found that Ziegler died from multiple blunt force trauma injuries, including a facial fracture.
Before he was told that Ziegler had died, Johnson told police he felt bad that he may have hurt Ziegler, the complaint states, and said, "Once I start, I can't stop."
After the beating, Luber told police, Johnson and Tracy took $25 cash from Ziegler's wallet and some bank or credit cards, according to the complaint.
As part of his plea agreement, prosecutors said they would not charge Johnson with theft from Ziegler.