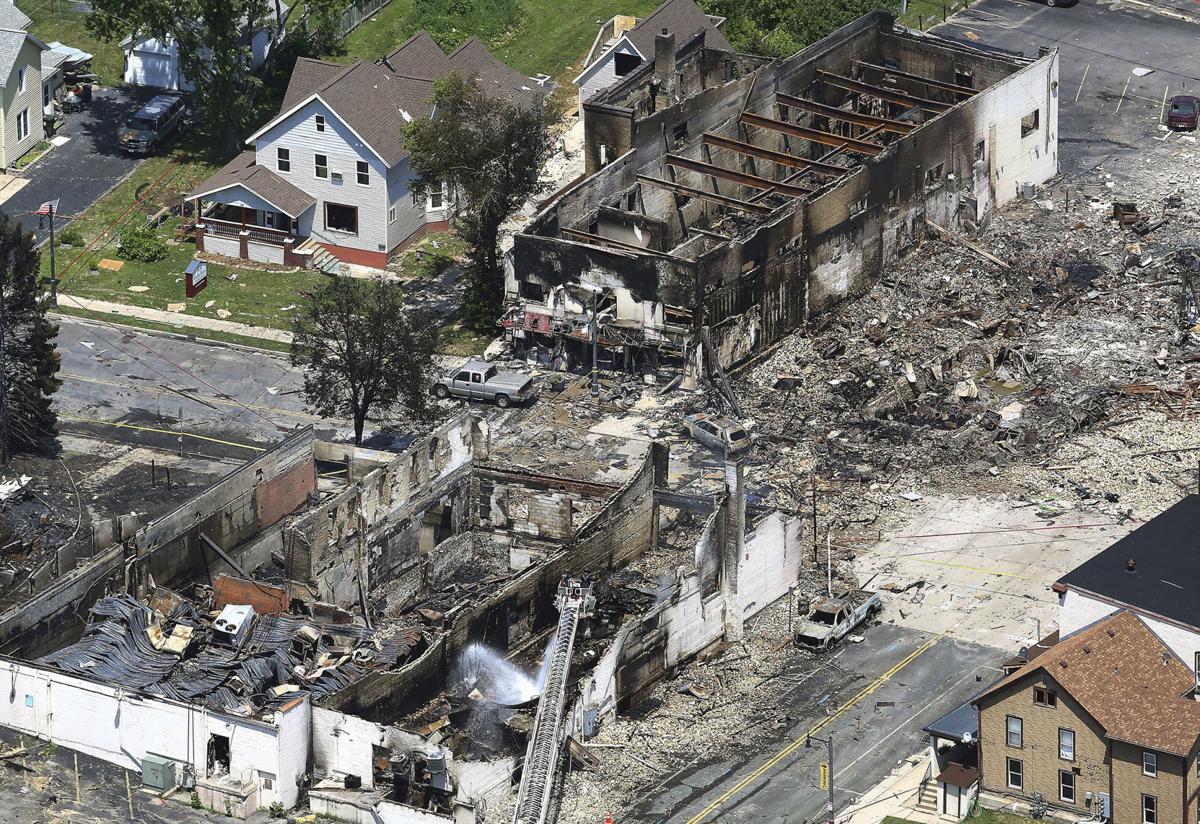 A group of people who lived in downtown Sun Prairie but lost their homes in a natural gas explosion last year has filed suit against companies it says are responsible for the blast.
The nine people filed the lawsuit Friday in Dane County Circuit Court, where four other lawsuits involving the blast were filed, most of them late last year. The nine allege VC Tech, Bear Communications, Verizon, We Energies and USIC Locating Services all played roles in failing to locate a gas line that was ruptured, leading to the explosion whose ignition source was never determined.
"These are all local residents mostly renting apartments," said Randall Gold, a lawyer with Fox & Fox representing the group. "They lost most or all of their possessions."
Some still live in the area, Gold said, but others have moved elsewhere.
"Many have had to start over," he said.
The plaintiffs are Angela Levendoski, Melissa Buckingham, Antonio Hurtado, Heather Schmidt, Trent Kremeier, Barry Mahlum, Patty Mahlum, Valerie Jo Lebo and Edward Urfer.
The July 10, 2018, explosion leveled several buildings in downtown Sun Prairie, which had been evacuated after the gas leak was reported.
One firefighter, Capt. Cory Barr, was killed in the blast and two firefighters, Ryan Welch and Greg Pavlik, were injured.
Barr's widow, Abigail Barr, filed a wrongful death lawsuit, and Welch and Pavlik also filed lawsuits against the companies.
The city of Sun Prairie later filed its own lawsuit against the companies.
All of those lawsuits have since been consolidated into a single case.
Gold said it's possible the new lawsuit by the residents could eventually be combined with the others.
In May, a Dane County judge denied a motion to dismiss the firefighters' claims over a doctrine in state law called the "Firefighters Rule," which bars emergency responders from suing those whose negligence brought the firefighter to the scene of an incident.
Most of the plaintiffs in the new lawsuit are single people, Gold said, though one couple has children. He said the lawsuit wasn't created as a class action, but it's possible that others whose homes were lost because of the blast could join as parties.
The lawsuit alleges each of the companies was negligent and failed to follow state, local and federal laws. It also includes claims against all of the companies for nuisance and unlawful trespass "in the form of a hazardous explosion" that invaded the plaintiffs' homes and damaged and destroyed their belongings.