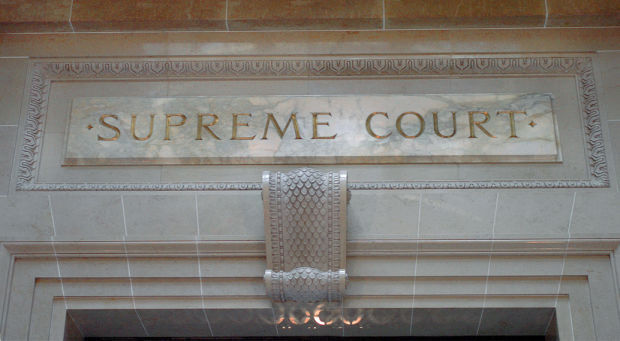 The state Supreme Court on Sunday night ordered that all in-person court proceedings, including jury trials, be postponed through May 22 to protect the participants and the public from COVID-19, the disease caused by the new coronavirus.
The high court's directive supersedes orders that had been issued in several individual counties over the past few weeks, including Dane County, which had limited the kinds of court proceedings taking place. Still, at least one jury trial, a three-week homicide case that was scheduled for April before Circuit Judge Jill Karofsky, had been set to go forward. The high court's order definitively postpones that trial.
Under the Supreme Court's order, all state courts will remain open and continue to operate. But any jury trials scheduled to start between now and May 22 are to be rescheduled. Judges, court commissioners and clerks of court are to use email, teleconferencing and video conferencing instead of in-person court appearances through at least April 30, the order states.
"We are taking these steps not only to protect public health, but also to help ensure continued and effective operation of all of our courts for the people of Wisconsin," Chief Justice Patience Roggensack said in a statement. "Our circuit court judges have taken strategic, proactive steps to keep each of their courts operating as safely and smoothly as possible since the start of this public health emergency. These orders provide another tool to use in that effort."
The order allows certain exceptions to permit in-person proceedings if remote technology is not available or is inadequate.
In addition, the Supreme Court postponed oral arguments before the body that were scheduled for March 30 and April 1.
On March 12, Dane County became the first in the state to limit court appearances and activity due to the new coronavirus. An order that was to be effective until April 17 set temporary guidelines for dealing with various kinds of cases, and mandated greater use of telephone and video conferences.
The order had suspended jury trials in civil matters and in criminal matters in which a defendant is not in custody, but allowed trials for defendants currently in custody.
Among the upcoming trials was the three-week trial of Kenyairra Gadson, charged with first-degree reckless homicide for a shooting death on Oct. 28, 2018, in a Downtown parking ramp. At a recent motion hearing, Karofsky told attorneys she was inclined to keep the trial on the calendar to begin on April 13 and rebuffed a request by District Attorney Ismael Ozanne to set alternate trial dates as a backup.
On Friday, Dane County Clerk of Court Carlo Esqueda temporarily stopped counter service at the Dane County Courthouse to protect the health of courthouse staff. The building itself remains open.
Concerned about COVID-19?
Sign up now to get the most recent coronavirus headlines and other important local and national news sent to your email inbox daily.