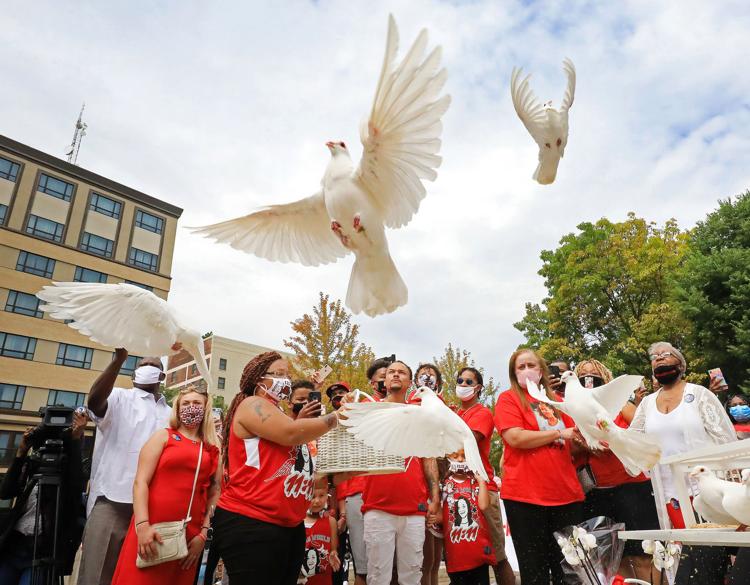 More than 1,000 mourners clad in red and white gathered on Capitol Square Saturday morning to take part in what they called a home-going celebration for Anisa Scott, an 11-year-old who was shot on Aug. 11 on Madison's East Side and taken off life support at 11:11 a.m. two days later.
Young girls, wearing T-shirts printed with photos of Anisa, cried as they held a banner that read "Black Children Matter" and "Do this for Anisa."
The Rev. Everett Mitchell, who helped organize the home-going celebration, addressed the crowd as they waited for Anisa's family to arrive.
"Anisa was dear to me and dear to so many people I love," he said.
Madison Mayor Satya Rhodes-Conway and City Council President Sheri Carter presented a proclamation expressing a commitment to work tirelessly to identify the root causes of gun violence in the city that led to Anisa's tragic death.
"Be it finally resolved that we, together as a community, will work to ensure that our streets will be safe places for all our children and that residents of Madison will continue to say her name," Carter said.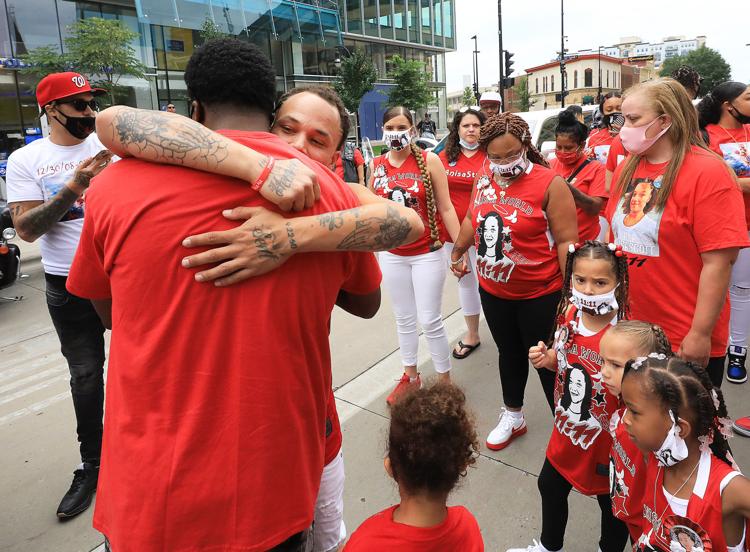 The young Madison native and Sun Prairie resident was the latest victim killed in a spree of recent gun violence in Wisconsin's capitol city. She was a passenger in a car on East Washington Avenue when occupants from another vehicle opened fire, intending to strike the driver. So far, three teenage suspects have been arrested in connection with the killing.
Anisa's killing shook the Madison and Sun Prairie communities. More than 2,200 people reached out to support the family through financial or time contributions, said Michael Johnson, CEO of Boys & Girls Club of Dane County.
"Anisa's bright future was cut short far too soon," state Rep. Shelia Stubbs, D-Madison, said as she addressed the crowd.
"Words cannot begin to describe what her loss means to us as a community," Stubbs said. "In the words of those closest to her, it is clear Anisa had great potential and that she brought joy into every room she stepped into. While today we honor her memory by coming together, tomorrow we must honor her memory with action. The senseless violence that has plagued our communities needs to be addressed."
As Stubbs spoke, Anisa's family arrived at the square in a thundering cavalcade of motorcycles, which the 11-year-old learned to drive at a young age, monster trucks, which she adored, and white limousines that carried her family. A burnt-orange lowrider pickup truck carried Ansia's casket, which was white with 11:11 printed in gold letters on the lid.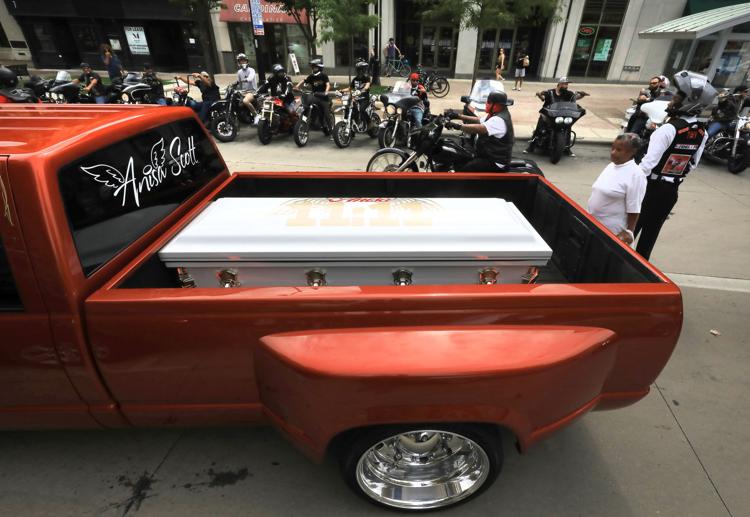 "We need to create a society that protects our children and allows them to grow and to flourish," Stubbs said.
Anisa's family asked that her grandfather, Patrick Alexander Sr., be honored as well as he prepared to release 111 doves to honor the life of his 11-year-old granddaughter. As the doves flew skyward, the crowd responded with chants of "Say her name" and "Anisa."
The sea of mourners stepped off in their march, led by children in tears carrying banners and signs commemorating Anisa. They marched behind dozens of motorcycles, monster trucks and the burnt-orange lowrider, around the Square and down East Washington Avenue toward Breese Stevens Field, where the funeral would take place.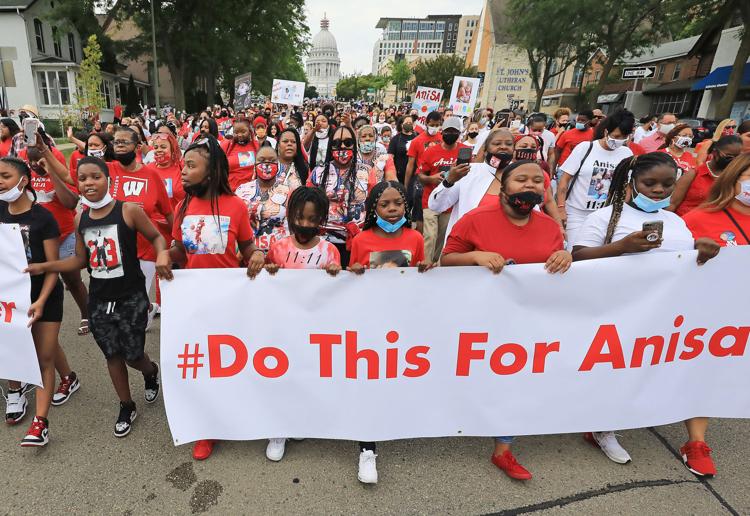 More than 100 mourners gathered inside the stadium in a more intimate celebration of Anisa's 11 years.
Anisa wore her red-and-white basketball uniform as she lay inside the casket, draped with white chiffon. She was surrounded by flowers, a motorcycle, a Tonka monster truck and a tapestry of her as she played basketball, her favorite sport.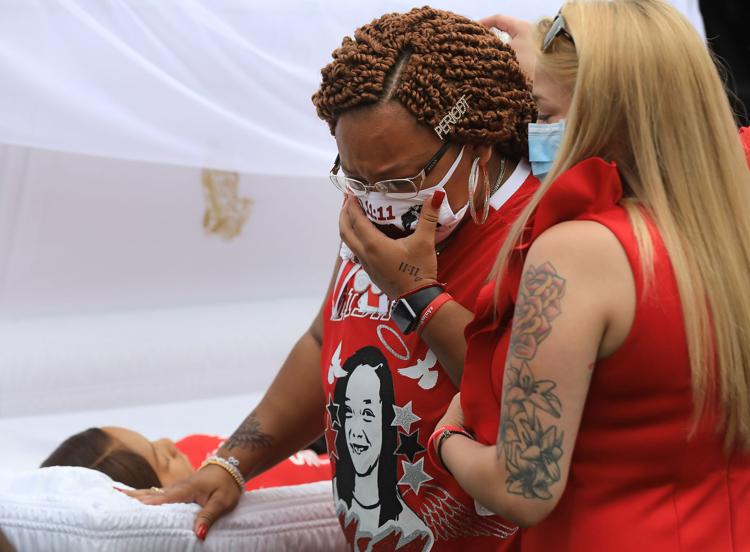 Anisa's mom, Ashley Rios, was the first to view her daughter. Funeral attendants lifted the white fabric so Rios could hold her child one last time. She was followed by Anisa's father, Marcel Scott, who wore a red basketball jersey with Anisa's number "54" on the back below "DAD" in bold block letters.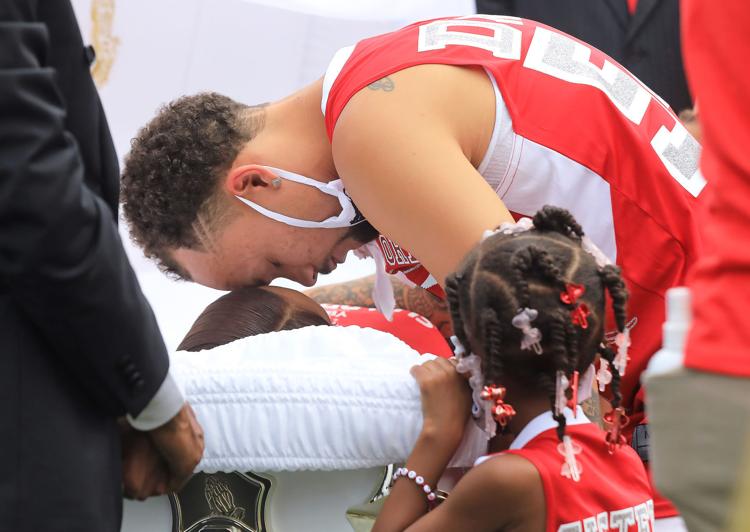 A band played and hymns were sung by a praise chorus on a stage behind the casket as family and friends filed by to say goodbye to the child. The sun broke through clouds as mourners filled two sections of stadium seats.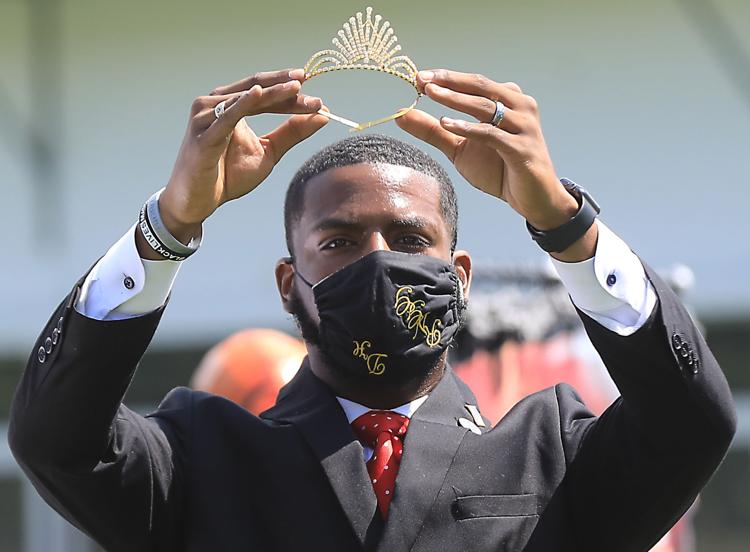 With the song "I Shall Wear a Crown" playing in the background, a funeral attendant approached the casket with a gold crown on a red satin pillow, in step with the music. The crown was placed on Anisa's head and the casket was closed as the song ended.
The celebration of the child's life continued with gospel songs, a praise dance, the reading of Anisa's obituary and anecdotes from her short life shared by friends and family.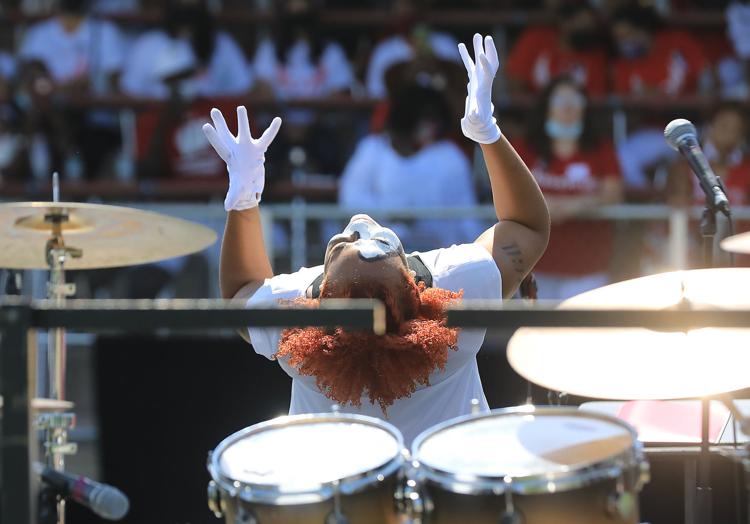 The family service ended with readings from the Bible as red carnations were placed on the casket, and the field was opened up to allow for a line of public attendees that wrapped around the block to say goodbye to the young community member.
Songs sung by the praise chorus floated through the air to the sidewalk outside of the field, where young girls held each other as they cried.
"I am eternally grateful for everybody who came out and showed up and showed out, it just shows how much of an impact Anisa had on everyone in the community," Rios said in an interview at a candlelight vigil in Sun Prairie in mid-August.
"It's just so wonderful to see everyone out here for my baby. You don't even know how much of an impact you have on people until something major happens and I am so very thankful for everybody's love and support. Anisa will definitely not be forgotten, she will be missed, her name will live on forever and we will celebrate her life."